One day in February, there were over 15,000 new confirmed cases of Covid-19 in China.
Today, China reported no new local infections. A country of 1.4 billion people has seemingly got this viral outbreak under control while the epicentre of the virus shifts to Europe with numbers also rising in the United States.
Eyes are now on China's measures which drastically contained Covid-19 after it caused more than 3,200 deaths and infected 81,000 people.
Countries around the world are scrambling to push back against the coronavirus but can they take the "boldest" moves that China took?
What did China do?
When 2020 opened, the world began to look curiously at China as a new mysterious virus spread.
Global concern soon rose along with an alarming rise in cases. It wasn't long before one thousand people were infected in now the infamous city of Wuhan.
"China has rolled out perhaps the most ambitious, agile and aggressive disease containment effort in history."
What followed was China adhering to the starkest of containment measures in the city of 11 million people.
To slow down the intensity of the epidemic and an increase in cases, the Chinese government took drastic steps on January 23rd and virtually put the area into lockdown.
Mass gatherings and events were suspended, schools were shut, traffic was restricted and social distancing became the new norm.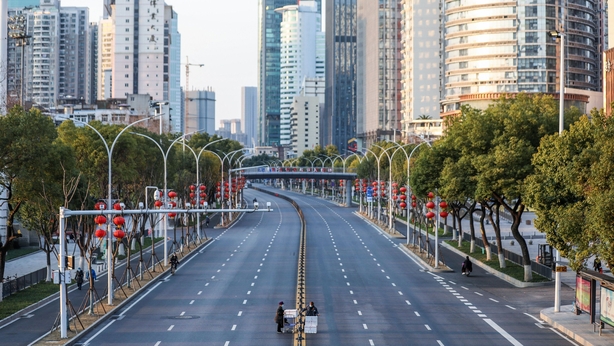 The following day, satellite cities in the Hubei province were also shut down. In an area of roughly 60 million people, all were asked to stay at home for a month. Nobody was strictly allowed to leave unless they needed food and medical care. International travel became limited and Irish citizens made global headlines as they were evacuated from the region.
Timelapse pictures of hospitals being panic-built in a fortnight flooded TV screens as the government rushed to create clinics for the tens of thousands infected.
For people with milder symptoms, they were separated from their families and friends placed in temporary isolation facilities like gyms, stadiums and event halls. New measures were also introduced to isolate close contacts of coronavirus patients, who were also quarantined.
One of the hotels housing some of them collapsed at the beginning of March. There was universal temperature monitoring, face mask wearing, hand washing and extensive public monitoring of citizens.
Tracking down coronavirus patients and separating them was also a key element in China's battle against the virus. Checkpoints were established at building entrances while officials went door-to-door checking people's temperatures.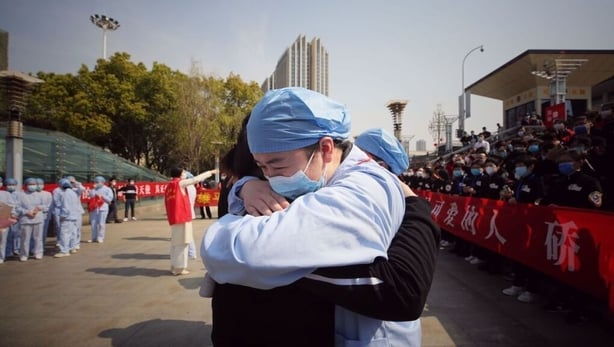 As Conor O'Neill told RTÉ News back in February, while quarantined in Xuan'en, they could not leave their house. "We can't go out. We actually went to the shop yesterday but government officials chased us down and they yelled at us a little bit saying 'go home'," he said.
However, Conor added that government officials were very helpful during the crisis. "They've come to check on us three or four times ... given us masks, given us thermometers, keep tabs on our health," he said.
The eastern city of Hangzhou took steps to flush out potential people infected. Authorities in the area of 10 million said it would stop selling medicines for fever and cough so that people would go to hospital for treatment instead of self-medicating and staying at home.
In Qianjiang, located in the epicentre of the Hubei province, authorities rewarded residents with money if they reported symptoms of the illness and it was confirmed after testing.
China leaned too on their strong technology sector, using artificial intelligence and big data to manage its populations and find patients.
What was first introduced in Hangzhou, and eventually rolled out to 200 cities across China, tech companies worked to give people a health rating which would determine if a person should be quarantined or allowed in public.
After filling out a form about travel history and health history, citizens were given a colour-based QR code on their mobile phones. People's health status became similar to a traffic light system - green, yellow and red. Red: You have to stay quarantined for 14 days and provide regular check-ins on a chat app called DingTalk. Yellow: You have to stay inside for seven days. Green: You are allowed to travel freely.
Subways, shops, public spaces, apartment blocks and other checkpoints reviewed people's status before entry.
Sophisticated facial recognition cameras are common across China and these technologies were upgraded to scan crowds for for fever and identify individuals not wearing masks. One Chinese firm developed a system to recognise the faces of those who were wearing a mask.
"We still have the ability to go out for walks so don't take that for granted as we might not always have that privilege in the near future."
Will it work here?
Beijing has received praise for its tough efforts of unprecedented containment and social distancing measures.
The World Health Organization has urged Europe to learn from China and take the "boldest" moves to tackle Covid-19 as it has become the epicentre of the outbreak.
"China has rolled out perhaps the most ambitious, agile and aggressive disease containment effort in history," according to the World Health Organization.
It said that China's containment measures have only been possible due to the commitment of the Chinese people and "collective action" in the face of this common threat.
However, using the China model could lead to mass quarantine in Western democracies along with strict surveillance.
"I don't know how that's possible in societies that do not have a culture of social control and intrusive surveillance like in China," said Lawrence Gostin, a global health law scholar at Georgetown University and WHO Director of Centre on Public Health and Human rights.
He said that mass quarantine is "unethical" and that people would not heed the harsh social control and intrusive surveillance like that used in China.
Lawrence Gostin told RTÉ News that this is a "global health crisis unprecedented in modern times".
He advised Irish people that during this time of crisis we should "look after the most vulnerable among us."
For Ben Kavanagh, who was one of the first Irish people to be evacuated from Wuhan during the crisis and is now back in Ireland, told RTÉ News that "you did as your told" in China under their strict measures.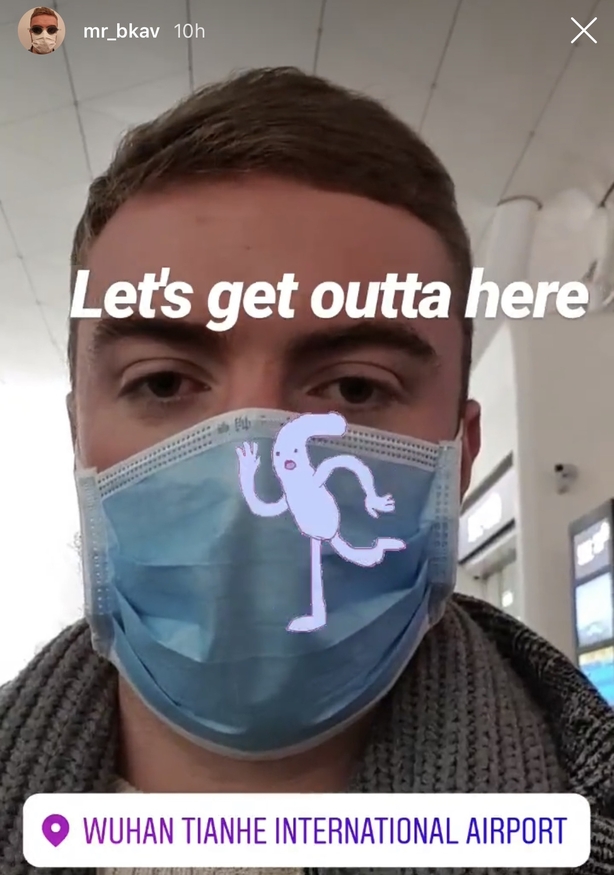 He's sceptical that those rules would work here, however, believes that a massive lockdown in Ireland could be on the cards in the coming weeks.
"We still have the ability to go out for walks so don't take that for granted as we might not always have that privilege in the near future," the teacher said.