The death toll from the coronavirus outbreak in China has risen to 81, as the government extended the Lunar New Year holiday and more big businesses shut down or told staff to work from home in an effort to curb the spread.
Chinese Premier Li Keqiang visited the central city of Wuhan, the centre of the outbreak, as the government sought to signal it was responding seriously.
The total number of confirmed cases in China rose about 30% to 2,744, with about half in Hubei province, the capital of which is Wuhan.
But some experts suspect the number of infected people is much higher.
As worry grew around the world, Chinese-ruled Hong Kong, which has had eight confirmed cases, banned entry to people who had visited Hubei in the past 14 days.
The ban did not cover Hong Kong residents.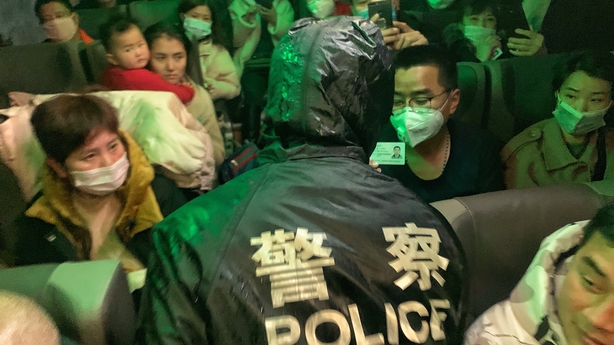 The nearby gambling hub of Macau, which has had at least one case of the flu-like virus, imposed a similar ban on those arriving from Hubei, unless they can prove they are virus-free.
The city of Haikou on Hainan island in southern China said tourists from Hubei would be quarantined for 14 days.
The number of deaths from the virus in Hubei climbed to 76 from 56, health officials said, with five deaths elsewhere in China.
China is building two new hospitals to treat patients affected by the coronavirus, with construction moving at an astonishing pace. | https://t.co/E5T9uZlJ4K pic.twitter.com/DrJOLvTTqc

— RTÉ News (@rtenews) January 27, 2020
While a small number of cases linked to people who travelled from Wuhan have been confirmed in more than ten countries, including Thailand, France, Japan and the United States, no deaths have been reported elsewhere.
Coronavirus cases already likely in UK
Medical Director and Director of Health Protection for Public Health England said the first UK case is likely to come from somebody already in the country.
Professor Yvonne Doyle said: "Our view is that, although airports are important, the most likely place that we might find a case is somebody in the country already, and it's absolutely critical that the public health service and the NHS are ready to diagnose that and are able to designate the person to the right facilities.
"That's the most likely scenario we are dealing with."
Asked if she was alarmed about a UK case, she said: "I think, with infections, health is global.
"We've been here before, we've dealt with Middle Eastern virus, we've dealt with Sars, we deal with flu regularly, which can be dangerous, but we're ready."
Prof Doyle said efforts were continuing to trace the 2,000 people who have entered the UK from China on international flights.
"We are now looking back to see whether any of them are still in the country, because some of them will have returned to China, but there are moves to identify them," she said.
"It's not always possible to find everybody but we are working to our best endeavours."
Prof Doyle said washing hands with soap and water is more effective than wearing a face mask, although face masks are important for staff to use in hospitals when dealing with suspected cases.
Some 52 people have now been tested for coronavirus in the UK, although all have come back negative.
Professor Neil Ferguson, from Imperial College London, said his "best guess" was that 100,000 people had been infected with the flu-like virus.
WHO officials head to Beijing to discuss crisis
With the virus having spread to around a dozen countries, World Health Organisation chief Tedros Adhanom Ghebreyesus headed to Beijing to meet government officials on the crisis.
"My WHO colleagues and I would like to understand the latest developments and strengthen our partnership with China in providing further protection against the outbreak," he said on Twitter.
I am on my way to Beijing, 🇨🇳 to meet with the Government & health experts supporting the #coronavirus response. My @WHO colleagues & I would like to understand the latest developments & strengthen our partnership with 🇨🇳 in providing further protection against the outbreak.

— Tedros Adhanom Ghebreyesus (@DrTedros) January 26, 2020
The WHO last week stopped short of declaring the outbreak an international public health emergency, which would have prompted more concerted international action, including possible trade or travel restrictions.
The newly identified coronavirus is believed to have originated late last year in a Wuhan market illegally selling wildlife.
Much is not known about it, including how easily it spreads and just how dangerous it is.
It can cause pneumonia, which has been deadly in some cases.
National Health Commission Minister Ma Xiaowei said the incubation period could range from one to 14 days, and the virus was infectious during incubation, unlike SARS.
The WHO estimated an incubation period of two to ten days.
It is also not clear if an infected person can pass it on before they show symptoms.
Senior Chinese leader inspects Wuhan efforts
Li Peng is the most senior leader to visit Wuhan since the outbreak began.
Clad in a blue protective suit and mask, he inspected efforts to contain the epidemic and spoke to patients and medical staff, the government said.
Wuhan, a city of 11 million people, is in virtual lockdown and severe limits on movement are in place in several other Chinese cities.
Much of Hubei province, home to nearly 60 million people, is under some kind of travel restriction.
The government is extending the week-long Lunar New Year holiday by three days to 2 February, in a bid to slow the spread of the virus.
The Lunar New Year is usually a time for travel by millions, but many have had to cancel plans.
Investors are worried about the impact on travel, tourism and broader economic activity.
During the 2002-2003 outbreak of Severe Acute Respiratory Syndrome (SARS), a coronavirus that originated in China and killed nearly 800 people globally, air passenger demand in Asia plunged 45%.
The travel industry is more reliant on Chinese travellers now than it was then.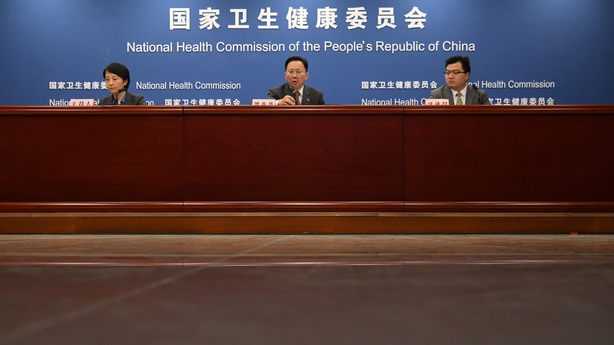 China's National Health Commission said that there were 2,744 confirmed infections nationwide, an increase of 769 from the previous day.
In addition, the number of suspected cases also doubled over 24 hours to nearly 6,000.
---
Read more:
Countries push to evacuate citizens from China's Wuhan
WHO seeks to strengthen link with China amid coronavirus outbreak
Shanghai Disney shuts to prevent spread of virus
---
Wuhan's mayor Zhou Xianwang, speaking at a press conference while wearing a mask, said yesterday that around five million people had left the city for the Lunar New Year travel rush in January, further heightening fears about the contagion's spread.
The virus is suspected of having come from animals in a market that sold a wide range of exotic wild game.
The government said it was banning all trade in wildlife until the emergency is over, but conservationists called for China to make the ban permanent to reduce the possibility of future outbreaks.
It has caused global concern because of its similarity to SARS, which killed hundreds across mainland China and Hong Kong in 2002-2003.
At a press briefing in Beijing yesterday, the head of China's disease control agency, Gao Fu, said it was "not as powerful as SARS", but officials warned its ability to spread could be getting stronger.
Shandong province in the east and four cities, Beijing, Shanghai, Xi'an and Tianjin, have announced bans on long-distance buses entering or leaving, while some provinces and cities made it mandatory to wear face masks in public.
The crisis has overwhelmed Wuhan's hospitals, prompting authorities to send hundreds of medical reinforcements including military doctors, and start construction on two field hospitals.