Germany is the latest country to consider evacuating its citizens from the Chinese region affected by coronavirus, as the death toll in China reaches 81 with almost 3,000 infected.
Foreign Minister Heiko Maas said: "We are now also considering a possible evacuation of all Germans who are willing to leave," adding that a team from the German embassy in Beijing would arrive in the central Chinese city of Wuhan later in the day to help Germans there.
Mr Maas also said Germans should avoid all travel to China that was not absolutely necessary.
All of the fatalities from the virus so far have been in China, with most of those in Hubei.
The British Foreign Office said that it was working to offer British nationals in Hubei an option to leave.
In an updated statement, the Foreign Office said: "We are working to make available an option for British nationals to leave Hubei province.
"We continue to monitor developments closely and are in close touch with the Chinese authorities.
"The safety and security of British nationals is always our primary concern."
---
Read more:
China extends holiday to buy time as virus toll rises
WHO seeks to strengthen link with China amid coronavirus outbreak
---
The Spanish government said it is working with China and the European Union to repatriate Spanish nationals from Wuhan, Spain's Foreign Minister Arancha González Laya said.
"We're working ... with our consulate in Beijing, and officials in China and the European Union to repatriate around 20 Spaniards in Wuhan, Hubei, the epicentre of the coronavirus. We will continue to update on any advances," Ms González Laya wrote on Twitter.
She did not provide further details.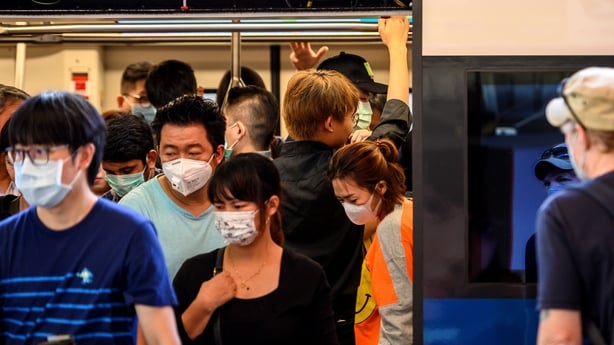 Earlier, France said it expected to evacuate hundreds of its 800 citizens from Wuhan.
"French citizens will be repatriated by airplane to France, with the agreement of Chinese authorities. This will take place midweek," French Health Minister Agnes Buzyn told reporters yesterday.
The US State Department also said it would evacuate personnel from its Wuhan consulate to the United States and will offer a limited number of seats to private US citizens.
Most foreign governments have not announced evacuation plans, and their trapped citizens were growing increasingly fearful.
"I'm getting more concerned everyday," Do Quang Duy, 32, a Vietnamese masters student in Wuhan, told AFP.
"When I look at the phone, I see dozens of reports and announcements of rising numbers of infected people, as well as deaths. I am very worried."
Australia confirmed its fifth case involving a woman on the last flight out of Wuhan to Sydney before China's travel ban.
Airports around the world have stepped up screening of passengers from China, although some health experts have questioned its effectiveness
The current risk to the public in Ireland remains low, the Department of Health said, adding that the Government is continuing to monitor the situation closely.
The Embassy of Ireland in China has said it is continuing to monitor the situation closely and advises Irish citizens in the region to follow the advice of the local authorities.
Travel advice from the Department of Foreign Affairs can be found online.
Malaysia banned visitors from Wuhan and Hubei province and said authorities will temporarily halt all issuance of visas for Chinese citizens from the area with immediate effect.
Malaysia has reported four confirmed cases of the flu-like virus which started in the central-Chinese city and has spread worldwide.
All four, including two children, are in stable condition. They are tourists from Wuhan who entered Malaysia for a holiday via neighbouring Singapore.
The wife of a man hospitalized in Toronto with a suspected Chinese coronavirus infection has herself contracted the virus, making her Canada's second "presumptive" case of the contagious disease.
The province of Ontario had announced on Saturday that Canada's first suspected case involved a man in his 50s who had been in Wuhan and who arrived in Toronto on 22 January.
His wife, who made the same trip with him, also is believed to have contracted the virus and has been placed in isolation, David Williams, the province's state medical officer, said in a statement.
---
The World Health Organization issued the following advice on how to protect yourself from infection:
Frequently clean hands by using alcohol-based hand rub or soap and water;
When coughing and sneezing cover mouth and nose with flexed elbow or tissue – throw tissue away immediately and wash hands;
Avoid close contact with anyone who has fever and cough;
If you have fever, cough and difficulty breathing seek medical care early and share previous travel history with your doctor;
When visiting live markets in areas currently experiencing cases of novel coronavirus, avoid direct unprotected contact with live animals and surfaces in contact with animals;
The consumption of raw or undercooked animal products should be avoided. Raw meat, milk or animal organs should be handled with care, to avoid cross-contamination with uncooked foods, as per good food safety practices.