The mother of a primary school child from Co Armagh is seeking to mount a legal challenge against the decision not to close schools in Northern Ireland in response to coronavirus.
Lawyers acting for the unnamed woman say her daughter suffers underlying health problems, including severe asthma, and is at greater risk of harm if she contracts Covid-19.
They say they have notified the Stormont ministers of health and education, Northern Ireland's Education Authority and the Council for Catholic Maintained Schools of their intention to seek an emergency judicial review.
"It is our client's case that the current position is unlawful and contrary to the necessary protections afforded to all citizens under the human rights act," said solicitor Darragh Mackin.
"It is clear that the respective public bodies have each failed in their respective obligations to our client, and indeed all children, by continuing to require their attendance at school in circumstances in which they would be at an increased risk of contracting the condition.
"There is no time for any further delay. The necessary policies and decisions all need to be taken in a manner that recognises the real and immediate risk."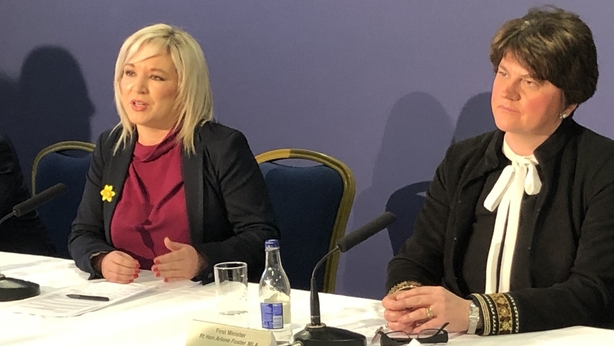 The Stormont Assembly is deeply divided on the question of when to close schools.
Deputy First Minister and Sinn Féin leader in Northern Ireland Michelle O'Neill and the SDLP have said schools should close immediately.
First Minister and DUP leader Arlene Foster has said schools will close at the appropriate time, but not now. She said that decision is based on medical advice.
In a tweet posted today, she said: "We must work together to help our most vulnerable. We need calm heads. Our decisions will be based on expert scientific advice. Not a time to play orange or green politics. There will be challenges ahead so we must band together to protect each other."
The Assembly will discuss the ongoing coronavirus crisis, and its response to it, at a meeting tomorrow.
There are 45 confirmed cases of Covid-19 in Northern Ireland, bringing the total number of cases on the island of Ireland to 214.
---
Foster, O'Neill miles apart on how to tackle Covid-19
Concerns in border counties over different approach to Covid-19
---