The body language said it all.
They sat just a metre apart, but their approach on how best to tackle coronavirus has them miles apart.
Arlene Foster made no attempt to hide her disapproval as Michelle O'Neill said schools in Northern Ireland should be closed immediately.
On Thursday, the two ministers had stood shoulder to shoulder and were in harmony as they sang from the same hymn sheet after a meeting of the Northern Ireland Executive.
They said their expert medical advice was that closing schools would not be appropriate at that stage.
The position was the same as that adopted by the British government.
That advice, from Northern Ireland's Chief Medical Officer Dr Michael McBride, has not changed.
But Michelle O'Neill's position has.
She now wants the Assembly to adopt the approach taken by the Irish government.
"We live on one island, we need one approach to this situation, we need to work together," she said at a press conference after a meeting of government leaders and senior health officials from both sides of the border in Armagh this afternoon.
"I believe there's a growing call for the schools to be shut immediately. We have the churches closing down masses, we have the GAA, we have soccer, we have rugby, we have hockey; people are actually taking decisions in advance of government."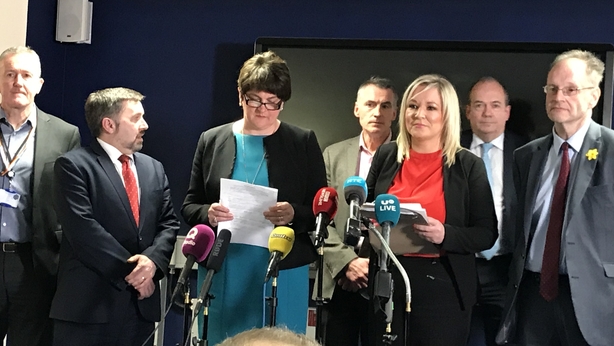 She added: "My opinion is that schools should close now because I don't believe that it's a tenable situation that one jurisdiction is taking this initiative and in the other part that's not happening".
"I just don't think that's a credible, sustainable position. I actually think that adds to the confusion."
Arlene Foster's facial expression said it all. She was clearly not amused.
On a number of occasions she stressed that she and Northern Ireland's Health Minister Robin Swann are following the advice of their Chief Medical Officer.
The First Minister said it was "a time for calm and mature leadership" and that the Stormont Executive is taking a "phased and appropriate" approach.
"Our approach in Northern Ireland has served us well, but we're certainly not complacent," she said.
"We're certainly not and we'll continue to take the expert advice that is provided to us in terms of everything that we do because as our UK Chief Scientific Officer has said, we must take the right decision at the right time to ensure that we have the right impact in relation to this disease."
The DUP leader made it clear that the question of school closures is a matter of when it will happen, not if.
When it does, she warned that they would remain closed "for at least 16 weeks."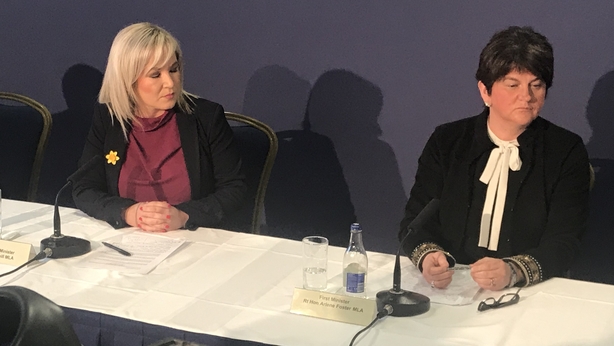 "The Taoiseach and Tánaiste did recognise that there are two different jurisdictions on this island, that we may do things in terms of timing differently, but the tools are all the same in terms of what we're going to do to try and combat this virus," she added.
Michelle O'Neill again made it clear that she disagrees.
"I think the fact that you can even have two schools a mile apart and one school's open and one school's closed, that's a very confusing picture and a very confusing message for the public," she said.
With the tension between the leaders of the Stormont Assembly clear, the Taoiseach was keen to stress that there is ongoing close co-operation between politicians and medical experts on both sides of the border, and that it will continue.
We need your consent to load this rte-player contentWe use rte-player to manage extra content that can set cookies on your device and collect data about your activity. Please review their details and accept them to load the content.Manage Preferences
Leo Varadkar spoke of the determination of everyone at the table to do everything possible to combat Covid-19.
"There will be differences of approach over the next few weeks and months, we are different jurisdictions and there are differences and there will be differences," he said.
"But the differences that exist are mostly about timing and what there isn't any difference about is our common objective, which is to slow down this virus in its tracks, push it back as much as possible."
Tánaiste Simon Coveney was also keen to stress the levels of co-operation between politicians and medical advisors on both sides of the border, saying they "speak to each other on multiple occasions every single day".
"This is a health challenge the likes of which none of us has faced before as policy makers and politicians and decision makers," he added.
"The way in which we live, the way in which we move around, the way in which we work is all going to be challenged and changed in the weeks ahead as we try to protect vulnerable communities from a virus that is here whether we like it or not and is going to spread through our population in the coming weeks and months."
He said the Irish Government and Northern Ireland Assembly will focus on working together to combat the virus and protect the public.
As they filed out of the room in the offices of the North-South Ministerial Council after the press conference, Arlene Foster and Michelle O'Neill went their separate ways.
The Stormont Assembly is only back in business less than three months after three years in suspension, and its first major crisis has arrived.
The harmony of Thursday night has been replaced by two soloists.
A week is indeed a long time in politics.