Passengers returned to the skies in huge numbers in 2022, after two years of travel restrictions during the Covid-19 pandemic which grounded the aviation industry.
The pent up demand led to queues spilling out of Dublin Airport at the start of the summer.
The airport was not prepared for the sheer volume of passengers excited about their first foreign holiday in more than two years.
Omi-nous start to 2022
The year began under the shadow of Omicron.
The Covid variant dashed the travel sector's hopes for recovery as we neared the end of 2021, and a fresh wave of restrictions lead passengers to cancel or hold off on booking trips.
There was an air of optimism in January, however, as airlines looked to the year ahead.
Ryanair announced its largest ever flight schedule out of Dublin airport in January, forecasting the recovery.
The airline promised 900 flights a week to 120 destinations through the summer season, an increase of 22 routes compared with the summer of 2019.
The announcement was in part driven by the Government-backed Travel Recovery Support Scheme.
The €90m in funding offered incentives to airlines to rebuild capacity and add routes in and out of the country's airports, through lower passenger charges where promised growth was delivered.
There was further good news for travellers in March when rules requiring Covid-19 certificates and passenger locator forms for travel to Ireland were dropped.
International passengers, regardless of where they were coming from, no longer needed to show proof of vaccination, recovery or a negative PCR test upon arrival.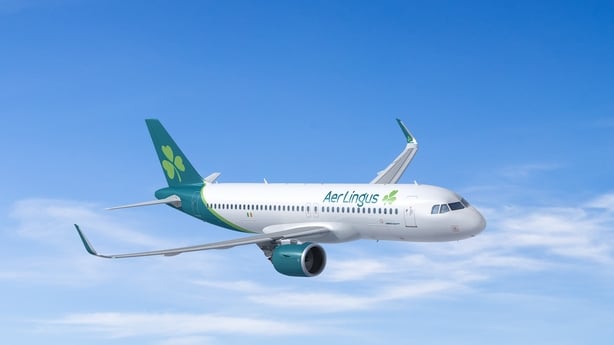 Russia's invasion of Ukraine in February pre-empted the move.
Minister for Health Stephen Donnelly said at the time that the decision to remove travel requirements was made in preparation for the large number of Ukranian refugees expected to travel to Ireland who wouldn't have been in a position to prove compliance.
The impact of the war on aviation
The war on Europe's border has led to a humanitarian crisis for the people of Ukraine.
But it also had a major impact on the aviation industry on a number of fronts.
The European Union adopted a comprehensive set of restrictive measures in response to Russia's invasion of Ukraine.
Industry body Aircraft Leasing Ireland confirmed in March that all of its members had fully complied with EU sanctions requiring them to terminate lease arrangements with Russian based airlines.
Members of the body include AerCap, which had around 150 aircraft worth €2.1bn caught up in the crisis, as well as SMBC Aviation Capital and Avolon were also impacted.
Avolon recorded a first quarter loss of $182m as a result of its inability to reclaim 10 aircraft that were in Russia when it invaded Ukraine.
Four of the planes were in other countries at the time the sanctions were imposed, but the leasing company has not been able to get the remaining jets back.
Dómhnal Slattery, then chief executive of the Dublin-based aviation leasing company, said he believed it would be very difficult for the aircraft leasing sector in general to underwrite new business in Russia for a very long period of time - if ever.
Several of the world's largest aircraft lessors have since begun to pursue insurance claims through the courts here over jets they own that are stuck in Russia.
The airline industry was on the flight path to recovery after the pandemic, when Russia invaded Ukraine.
The week after the invasion, bookings in Europe dropped by 14% compared to the week before.
Fuel accounts for around 30% to 35% of the total operating cost for an airline, and the soaring cost of oil added to the cost of travelling.
Passing the fuel cost to the passenger is common, but higher airfares could have reduce demand for air travel with significant negative effects for the tourism industry.
However, numerous airlines had entered into agreements and hedged their fuel.
Ryanair has hedged 80% of its fuel at $63 per barrel through to March 2023. Air France KLM has hedged 72% of its fuel for the first quarter and 63% for the second quarter at $90 per barrel.
Aer Lingus
Aer Lingus reported an operating loss of €95 million for the first six months of the year, despite returning to profit in the second quarter.
Lynne Embleton, CEO of Aer Lingus said in June that the airline was operating at almost 90% of its 2019 capacity.
Despite the challenges, the airline anticipated strong customer demand for travel to and from North America, and as forecast it saw a surge in demand for its direct flights to destinations such as New York, Chicago, Boston, LA, San Francisco, Toronto, Washington, Seattle and Philadelphia.
The airline also re-introduced flights from Shannon in March to JFK and Boston with 14 flights per week to the USA.
It went on to report a strong improvement for it's third quarter operating profits of €139m.
They were still down compared to the same busy summer quarter of 2019.
Aer Lingus said that despite the improved performance, global and geopolitical forces causing higher oil prices, exchange rate fluctuation and rising interest rates continued to substantially increase the cost base of airlines.
Chaos at Dublin Airport
More than 1,000 passengers missed flights from Dublin Airport at the end of May amid chaotic scenes of queues that spilled outside the airport.
Dublin Airport "sincerely apologised", and admitted the queues were the result of staffing issues.
It said its priority would be to recruit, train and deploy security staff.
The Army was drafted in and was put on standby to deal with any repeat of chaotic queues.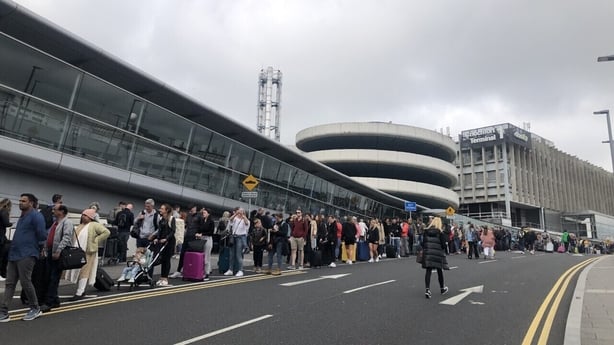 An Oireachtas committee was also told of thousands of misplaced bags at the airport, with around 270 going missing every day during the peak summer season.
There were concerns that the reputation of Ireland as a destination for tourists would be impacted by what happened at the country's biggest airport.
Car Hire
Fáilte Ireland had already published a report which found rising car rental prices were undermining Ireland's reputation as a good value for money destination.
According to its survey, a small car - a Citroen C1 - set customers back around €1,545 for a ten-day hire from Dublin Airport at the end of July, while for those looking for more space, a VW Golf Estate came in at over €5,700.
It said the pandemic had a detrimental impact on car rental companies which led to a shortage of supply.
Hotel prices
In early summer, hotels were accused of price-gouging and using the strong rebound in demand to raise prices.
The Irish Hotels Federation said at the time that a combination of reduced supply and strong demand meant the bulk of average priced hotel rooms were selling out months in advance.
The hoteliers claimed it left only the higher priced rooms in hotels for consumers to choose from nearer the time, giving a false impression that all prices are being inflated to take advantage of the strong demand particularly around events.
When hoteliers appealed to Government to maintain the VAT on hospitality at 9%, Minister for Finance Paschal Donohoe listed room rates that very night and said the VAT rate would return to 13.5% next year.
New runway
The new runway at Dublin Airport officially opened on August 24 this year.
The first commercial flight to use the new northerly runway was Ryanair flight FR1964 to Eindhoven.
It was cleared for take-off by air traffic controller Niamh Hennessy and took off at 12.10pm to applause in the control tower.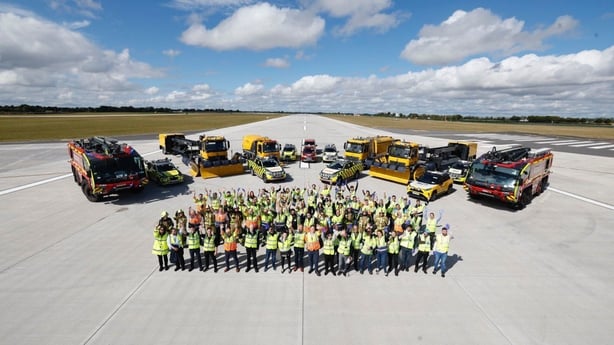 The 3.1km long runway will provide extra capacity for growth for the airport.
The largest infrastructure project in the country, it was delivered on time and within the €320m budget, paid for by the airport operator daa's own revenues and borrowings.
Dalton Philips, then daa chief executive, said the opening of the north runway was an exciting milestone for Dublin Airport and Ireland.
However, the new runway drew criticism from environmentalists, who said the increased capacity would likely lead to higher aircraft CO2 emissions, at a time when Ireland is trying to lower its use of fossil fuels.
Some local residents also remain concerned about the noise pollution emanating from the new infrastructure, particularly at night time.
Aer Lingus IT outage
Frustrated passengers formed lengthy queues at Dublin Airport again in September. This time, however, it was due to "a major incident with a network provider" which led to an outage of Aer Lingus' cloud-based systems.
The airline was unable to check-in or board passengers and its website was unavailable.
It led to 51 flights being cancelled to and from Dublin Airport.
Stranded tour groups, disappointed holidaymakers and a student whose visa expired the day after his flight were among those expressing despair at the situation.
Many complained about the lack of communication and said they found out their flights had been cancelled from news sources long before being officially informed at the airport.
Record-breaking Ryanair
It was a record-breaking return to the skies for Ryanair in 2022.
The airline reported its third busiest month ever in September, as it consolidates its position as Europe's largest airline by passenger numbers.
The airline, which unlike many airlines kept its pilots and crew up-to-date with their flying hours during the pandemic to take advantage of the swift rebound this year, carried more than 158 million passengers in the 12 months to the end of November.
It also posted its largest ever after-tax profit for the first half of its financial year and said it expects to return to pre-Covid annual profit levels of at least €1 billion this year.
The airline also confirmed it had agreed a new contract with group chief executive, Michael O'Leary, that will see him remain at the airline until 2028.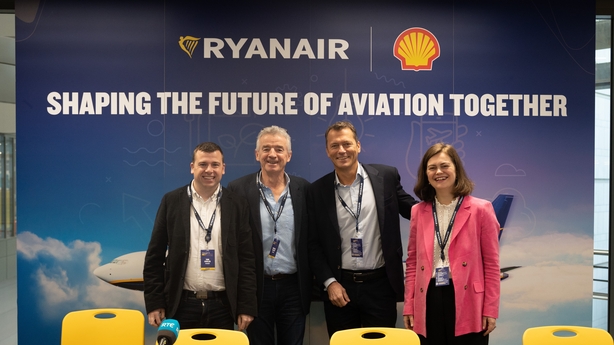 Also in November, Ryanair and Shell signed a Memo of Understanding to advance the supply of sustainable aviation fuel at over 200 airports across Europe, with particular focus on SAF supply at the airline's largest bases like Dublin and London Stansted.
While SAF is a key enabler of aviation decarbonisation, it currently accounts for just a small fraction of worldwide jet fuel usage.
The agreement with Shell gives Ryanair potential access to 360,000 tonnes of SAF between 2025 and 2030, saving over approximately 900,000 tonnes in CO2 emissions - equivalent to over 70,000 flights from Dublin to Milan.
Some environmental groups welcomed Ryanair's move towards using more sustainable aviation fuel but said the type of fuel involved was important.
However, others continued to object to government efforts to promote the general recovery in aviation which they claimed in itself is not environmentally sustainable.
Passenger numbers
Figures from the Central Statistics Office in December showed the number of passengers using Irish airports in the third quarter of 2022 was still 10% lower than the same time in 2019 - pre-Covid.
Almost 3.5 million more passengers travelled to Ireland in July, August and September when compared with the same time last year.
But that is still 0.6 million fewer passengers compared to the same time in 2019.
A total of 10.4 million passengers passed through the five main Irish airports - Dublin, Cork, Shannon, Knock, and Kerry - in those three months, which was three times the the number of passengers for the same time in 2021.