Aer Lingus has said the systems outage that resulted in 51 flights being cancelled to and from Dublin Airport today has been resolved.
The airline said operations for tomorrow are planned to operate as normal: "Customers are advised to come to the airport at the normal time for their scheduled flight."
In a statement, the company said: "The break in connectivity has now been restored and we are taking steps to bring all of our systems back online."
The airline added: "As systems have now been restored we are contacting customers directly in order to re-accommodate them as efficiently as possible.
"We have made additional customer service agents available to deal with high call volumes – please bear with us as we try to service all customer queries."
Aer Lingus said it is operating all of its transatlantic services from Dublin, "albeit with delays and reduced passenger numbers in some instances due to security restrictions applying as a result of the systems outage".
However, it later clarified that "unfortunately" it had to cancel this evening's Dublin to Boston flight and the return journey (EI137 and EI136) "due to the knock-on effect of earlier delays".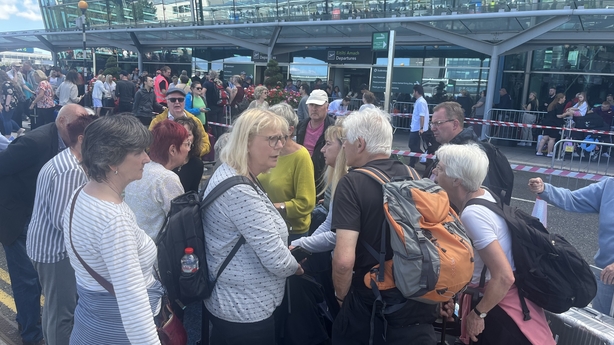 Aer Lingus said its transatlantic services from Shannon operated as normal today. Aer Lingus Regional (operated by Emerald Airlines) is also planning to operate remaining services today, albeit with delays.
"Any customer impacted by today's disruptions will be able apply for a refund or change their travel plans, free of charge through Aerlingus.com, our call centres and our social media channels," the airline said.
Airport operator daa said it is deploying additional staff in Terminal 2 at Dublin Airport to "facilitate Aer Lingus passengers departing tonight and tomorrow as the airline resumes flight operations following an issue with their internal IT system earlier today".
And despite being told systems were being restored tonight, some people complained they couldn't check in online or rebook some cancelled flights.
And that there were long waits to get through to Aer Lingus customer service channels.
There was frustration and despair among passengers at Dublin Airport earlier as news of the cancellations emerged.
Frustration and despair at Dublin airport as Aer Lingus cancels all European flights after 2pm. There's stranded tour group, visitors with nowhere to stay, disappointed families with cancelled holiday and a panicked student whose visa expires tomorrow @rtenews pic.twitter.com/9hmHHstYHZ

— Samantha Libreri (@SamanthaLibreri) September 10, 2022
Stranded tour groups, disappointed holidaymakers and a student whose visa expires tomorrow were among those expressing despair at the situation.
Many complained about the lack of communication and said they found out their flights had been cancelled from news sources long before being officially informed at the airport.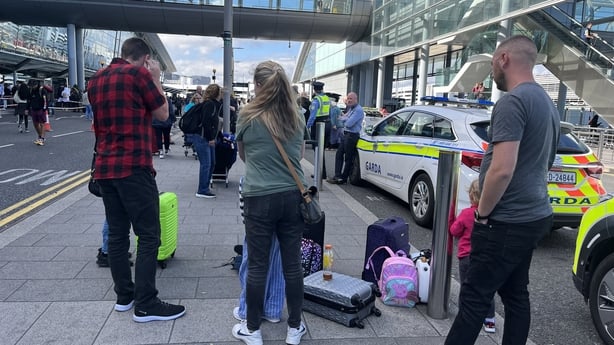 In a statement, the airline said: "Due to a major incident with a network provider, our cloud-based systems enabling check-in, boarding and our website are currently unavailable."
It said that the cloud-based system operated by a UK provider has experienced a major break in connectivity. It added that the provider has not been able to estimate when connectivity will be restored.
Aer Lingus said that "unfortunately" the issue is causing severe disruption to services.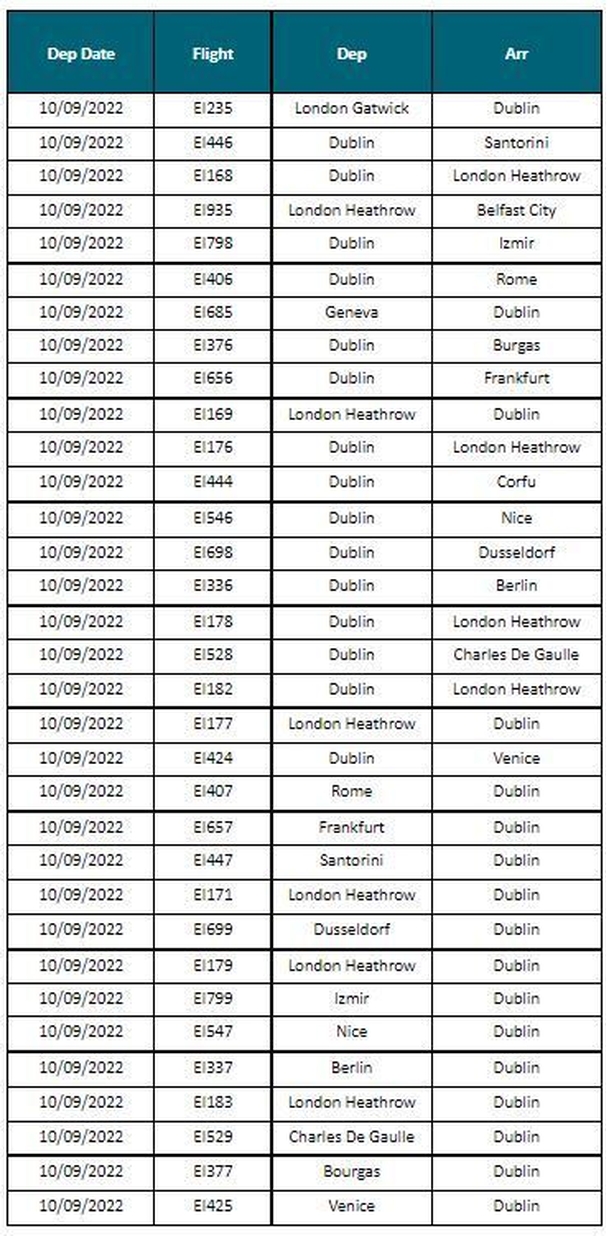 It said: "All flights originally scheduled to depart to and from Dublin Airport [involving] European and United Kingdom destinations from 2pm onwards today have had to be cancelled.
"As we are currently unable to communicate directly with customers, we are asking customers booked to travel on those flights not to come to Dublin Airport.
"We sincerely apologise to all customers impacted by today's disruption and cancellations."
The issue began at around 9am.
Across the morning, thousands of people lined up outside and inside Dublin Airport's Terminal 2 as the airline attempted to manually check in passengers for their flights.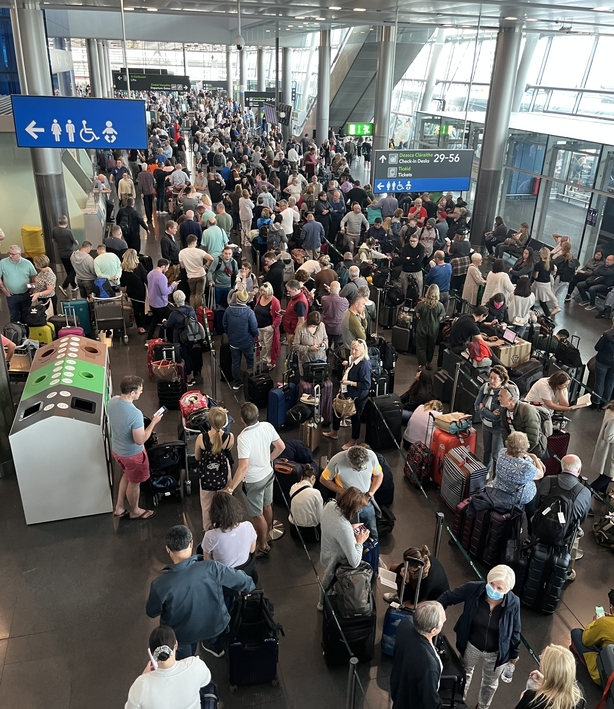 The airport's operator, daa, which has been staggering entry to the terminal to manage the numbers inside, said no other airline was experiencing technical difficulties.
There are now thousands of people queuing outside Dublin Airport Terminal 2 as an Aer Lingus IT problem causes significant flight delays. Issues also being experience internationally as digital systems such as boarding passes impacted @rtenews pic.twitter.com/FAm4tU8V6L

— Samantha Libreri (@SamanthaLibreri) September 10, 2022
People took to Twitter this morning to report lengthy queues outside T2.
One passenger asked the airline, "what is happening at departures in T2? Massive queues outside terminal and not moving."
Another said: "Can't check in on line in app or web site is there an issue currently".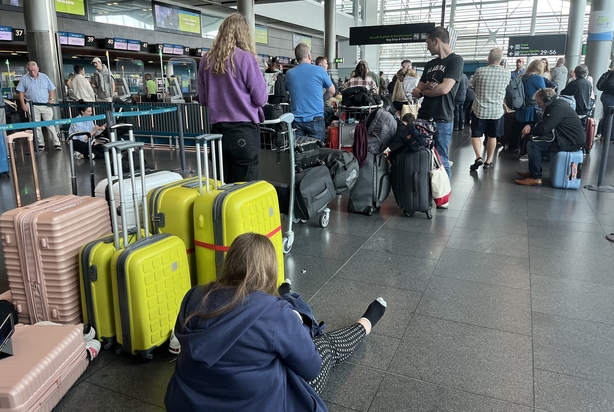 A passenger called Kate wrote on Twitter that Aer Lingus systems "have been down for over two hours. I am feeding my four month old baby on the floor. This is horrendous".
Aer Lingus passengers queueing in Heathrow for @aerlingus ticketing desk. All flights cancelled. One couple flying to Shannon are here since 10am. Most passengers hoping to get a hotel for the night and a new flight. @SamanthaLibreri pic.twitter.com/YUmVVoqIb7

— Sharon Tobin (@sharontobin) September 10, 2022
Meanwhile, a spokesperson for the Shannon Airport Group confirmed that the Aer Lingus passengers flying from Shannon Airport to New York and Boston today experienced a delay of one hour each.
Passengers on the London Heathrow service to Shannon today experienced a 90 minute delay.
"All other services at Shannon Airport are unaffected and are operating normally," the spokesperson said.
At Cork Airport, the 4.15pm Aer Lingus flight to Heathrow has been delayed, but all other flights have departed on time.
The length of the delay to the 4.15pm service will depend on when the inward flight from Heathrow arrives.
A spokesperson for Cork Airport said there are no queuing issues and all operations are running smoothly.
No other airlines have reported any problems.
Additional reporting: Conor Kane