Ryanair has signed a sustainable aviation fuel supply agreement with Shell, but chief executive, Michael O'Leary, said it would take a "revolution" to hit his target of powering 12.5% of flights with the fuel by 2030.
The Irish airline, Europe's largest by passenger numbers, said the memorandum of understanding could give it potential access to 360,000 tonnes of SAF from 2025 to 2030, a fifth of what it says it needs to reach its 12.5% target.
"I'm not sure we'll get there (12.5%) but by signing up more partnership agreements with Shell, with Neste and with the other fuel suppliers, I think that gives us our best chance of maybe getting to 8, maybe 10, maybe 11," O'Leary told a sustainability conference the airline was hosting.
"Who knows, hopefully we will get to 12.5% by 2030. But that will not happen unless we have a dramatic revolution in supply of production of SAFs and availability at our airports."
The Shell deal follows similar agreements Ryanair has struck with Finnish biofuel producer Neste and Austrian oil and gas group OMV.
Sustainable jet fuel generally produces up to 70% less carbon than fossil fuels, offering airlines a way to become greener while continuing to fly, before less carbon-intensive hybrid, electric or hydrogen aeroplane options become available.
Environmental groups welcomed Ryanair's move towards using more sustainable aviation fuel but said the type of fuel involved was important.
"It's actually a good thing that airlines are beginning to look at better alternative fuels," says Oisin Coghlan, CEO of Friends of the Earth, " but it's really crucial that they're not crop based bio-fuels because that just competes with food, so that's important to clarify."
He also questioned how much money Ryanair was going to be setting aside for sustainable aviation fuel.
"They recently announced they're spending €20 billion on new aircraft...so that's the disparity here," he said.
While SAF is a key enabler of aviation decarbonisation, it currently accounts for just a small fraction of worldwide jet fuel usage.
O'Leary told an Oireachtas committee yesterday that he did not expect a hydrogen engine to be ready before 2040 or 2050.
Ryanair has committed to cutting its carbon emissions to net zero by 2050 and said the Shell agreement could save 900,000 tonnes in carbon dioxide emissions, equivalent to over 70,000 flights from Dublin to Milan.
Ryanair operates an average of 3,000 flights per day and plans to grow from a record 168 million passengers this financial year to 225 million by 2026.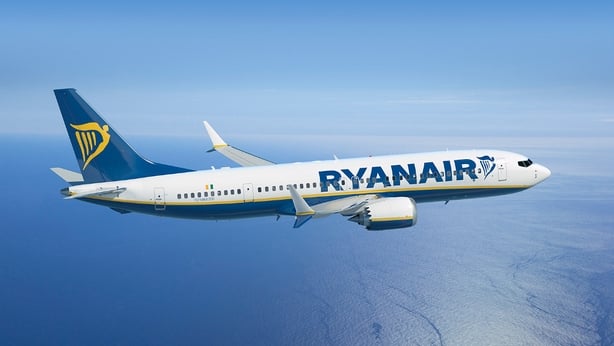 Meanwhile, Mr O'Leary also said aviation environmental taxes should be extended to long haul and connecting flights.
He also criticised the Minister for Transport, Eamon Ryan, claiming he had failed to defend fair environmental taxes in Europe over the last two years.
"I think we accept that our passengers airline passengers must be contribute towards the carbon cost of their flights," he told RTÉ News.
But he said the airline objects to the way Europe is designing the carbon costs so that all of the tax is being put on short haul.
"Passengers within Europe, the people who create the most passengers who create the greatest emissions long haul flights, which account for over 50% of Europe's co2 emissions, but just 6% of passengers -pay nothing," he claimed.
"And we think that's unfair. So we're calling for fair environmental taxes. Everybody should pay their fair share."
Oisin Coghlan said that he also believed environmental aviation charges should be extended to all flights.
"I actually agree with Michael O'Leary that environmental aviation charges should apply to long haul as well as short haul- that's only fair," he said.
Asked about his own views on climate change, Mr O'Leary said he had always accepted that climate change is real.
"I'm never quite sure about global warming. But then, you know, we've changed so it's more from global warming into climate change," he said.
He added that there was "no doubt that we have to decarbonize everything we do in society."
Mr O' Leary said he wasn't quite sure "what effect that would have on climate change because I still believe climate will continue to change."
But he acknowledged that decarbonisation must happen and he fully accepted that airlines must play a leading part in that objective.
Asked if Ryanair's continued growth will lead inevitably lead to more emissions, Mr O'Leary said he didn't believe so.
"I mean, remember...we're switching people away from flying with our, with our legacy competitors who are emitting twice the carbon that we do, all of this growth is taking place on brand new Boeing aircraft offer 64% more seats but burns 16% less fuel," he stated.
"So we can grow, but we can grow in a much less environmentally damaging or a much more sustainable way."
When asked if all of these efforts were essentially a drop in the ocean compared to what's need, Mr O'Leary said that aviation's contributions to emissions are a drop in the ocean.
"Aviation accounts for about 2% of Europe's Co2 emissions, shipping accounts for 5%."
Mr O'Leary also expressed concern that Dublin Airport has not yet recruited enough security staff ahead of the busy Christmas period.
"We're very concerned. We've written to Dublin Airport, we haven't got back any assurances that all the security gates will be open morning to evening through that four week period," he said.
"All we get is waffly answers."
He said the airport had told Ryanair that it had held a recruitment fair last week that 800 people attended.
"If you're holding a recruitment fair in the last week of November, that's too late for Christmas. We don't need recruitment fairs here. We need the DAA to recruit more security staff," he added.
He said if all 14 security channels are not open in Terminal One, then there will be a problem this Christmas.
"What we hope to avoid is the chaos we had through April, May and June, which was entirely down to late recruitment of security staff."
- additional reporting by Joan O'Sullivan