Taoiseach Leo Varadkar has said that all actions taken so far to deal with the Covid-19 threat have been on the advice of health experts.
His comments came after the biggest daily jump in the number of cases, with confirmation of 10 new diagnoses today.
The Department of Health said this brings the total in the Republic of Ireland to 34.
However, Chief Medical Officer Dr Tony Holohan reassured the public that 98% of people tested have been found to be negative.
Mr Varadkar said the Government asks the experts daily if there is more that should be done and that in response, the Government is reminded of the need to make the right interventions at the right time and for the right length of time because anything else could be counterproductive.
Five of the 10 new cases are associated with travel from an affected area. Three of those are males in the south of the country.
The other cases involve one male and one female in the east of the country, also associated with travel from an affected area.
Three of the 10 cases are associated with close contact with a confirmed case - a male and female in the west and a female in the south of the country.
Two of the new cases are healthcare workers - one male in the south associated with hospital transmission and one female in the east, possibly due to hospital transmission.
---
A case of Covid-19 has been confirmed at University Hospital Waterford.
It is understood the male has been a patient in recent days and a decision was made to test yesterday for Covid-19.
The case is understood to be one of community acquired infection, with no history of travel from affected areas.
The patient has been transferred to an isolation room in the hospital, in a ward which has been designated for dealing with the isolation and care of patients with suspected or confirmed Covid-19.
Staff have been contacted by hospital management and HSE staff are following up contact tracing in relation to the patient.
---
Dr Holohan said that 98% of people tested here for the virus have tested negative.
He said the service is also trying to minimise the length of time people have to wait for a home testing result.
Around 80% of cases of Covid-19 will be a mild to moderate illness, close to 14% have severe disease and around 6% are critical.
Generally, you need to be 15 minutes or more in the vicinity of an infected person, within 1-2 metres, to be considered at-risk or a close contact.
In relation to advice for healthcare workers being exposed to Covid-19, Dr John Cuddihy, Director of the Health Protection Surveillance Centre, said any healthcare workers who are symptomatic are excluded from work immediately.
He said there are strict guidelines for such workers and they must adhere to these guidelines.
Dr Holohan said GPs are still advised to refer to public health if they want a patient tested. Patients are advised not to attend doctor's surgeries if they are symptomatic.
He said it would be appropriate to lift the restrictions on nursing homes and said it was not recommended that visiting was stopped at nursing homes.
The Department of Health also said laboratory testing will commence in regional laboratories.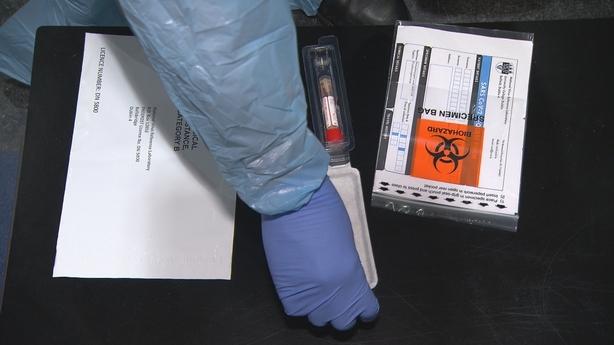 Minister for Health Simon Harris has said "more restrictions" including the potential widespread closure of schools may be needed if Ireland is to successfully overcome the Covid-19 outbreak.
Mr Harris said any new restrictions need to be "introduced at the right time" to ensure they have the best effect, saying the reality is "this is not Fortress Ireland" and that "we can't fool ourselves" this country can avoid the virus.
Speaking on RTÉ's Prime Time, Mr Harris said: "We have to be very honest with people" and that "we are going to see a lot more cases here".
Defending the Government's decision not to ban travel to this country from affect areas or to close schools to date, he said: "There may be a time when we close schools. As of now we need you to take all measures to keep family well and look after those in the community. But there will in all likelihood be a point when we have to introduce more restrictions."
Mr Harris said that people can attend League of Ireland soccer matches and GAA games this weekend, on condition there are clear Covid-19 advice signs placed in the locations and specific areas to help anyone if they become ill.
He said this issue - and concerts currently due to go ahead in the coming weeks - are continuing to be reviewed by health officials.
Asked why the Government is not "locking down" the country now, Mr Harris said officials are "grappling" with the matter every day, and that any interventions must take place at "the right time".
However, he added: "We can't fool ourselves, this is not Fortress Ireland."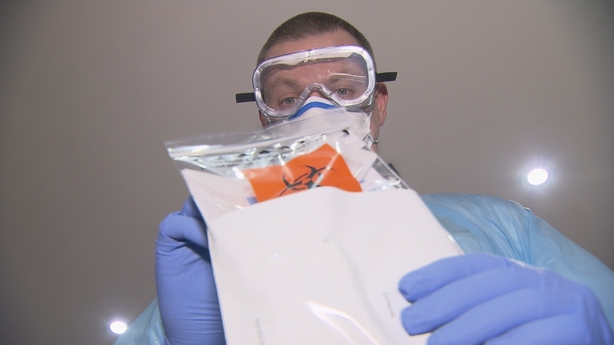 Government sources have confirmed that emergency legislation required to give effect to the €2bn package of new social welfare sick pay arrangements is due to be published early next week. 
This morning Apple confirmed that one of its employees in Cork had tested positive for Covid-19 and it was working closely with local health authorities.
Apple said: "As a precaution, we have asked some of our team members to stay at home while we work with the Health and Safety Executive to assess the situation.
"We are continuing to regularly deep clean all our offices and stores and will take all necessary precautions in accordance with guidance from health authorities."
Apple currently employs more than 6,000 staff in Ireland.
The company would not say whether the case was related to foreign travel or arose from local transmission.
The Irish Cancer Society has taken the decision to cancel all Daffodil Day street collections and events that were scheduled for 27 March.
It said the decision was made to protect the health and well-being of its patients, volunteers and supporters.
School closures
The Department of Education has said that any decision on school closures will be made on public health grounds and that there is no such advice at this point.
In a statement, it said it is liaising closely with the Department of Health on a continuing basis.
It reiterated that it is essential that any decisions regarding responses to Covid-19 are proportionate, necessary and based on specific public health advice and that no other response is appropriate.
Public health professionals will contact schools if there is any action to be taken, the department said, and schools should not take unilateral action. 
Tourism Monitoring Group
A Covid-19 Tourism Monitoring Group has been set up by the Department of Tourism, Trade and Sport.
A spokesperson said that the outbreak of the virus had already had an adverse impact on the Irish tourism sector and described the situation as "very serious."
The Monitoring group will monitor the impact to the tourism sector and to assist in formulating any proportionate Government response.  
According to the spokesperson it will be made up of made up industry stakeholders, the tourism agencies and Department officials.
Irish citizens advised not to travel to Italy - Coveney
Tánaiste and Minister for Foreign Affairs Simon Coveney has upgraded travel advice for Irish citizens recommending against travel to the whole of Italy.
Mr Coveney tweeted that the move was taken "in light of internal developments" in Italy.
Yesterday, Italian Prime Minister Giuseppe Conte said movements were to be restricted all over Italy, with all public gatherings banned due to the spread of the coronavirus.
Aer Lingus and Ryanair have suspended flights to Italy until early next month.
Speaking on RTÉ's Morning Ireland, Mr Coveney said nobody should travel to Italy unless absolutely essential.
He said it was an unprecedented move.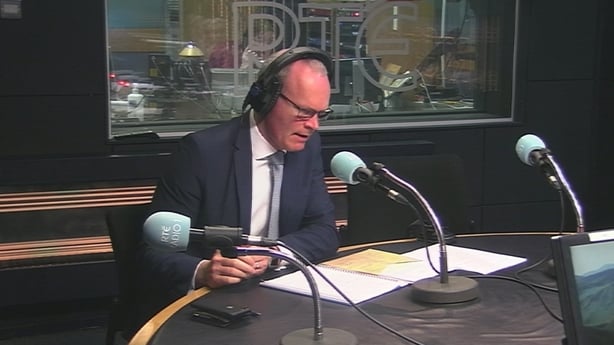 Mr Coveney also said Ireland remains in the containment phase and the vast majority of the 24 people who have tested positive so far have come from northern Italy. He added that the public health team have followed the contacts of these patients.
Mr Coveney said the Government was trying to provide responses that are proportionate given the level of threat at any given time and this response needs to be health driven.
The Government is not, he said, ruling out any course of action and the challenge was to slow down the spread of the virus so health experts can learn more about it and how to handle it.
He added that spreading that curve in the most effective way is the best way to protect the vulnerable.
Mr Coveney said everyone should think carefully about unnecessary public gatherings.
He urged the public to play their part and help themselves by following advice and doing practical things such as covering their mouths when sneezing and washing hands properly.
However, he said it was inevitable that Ireland will move onto the delay phase.
In light of internal developments in Italy my department is upgrading travel advice to Irish citizens, recommending against travel to whole of Italy.
The Taoiseach will today raise the issue of flights & further EU-wide responses at a meeting of the European Council. @COVID19

— Simon Coveney (@simoncoveney) March 10, 2020
---
Read more:
Latest coronavirus stories
---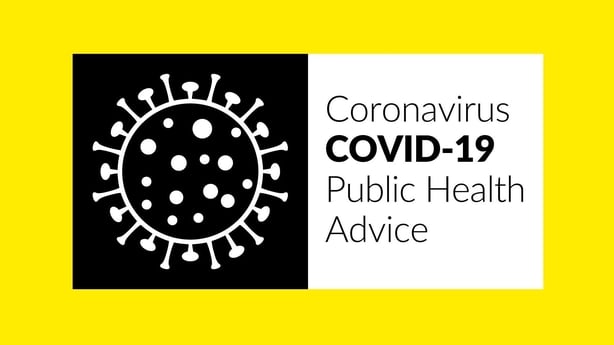 Wash hands regularly 
Maintain at least 1 metre distance between yourself and anyone coughing/sneezing 
Avoid touching your face 
Practice cough/sneeze hygiene
---
Minister for Finance Paschal Donohoe has said we are in extraordinary times and decisions such as the cancellation of mass gatherings have been made to stem the spread of the virus. 
Speaking on RTÉ's Today with Sean O'Rourke, Mr Donohoe said if experts advise that those measures already in place need to be escalated then the Government will do that. 
He said he has the utmost trust in the HSE to deal with coronavirus. 
The minister said the Government must do all it can to get ready for what might come and do all it can to minimise the spread of the virus.
Mr Donohoe said the allocation of €3bn is money that will be spent this year on measures to deal with the fallout from the virus.