Ryanair is suspending all its Italian flights until 8 April and RTÉ understands that Aer Lingus has cancelled all flights to and from Italy until 3 April.
The cancellation of flights will begin tomorrow and affected passengers will be contacted directly by the airline.
Ryanair is suspending its full flight schedule to and from and within Italy.
The move follows the decision by the Italian Government to extend the "lock down" across the entire country in an effort to contain the spread of Covid-19.
The airline said the suspension of domestic flights will begin from midnight tomorrow and will continue until midnight on Wednesday 8 April.
International flights to and from the country will be halted from midnight on Friday until midnight on Wednesday 8 April.
Ryanair said all impacted passengers have received emails today telling them about the changes.
It has also said that anyone who needs to be repatriated can change their flight for free to an earlier Ryanair one operating until midnight on Friday.
A full refund or travel credit valid on Ryanair flights for the next 12 months will also be offered.
"Ryanair continues to comply fully with WHO and national government guidance and travel bans," it said.
"The situation is changing on a daily basis, and all passengers on flights affected by travel bans or cancellations, are receiving emails and are being offered flight transfers, full refunds or travel credits."
The airline has apologised for the disruption.
---
Read:
More Coronavirus stories
---
Tánaiste and Minister for Foreign Affairs Simon Coveney has upgraded travel advice for Irish citizens recommending against travel to the whole of Italy.
Mr Coveney tweeted that the the move was taken "in light of internal developments" in Italy.
Yesterday, Italian Prime Minister Giuseppe Conte said movements were to be restricted all over Italy, with all public gatherings banned due to the spread of the coronavirus.
Meanwhile, Norwegian Air said it will lay off staff and cut around 3,000 flights as the spread of the virus sends shockwaves across the travel industry. 
"The company has also put several other measures in place, including temporary layoffs of a significant share of its workforce," the budget carrier said in a statement.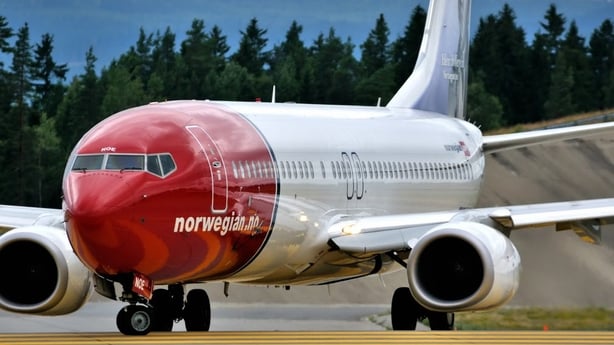 It said the 3,000 flights to be cut between mid-March and mid-June correspond to around 15% of its capacity. 
Norwegian earlier announced it had temporarily halted all flights to and from Italy because of the coronavirus outbreak.
"This is a critical time for the aviation industry, including us at Norwegian," CEO Jacob Schram said. 
"We encourage the authorities to immediately implement measures to imminently reduce the financial burden on airlines in order to protect crucial infrastructure and jobs," the CEO added. 
British Airways also today cancelled all fights to and from Italy.
"In light of the Italian government's announcement and the UK government's official travel advice, we have contacted all customers who are due to travel today (10 March)," the airline, owned by IAG, said.
IAG also owns Aer Lingus.
Wizz Air has suspended all flights to Italy and Israel.
Flights to and from Italian airports will be cancelled from March 10 until April 3 and flights serving Israel's Tel Aviv and Eilat will be suspended from March 12 until March 23, the company said.
And EasyJet today cancelled the majority of its flights to and from Milan, Venice and Verona after the whole of Italy was placed under lockdown until next month to tackle coronavirus. 
Customers will have the opportunity to rebook or get a refund, it said. 
According to analysts at Goodbody, EasyJet's Italian domestic exposure is 4% of its network and overall departing seats from Italy is 12% of its network.
Additional reporting: Fran McNulty