The Central Bank has ordered banks and building societies to give their customers more information about the savings they could make by switching out of their current mortgage arrangements.
Research by the Central Bank shows one in five mortgage holders could save money by switching - and some 27,000 people could save more than €10,000 by doing so.
1 in 5 mortgage holders could save money by switching - Central Bankhttps://t.co/dXNv09lBBU pic.twitter.com/1e3R5eMjNb

— RTÉ Business (@RTEbusiness) June 20, 2018
Last year some 3,000 primary dwelling home (PDH) mortgage holders switched their mortgage.
The switchers were predominantly based in Dublin, and had relatively low loan to income and loan to value ratios. The average amount outstanding was €221,488 on a property valued at €413,884.
The average loan outstanding was for 22 years, while the average borrower who switched was aged 41 with a combined household income of €101,116.
The Central Bank has found that consumers were reluctant to switch mortgages because they did not realise how much money they could save, found it difficult to compare mortgages, believed the process is too complicated and think switching takes too long.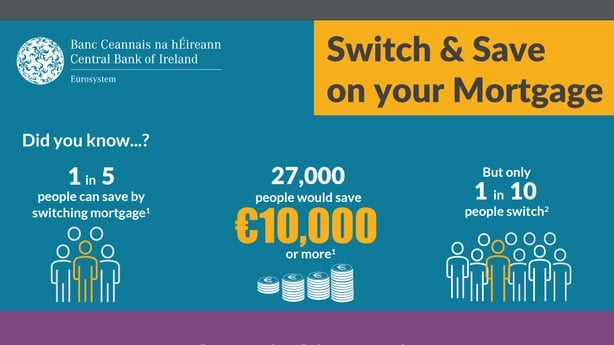 As a result, the Central Bank has changed the 2012 Consumer Protection Code to require lenders to:
- Tell consumers of cheaper options at least sixty days before their fixed rate mortgage ends.
- Tell them if they can switch to a cheaper mortgage rate based on how much equity they have in their home (usually below 80% and 50% cheaper rates are available)
- If they are asked, they must give a comparison of the total mortgage costs compared with other mortgages available from the same bank, and provide a link to the Consumer Protection Commission website, which has a comparison tool for all mortgage products on the market.
- Give customers all information needed to switch mortgages, including how long the process will take.
- Lenders must make a decision within ten business days of receiving a completed mortgage application.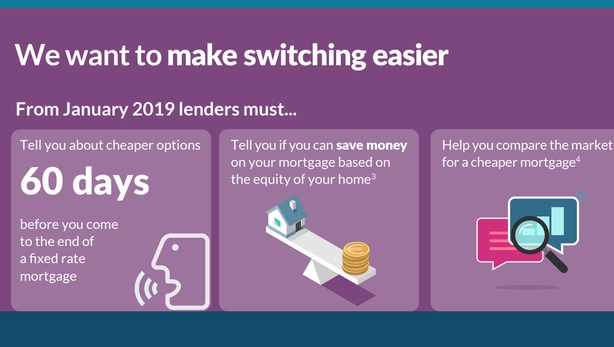 The Central Bank has also taken action against lenders for the way they advertise mortgage offers, particularly those with incentives such as cashback deals.
The banks are now required to clearly state the true cost of these incentives to customers.
A recent review of the way banks have been advertising these promotional offers has resulted in the Regulator forcing the lenders to withdraw or change three quarters of their advertising of these products.
The new rules must be fully implemented by January 1, 2019, but the Central Bank expects the lenders will move quickly to make the changes.
The move may inject some competition in the market, as banks that gain customers through switching may be able to offset loss of profit associated with customers switching to cheaper rates.
Gráinne McEvoy, the Central Bank's director of Consumer Protection, said the new consumer protection rules are focused on assisting consumers with lowering their mortgage repayments, where possible.
"These changes are aimed at making it easier for consumers to obtain this key information so that they are able to easily identify whether they are able to make savings by switching their mortgage, and make the process quicker and easier to complete if they do decide to switch," she added.
We need your consent to load this rte-player contentWe use rte-player to manage extra content that can set cookies on your device and collect data about your activity. Please review their details and accept them to load the content.Manage Preferences