The European Central Bank has published an extra set of guidance for banks on how they should deal with new cases of non-performing loans (NPLs).
Most of the emphasis of the ECB and national supervisors has been on dealing with the existing stock of NPLs, which increased enormously as a result of the financial crisis.
But the new guidance tells banks how the ECB expects them to deal with new cases of loans going bad.
The new guidance applies to loans that become non-performing after April 1 this year. It is non-binding guidance, not a hard and fast rule that banks must obey.
The guidance will form part of the annual dialogue banks must now have with regulators from national authorities and the ECB.
The deputy governor of the Central Bank, Sharon Donnery, who chairs the ECB's work on reducing NPLs, said "the objective is to prevent a build-up of NPL into the future.
"We know from experience that if NPLs are not tackled early, you get a large build-up of NPLs in the system, so we want to stop that," she stated.
In the third quarter of 2017, the stock of NPLs in significant banks directly supervised by the ECB amounted to €759 billion, down from €950 billion at the start of 2016.
A large stock of non-performing loans acts as a drag on bank profitability, ties up capital that could be used for lending and management resources that could be more productively used - all of which reduces the ability of banks to serve as engines of economic growth.
In Ireland around 12% of bank loans are non-performing, compared with an EU average of just over 5%.
Ireland is one of a group of ten EU states with double digit levels of non-performing loans on bank books, and the level of Irish NPLs accounts for roughly 3% of the EU total.
NPLs were 27% of Irish bank books in 2013, but this has been reduced.
Recently the practice of selling portfolios of non-performing loans to vulture funds has become controversial in Ireland, as large blocks of non-performing mortgage loans are now being sold by banks as part of their efforts to reduce their NPL ratios.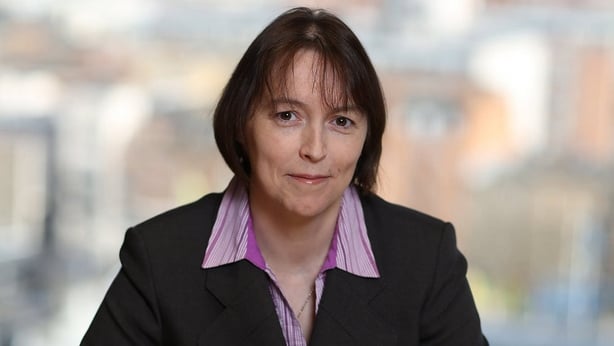 Ms Donnery said the new guidance was not intended to push banks to sell off portfolios of non-performing loans, and said the existing ECB rules for dealing with NPLs were heavily weighted in favour of workouts as a solution to the NPL problem, along with restructures, foreclosures and portfolio sales.
Instead the guidance expects banks to fully cover NPLs by making provisions. In the case of an unsecured loan the ECB expects it to be fully provisioned in a banks accounts two years after recognising a loan as non-performing.
For secured loans (such as mortgages) the ECB guidance issued today expects NPLs to have 40% provisioning three years after the loan is deemed to be non-performing, rising to 100% cover after seven years.
As the measures are non-binding, individual banks will be able to negotiate some flexibility in how they are implemented, depending on the banks own circumstances.
But in publishing transparent guidelines, the ECB intends that banks would become more consistent right across the EU in their treatment of NPLs.
The ECB says today's measure is complementary to proposed laws on how banks treat NPLs, published yesterday by the European Commission.
The Commission proposals (which include mandatory cover levels to avoid under-provisioning on an EU wide basis), will take time to go through the legislative process.
In the meantime, the ECB guidance can start getting banks used to the new process immediately.