Taoiseach Micheál Martin has said that the negotiations between the EU and UK remain challenging, especially in the area of the so-called level playing field.
Speaking following a two-day summit in Brussels, he said Ireland's preference would be for a comprehensive free-trade agreement that did "the least damage to our economy".
Mr Martin said that in a presentation to EU leaders, the president of the European Commission Ursula von der Leyen had said there remained considerable difficulties, especially around the level playing field.
That measure seeks to commit both sides to follow the same standards when producing goods so as not to give either side a competitive advantage.
Mr Martin said: "This will be a challenging negotiation. The level playing field is still an area of considerable concern. There would have to be a level playing field in terms of access to the single market.
"It's still an issue where progress will have to be made. I think there is a sense while there's a mood to engage, no-one is underestimating the task that lies ahead in trying to deal with these very difficult issues."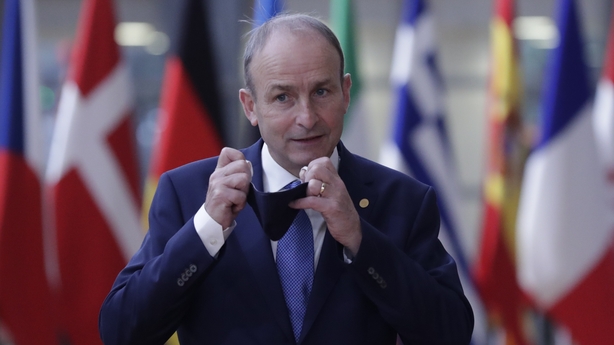 Earlier, President von der Leyen said the talks should intensify, but she did not like to use the term "tunnel", the negotiating space that has preceded a final agreement in recent EU-UK negotiations.
She told reporters after the summit: "We have made progress on many, many different fields but of course the most difficult ones are still completely open.
"But overall, where there is a will, there is a way, so I think we should intensify the negotiations because it is worth working hard on it.
"We are running out of time - around 100 days to the end of the year - so it is worth stepping up now."
President von der Leyen will speak by phone to British Prime Minister Boris Johnson tomorrow. The Taoiseach said it would be a stock taking conversation.
---
We need your consent to load this rte-player contentWe use rte-player to manage extra content that can set cookies on your device and collect data about your activity. Please review their details and accept them to load the content.Manage Preferences
---
Meanwhile, Boris Johnson urged the European Union to be "common-sensical", insisting that a post-Brexit trade deal was within grasp.
Ahead of his talks with Ms von der Leyen, he said there was "every chance" that an agreement could be reached.

Speaking to BBC Northern Ireland, Mr Johnson said that the EU had "done a deal with Canada of a kind that we want, why shouldn't they do it with us? We're so near, we've been members for 45 years. It's all there, it's just up to them."
The EU's chief negotiator Michel Barnier and his UK counterpart David Frost complained of a continued gulf between the two sides in crucial areas such as competition rules and fishing rights.
After the ninth round of talks in the tortuous process broke up in Brussels, with renewed commitments to find a way out of the impasse, there was clear acknowledgement the clock was ticking.
JHe warned of "persistent, serious divergences on matters of major importance" for the European Union.
"To reach an agreement, these divergences must necessarily be overcome over the next weeks," said Mr Barnier.
Despite indicating there were signs of agreement in a number of areas, Mr Frost warned disagreements over competition rules and fishing may be "impossible" to overcome without the EU giving ground.
"I am concerned that there is very little time now to resolve these issues ahead of the European Council on 15 October," he said.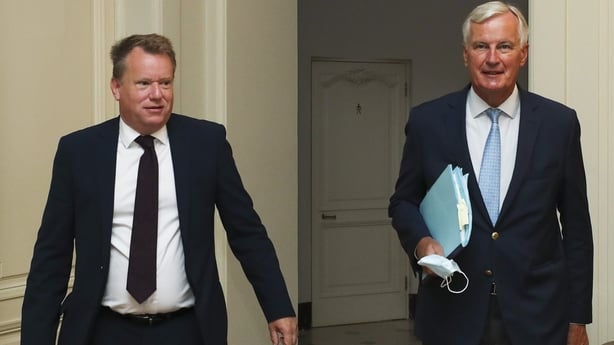 It comes following calls from the EU for the talks to be intensified, with German Chancellor Angela Merkel saying the next few days are essential for a breakthrough.
"As long as the negotiations are going on, I am optimistic. I cannot announce a breakthrough as a matter of course," she added.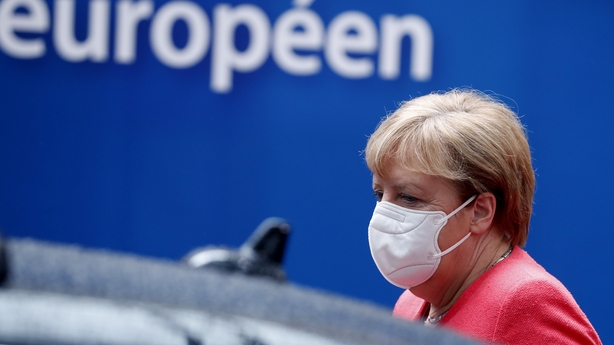 On Tuesday, British MPs backed a bill to regulate the UK's internal market from 1 January, when Britain completes its post-Brexit transition period and leaves the EU single market and customs union.
If Britain does not back down, the infringement procedure could go all the way to the European Court of Justice, which would be able to impose large fines.
Boris Johnson has pushed on with the legislation, despite concerns in his own party and a warning from Washington that it puts Irish peace at risk.
Asked her reaction to the law, Ms Merkel said: "This is bitter, I must say."
Additional reporting AFP