The EU's chief negotiator Michel Barnier has said supermarkets in Northern Ireland will be able to avail of simplified customs procedures for goods coming in from Britain under the Irish Protocol.
It follows wide-ranging concerns expressed by Northern Ireland traders and business groups over the impact the protocol will have on companies which depend on inputs from Britain.
The Northern Ireland Business Brexit Working Group (NIBBWG), made up of 15 business, trade, freight and farming organisations, has highlighted the onerous impact of customs and regulatory formalities and costs for large consignments of mixed goods crossing the sea to Northern Irish supermarkets.
In a news conference following the latest round of negotiations on the future relationship between the EU and UK, Mr Barnier said the protocol, negotiated as part of the Withdrawal Agreement, had to be implemented in an "objective, rigorous and pragmatic way".
Despite a call from some business groups in Northern Ireland for a six month "adjustment" period for companies to prepare, Mr Barnier said the protocol had to come into effect on 1 January, unless the UK agreed an extension to the transition period.
"It has to be fully operational across the board at the end of this year and we have to be able to verify that's the case. We can't verify right at the end of the year, we have to be able to do that before, because some of the things take time, infrastructure takes time, human resources need to be provided, that takes time. We can't do it at the last minute," he said.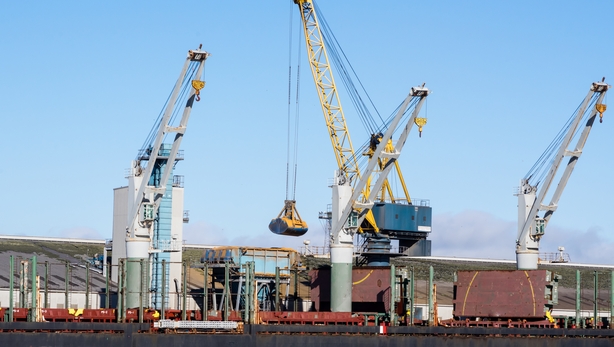 However, Mr Barnier said flexibility was possible. "There are many options we can use in the [EU] customs code. Simplified declarations can be used for large operators, supermarkets being one of them. They can absolutely use that kind of facilitation in a pragmatic way."
He said goods which were clearly not going to cross the border into the Republic of Ireland would be exempt from tariffs.
"We're talking about exemptions for things which come into Northern Ireland from GB which clearly are only going to be used in Northern Ireland and aren't at any risk of coming into the EU single market," he told reporters.
"Because if something comes into the single market we need to be able to protect our citizens and that single market rules are being complied with.
"We're talking about protecting consumers, protecting businesses, protecting the EU budget, as we do whenever there is an external border around the single market. Consumers have to be able to stay safe, get safe food, use safe products."
"We're ready to work with the UK further on all aspects which the EU customs code can offer which will facilitate trade and do everything we can to that end, but for that we need genuine commitment also from the UK side on a number of technical issues which I have to say currently isn't forthcoming," he said.
Mr Barnier said he was pragmatic. However, he warned: "The alternative is, if we fail we will have a hard border on the island of Ireland. We don't want that because together we want to keep peace. I think everyone agrees it is in no-one's interest, on either side of the border."
---
Barnier says no real progress over post-Brexit trade talks
---
Members of the NIBBWG have expressed anxiety about company closures, delays at ports and a decline in consumer choice if the protocol comes into effect as scheduled.
The consortium has also called for "generosity of spirit" from the European Union in how the rules of the protocol are applied.
Under the protocol all agri-food products and industrial goods coming in from Great Britain will be subject to EU customs and regulatory checks and controls.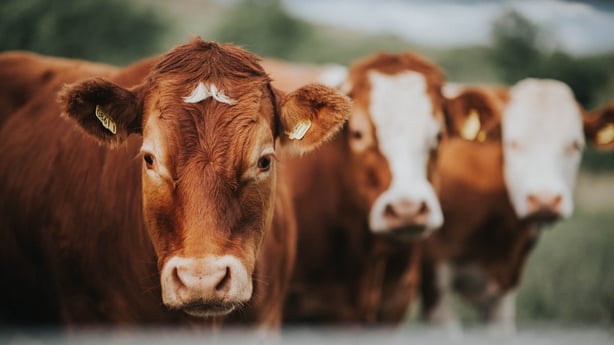 This will mean an entirely new regime of customs declarations, veterinary inspections, costs and paperwork.
The business group says that while the recent UK paper on how it would implement the protocol was welcome, there was still a dearth of information and detail.
The consortium says that companies cannot start training staff on new customs formalities until London spells out how exactly the new regime will work. The report calls for the UK government and the Northern Ireland Executive to provide training for businesses on the new customs and regulatory formalities.
"If we get this wrong this is not just an economic issue for business but a standard of life issue for households across Northern Ireland", says Aodhan Connolly, a spokesman for NIBBWG and director of the Northern Ireland Retail Consortium.
"We desperately need technical detail from the UK Government. We also need a generosity of spirit from the EU to allow derogations to facilitate mitigations. This is going to take movement from both side to make this work"
Under the protocol any goods moving into Northern Ireland from Great Britain that are at risk of crossing the border into the south will be subject to tariffs, as well as product safety.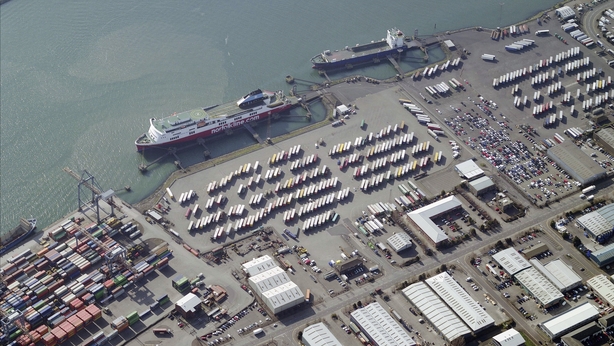 The Joint Committee, set up by the Withdrawal Agreement and composed of senior figures from the EU and UK, is due to work out a schedule of which goods or categories of goods will be deemed at risk and not at risk.
The NIBBWG says an enhanced trusted trader scheme is needed so that consignments bound for supermarkets will be deemed not at risk of crossing the border and can therefore enjoy much more streamlined customs and food safety procedures.
This could mean the checks and controls happening on company premises before goods leave Great Britain.
According to the Freight Transport Association (FTA), 70% of some 425,000 lorry crossings every year are destined for so-called "dead end hosts", ie supermarkets, retail outlets, and car showrooms.
The FTA argues that such consignments would not be destined for the Irish Republic. They could avail of "green lanes" at Northern ports to help speed up formalities.
Some members of the consortium have been highly critical of what they see as a lack of engagement from Boris Johnson's government, compared to that of his predecessor Theresa May.
"We still have a dialogue with the EU through the [European Commission] Taskforce UK, but the level of engagement with the UK government just isn't there", says Stephen Kelly, chief executive of Manufacturing NI.
Mr Kelly says that due to the coronavirus pandemic one in eight manufacturing companies may not survive until the end of the year, while half will have reduced their workforce by one third.
"The money is not there, the capital is not there, the capacity not there to deal with such a fundamental change in conditions across the Irish Sea [by January 1]," says Kelly.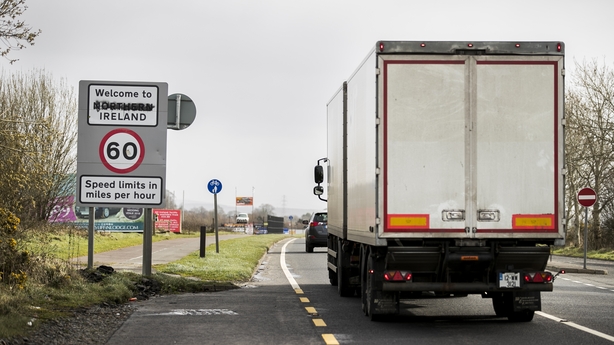 The UK government has said there would be "unfettered access" for goods moving between Northern Ireland and Great Britain.
However, the EU believes that goods leaving Northern Ireland must be accompanied by an exit summary declaration. The NIBBWG says the UK needs to provide clarity on this.
According to Seamus Leheny, regional manager of the Freight Transport Association (FTA), if there were no controls on goods leaving Northern Ireland for GB, this could mean a shift in haulage traffic away from Dublin Port.
He also said that all-island supply chains could be compromised if goods leaving Northern Ireland had to be checked for where their component parts originated before entering the GB market.
Some members of the consortium have questioned the UK's promise that there would be "no new customs infrastructure" at Northern Ireland ports and airports as a result of the protocol and that technology would be used instead.
"Technology doesn't solve everything," says Mr Leheny.
The FTA also points out that there are costs associated with having goods cleared for entry under the EU's customs and regulatory rulebooks.
For example, says Mr Leheny, a 20 tonne load of meat entering the single market (ie, Northern Ireland) means a control fee of €180, a further €7 for checking documents and €7 for ensuring the seal number on the lorry corresponds to the paperwork.
Added to that are the costs on the departure side. Some UK local authorities charge £119 per hour to draw up an export health certificate for a food-based consignment.
Under the protocol any live animals and animal-derived products will require an export health certificate if they are moving from Great Britain to Northern Ireland.
According to Manufacturing NI companies will need at least six months to adjust to the new regime.
The organisation is calling on the UK and EU to delay implementing the protocol.
"We'll need at least six months to start with," says chief executive Stephen Kelly. "The longer this is left before we get any detail the longer the adjustment period will be required. At this point in time we don't have any process, any system, any IT, any idea of what this is going to look like. When you don't have any of that you don't have any idea of how to train people."
An EU official downplayed any prospect of an adjustment period that would postpone the introduction of the protocol beyond 1 January, pointing out that the UK government has had the transition period, which came into effect at the end of January, to prepare for the changes..
"This is the adjustment period," says the official. "We've been saying this for ages. People need to do this. We've also said, given everything, that we're open to extending the transition period. You either extend the transition period or you don't."
This week the UK Institute for Government (IoG) called for an "implementation period" which would be agreed by the EU and UK as part of their future trade agreement treaty, which both sides hope to conclude by the end of this year.
According to an IoG paper, the UK would remain in a customs union with the EU, continue to apply EU product standards, and apply EU state aid rules, but stay out of the Commmon Agriculture Policy (CAP) and other EU programmes.
According to William Bain, of the British Retail Consortium, the options for an "adjustment" period are limited.
"The Withdrawal Agreement is quite blunt in terms of the timelines," says Bain. "If we have not asked for an extension by the end of June then we cannot use that process to create something later on."
Aodhan Connolly, of the Northern Ireland Retail Consortium, issued a stark warning if detail, training and flexibility are not forthcoming.
"If nothing happens you'll see a fundamentally different way of retailers doing business," says Mr Connolly.
"We deal with 70% of what comes across the Irish Sea. The biggest difference is we will not be able to give Northern Ireland households the same choice and affordability as they have now. It's that simple."