Businessman Alan Sugar has said he believes Ireland will have a "good advantage" over the UK after Brexit.
Speaking to RTÉ News after addressing the Pendulum Summit in Dublin, the former Labour peer said there would be some positives for Ireland after the UK leaves the EU, adding that Brexit "wasn't all doom and gloom" for Ireland.
Mr Sugar said he had recently told someone that if he were to find himself at a disadvantage in Britain because of Brexit, he might move his business to Ireland to avail of "free circulation of goods and employment to the rest of Europe".
The Apprentice star also advised the Irish Government to suit itself in relation to corporate tax rates.
Asked about calls from European capitals such as Paris for tax rates to be harmonised across the European Union, Mr Sugar said France was "in a world of its own" and a "prime example of a country that's in the EU but takes no notice of the rules and does what it wants to do".
The 72-year-old said he would "suggest to the Irish that they do as France does, and do what you want".
Mr Sugar said that if Ireland was forced to raise its corporation tax from the current rate of 12.5%, he felt it would still remain an attractive place to do business, as long as levels did not rise above British rates.
He said he always believed the low corporate tax rate was one of the main reasons foreign companies came to Ireland.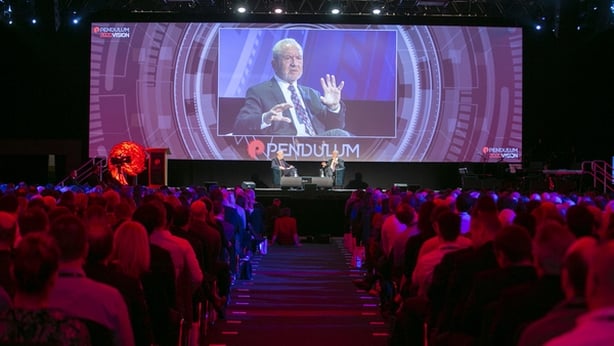 The businessman told the summit that while he did not know what would happen after the UK left the EU, he said he was "absolutely sure that the full ramifications of Brexit wouldn't be clear for at least ten years".
He said lots of "simple things would need to be sorted out", giving the example of milk and eggs, products that are currently subsided by the European Union. He said that without subsidies farmers would be forced to either raise their prices or go out of business.
Mr Sugar said he had always been opposed to Brexit, describing it as a "big mistake", but he said he also believed that the public vote must be respected.
He said he now hoped that "common sense would prevail" and that the free movement of goods and people might continue in the aftermath of Brexit.
Mr Sugar said he believed British Prime Minister Boris Johnson, was "responsible for Brexit", but conceded that he had supported the Conservative leader in the general election.
He described Mr Johnson as a "very shrewd and clever man", but also accused him of having lied to the British people during the Brexit referendum campaign.
Mr Sugar told his audience that it was not just allegations of anti-semitism in the Labour Party that led him to oppose Jeremy Corbyn, describing the leader of the British opposition as a "Marxist, a communist, and a nasty piece of work".
The businessman had been appointed a peer by former Labour leader, Gordon Brown, in 2009.
Mr Sugar said his biggest regret in business was that he had not invested in technology and engineering, and that he had always focused on making a profit, over longer-term gain.
He said the best boss he had ever had was his wife of more than 50 years, Ann Simons.