British Prime Minister Theresa May has told Taoiseach Leo Varadkar she accepted that the backstop to avoid a hard border could not be time-limited, with an expiry date, according to a Government source.
However, it is understood both leaders agreed during a bilateral meeting in Brussels last night that the backstop could be temporary, but only unless and until a better solution emerged that would guarantee no hard border on the island of Ireland.
Mrs May has maintained that a frictionless border can be achieved through the future trade relationship.
According to a source: "Both sides agreed it would be temporary, applying unless and until a new EU-UK agreement comes into force to supersede it, which also avoids a hard border. 
"[Theresa May] accepted it could not be time-limited by an expiry date."
It comes as Mrs May told reporters that Britain would consider extending the transition period after Brexit for a few months if needed to agree a new trade deal with the EU.
EU negotiator Michel Barnier raised the idea as a way of breaking the deadlock on how to keep Britain's border with Ireland open after Brexit, the key issue holding up the talks.
But Mrs May emphasised she did not expect the extension beyond the current date of December 2020 to be needed, amid anger among eurosceptics at home that Britain could be tied to the EU indefinitely.
Arriving for a second day of summit talks in Brussels, Mrs May noted that both sides remained at odds over the backstop plan to avoid border checks in Ireland if and until a new trade deal could be signed.
"A further idea that has emerged - and it is an idea at this stage - is to create an option to extend the implementation period for a matter of months," she said.
She added: "But the point is that this is not expected to be used, because we are working to ensure that we have that future relationship in place by the end of December 2020.
"I'm clear that it is possible to do that (deal) and that is what we are working for.
"And in those circumstances there would be no need for any proposal of this sort and I'm clear that I expect the implementation period to end at the end of December 2020."
But an extended transition period would not solve a fundamental problem with the EU's backstop proposals, the DUP has said.
Deputy leader Nigel Dodds warned that the UK would continue to pay contributions to the bloc while having no say post-Brexit.
"Such an extension would cost United Kingdom billions of pounds, yet our fundamental problem with the EU proposal remains."
He reiterated his party's criticisms of the EU's Irish border backstop position.
European Parliament president Antonio Tajani has said the parliament will not support a #brexit deal without an agreement on the backstop. pic.twitter.com/9fVeZyGPuS

— RTÉ News (@rtenews) October 18, 2018
---
Read more:
Latest Brexit headlines
No plans for Brexit summit in November - EU official
Taoiseach and UK PM have 'constructive' meeting in Brussels
---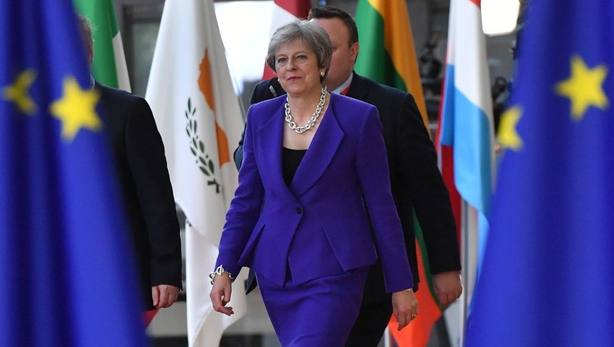 EU leaders agreed that not enough progress has been achieved in Brexit negotiations to convene a special summit next month, but have called on negotiators to continue their work.
All 27 leaders reaffirmed their support for Mr Barnier, and said no new summit would be called unless he reported sufficient progress had been made on the Irish border backstop.
Mr Barnier had proposed the transition extension to give London more time to agree an EU-UK customs deal needed to solve the Irish border issue.
Mrs May did not offer fresh proposals to break the deadlock in addressing the 27 leaders yesterday evening.
Mrs May spoke for 15 minutes before leaving yesterday's summit, leaving the rest of the leaders to discuss the impasse over Brexit.
Dublin sees merit in a longer transition, possibly facilitating a temporary customs union which would allow Mrs May to argue, perhaps convincingly, that the backstop would never be needed.
But a longer transition will be hard for the prime minister to sell.
The UK would have to pay billions into the EU budget, accept its rules, including free movement of people, and have no seat at the table.
And other member states will want to ensure that a temporary customs arrangement shows the ultimate direction of travel for the UK, one that would leave Britain much more closely aligned with the EU in the long term than Brexiteers will ever accept.
We need your consent to load this rte-player contentWe use rte-player to manage extra content that can set cookies on your device and collect data about your activity. Please review their details and accept them to load the content.Manage Preferences
Minister of State for European Affairs Helen McEntee has said that progress has been made on a number of issues in the UK's withdrawal agreement and negotiations will now intensify despite the fact a November deadline is likely to pass.
Ms McEntee said it is "not easy, but possible" to get a deal and that focus and calm is needed as negotiations continue.
Speaking on RTÉ's Morning Ireland, Ms McEntee said that there was a more positive atmosphere at last night's dinner in Brussels than there was in Salzburg at the last gathering.
She said it is "very clear" there is a willingness on both sides to reach agreement and that Mrs May re-affirmed her commitment to a legally operable backstop that is not time-limited.
Ms McEntee said Mrs May did say she understood that the backstop was an insurance measure for Ireland.
She said Mr Barnier has suggested a two-tier backstop and a new approach to concluding the talks will now be considered.
Chamber seeks assurances for business
The Director General of the British Irish Chamber of Commerce has said the challenges of securing a withdrawal agreement need to be overcome soon so businesses know what to plan for.
John McGrane told RTÉ's News at One that it was always going to be necessary to have an extended transition agreement given the complexities involved.
He said that while a two-tier backstop "is no doubt challenging", businesses need to see what that looks like.
Mr McGrane said we "only have a matter of weeks to conclude this and there is no daylight" for businesses to know what they need to plan for.