European Union leaders are ready to meet to finalise the terms of Britain's withdrawal as soon as negotiations get close enough, but with insufficient progress so far there are no plans for an extraordinary summit in November, EU officials said.
Leaders of the 27 EU countries that will remain in the bloc after Britain leaves in March 2019 discussed progress in the Brexit negotiations over dinner after a speech delivered by British Prime Minister Theresa May.
"The 27 leaders note that, despite intensive negotiations, not enough progress has been achieved," one EU official present at the talks said.
"(The leaders) stand ready to convene a European Council, if and when the Union negotiator reports that decisive progress has been made.
For now, the 27 are not planning to organise an extraordinary summit on Brexit in November," the official said.
Earlier, the EU's chief Brexit negotiator Michel Barnier said more time was needed to secure an exit deal for Britain, but that officials would work calmly and patiently in the coming weeks.
At the beginning of the summit, Mr Barnier told reporters: "We have worked a lot for the past few weeks and days, and nights also with the British delegations to reach a global agreement for the withdrawal agreement and the political declaration.
"We are not there yet ... We need time, we need much more time. We will continue the work in the next weeks calmly and patiently."
Meanwhile, Mrs May has indicated she is ready to consider extending the UK's transition out of the EU by a year. 
Yesterday, Mr Barnier outlined the idea to member states of extending the two-year Brexit transition by a year to provide more time to develop a temporary customs arrangement between the EU and UK. 
If agreed, the change would mean the UK remaining within the single market and customs union and subject to EU rules and regulations for almost three years after the official date of Brexit in March 2019 and more than five years after the referendum vote to leave.
This evening she addressed leaders of the 27 remaining EU member states in Brussels ahead of a dinner at which they discussed Brexit in her absence.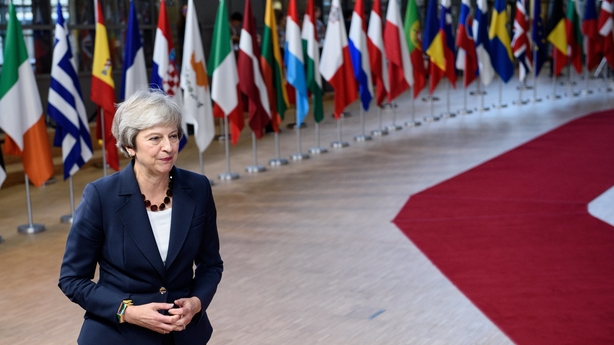 Earlier, Mrs May said she believed a Brexit deal was still possible as she arrived in Brussels.
But fellow EU leaders sounded impatient, signalling that they were ready to listen to Mrs May but also preparing to discuss plans for Britain crashing out of the EU in March without a deal.
Many suggested the core problem was the British Prime Minister's inability to rally her feuding party around a workable set of negotiating demands.
---
Extension in Brexit transition not 'a substitute' for backstop' - Taoiseach
---
French President Emmanuel Macron said Mrs May could help by explaining what her precarious domestic situation would allow her to accept: "Theresa May must tell us what she can possibly accept considering the political balance," he told reporters.
Austrian Chancellor Sebastian Kurz said the ball was in Britain's court but cautioned against predicting doom.
"It is always the case in negotiations that they are tense and difficult and challenging at the end. That doesn't mean they will fail. No one wants these negotiations to fail, neither the EU nor Theresa May want a hard Brexit," Mr Kurz said.
Mrs May did not answer a question about whether she had brought the "creative" new proposal that summit chair Donald Tusk has asked for, instead sticking to a rehearsed line that a deal could be done and that it was in the EU's interest to reach one.
"What we've seen is that we've solved most of the issues in the withdrawal agreement. There is still the question of the Northern Irish backstop," she told reporters on arrival.
"By working intensively and closely, we can achieve that deal," Mrs May added. "Now is the time to make it happen."