As part of our Boost My Business initiative, we feature two businesses from the growing wine e-commerce sector.
Fiona Alston speaks to one founder who has successfully brought their business through the pandemic and another whose company was born due to the pandemic.
Michelle Lawlor started The Nude Wine Co. in 2019 after years of experience in the wine industry in London and Hong Kong. On her return to Ireland, she wanted to shake up the wine tasting experience and decided to do that by setting up an e-commerce wine business.
"I have been working in wine online since 2014," says Lawlor, "and I actually ran wine e-commerce businesses in Hong Kong."
"When I came home after being away for ten or eleven years, I didn't really love the energy in the industry, I still found it very stuffy," she explains. "The way people talked about it, the way people discussed it, the way people sold it."
Lawlor wanted to remove the 'notions' of wine and make it more accessible to everyone no matter what your tastes or experience.
"It's just a drink, have fun, mark your moments with something nice," she says, "you don't have to be lost in the sniffy swirly".
"I just found that what I wanted to do was put all the things I love about wine into a business. The way you talk about it, the way you can enjoy it, and supporting smaller artisan producers."
"I wanted to actually make it fun and capture that fun element rather than how to taste it or what you should be smelling - just drink it. Really, people just find it difficult because they don't understand the label so a lot of what I do on those virtual wine tastings is to help explain the label."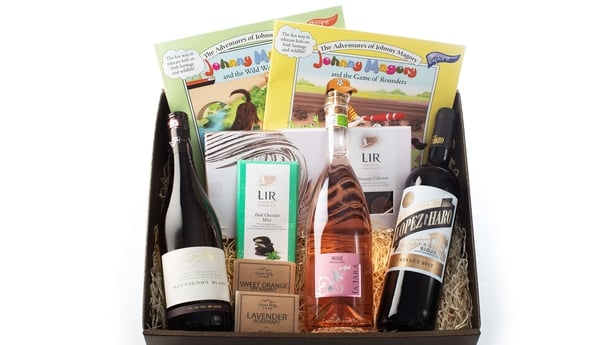 As well as selling bottles, boxes of wine and hampers, The Nude Wine Co. had already been holding wine tasting events in 2019. When Covid arrived in Ireland as the events began to get cancelled, Lawlor moved the tastings to virtual events by sending out the bottles to each household prior to the Zoom call. The advantage of already being an e-commerce business meant that this was a quick and smooth transition.
Lawlor was already recording videos for all the wines they sold so she'd already banked up plenty of experience in front of the camera. These videos have proved very successful which has prompted her to up her studio game. She has invested in a new studio set up, something that will be invaluable to her latest product - The Nude Wine Club.
Members of the club will receive three wines delivered to their door each month; they will also be offered an online tasting to learn more about the wines.
"We don't use any single use plastic or anything like that, we try to minimise our waste that we produce as much as possible, so everything will be electronic, the tasting notes will be sent by email," says Lawlor.
This ethos resonates with the wines they sell - hence the name 'Nude Wine'. They specialise in organic, vegan and natural wines.
Although the wine club will be a subscription service, Lawlor understands that not everyone will have the means or the want for the wines each month.
"It's pay-as-you-go so it will come out every month but if you need to pause for a month, that's no problem," she adds.
Another company offering a wine subscription service is new business Box of Wine.
Conor Duggan, Neil O'Reilly and Conor Mulligan all worked in the hospitality sector.
When they found themselves with nothing to do due to hospitality being closed by the Covid-19 restrictions, they created their own company and put their experience of wine together to bring something new to the market.
It was Duggan who was the instigator of the new project.
"I ran a hospitality recruitment company for the Dublin market, I was based in Spain and running the company from there," he explains.
"When Covid hit I moved home and then after a couple of months, I realised that that market probably wasn't going come back for a long time, so I wanted to pivot into something that I knew was growing and something that I was excited by."
"I reached out to Neil and Connor. Connor was involved as a manager for a pub group and Neil has been in the wine industry for about ten years," he continues. "I brought the three of us together and we got the ball rolling on Box of Wine in late July of 2020."
The three founders had a similar experience of the wine industry as Lawlor did and wanted to help change it.
"I wanted to be able to learn about wine from the comfort of my own home, and in a fun way," he explains. "We basically just wanted to really break down the barriers of the wine industry being kind of intimidating."
Box of Wine offer a wine subscription service and a gift box service where they have partnered with other Irish artisan companies such as Skelligs Chocolate and Irish Socksciety.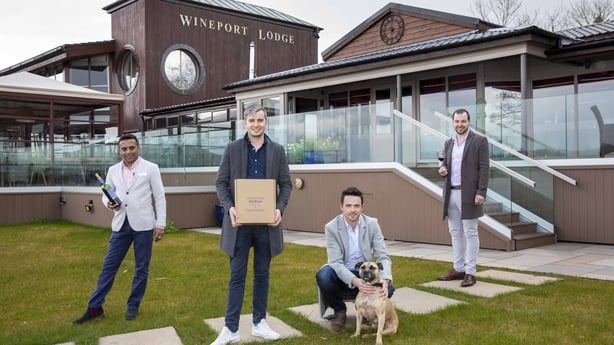 "We've a box that we're doing with the Wineport Lodge, which is a themed box, based on specific regions and highlighting family-owned vineyards but our main core business model is a tailored to your taste box," he says.
"Customers just simply take a thirty second quiz on our website and this allows us to get a first flavour profile for each consumer and then we have our in-house sommeliers curate a box specific to that person's tastes."
"Then every month the customer reviews the wines and we can adapt their profile and then send them new wines," explains Duggan. "It's a fun way of exploring wines but also where we're using a bit of science and an algorithm behind it to make sure that people are getting paired with wines that should match their tastes."
Despite the hospitality sector re-opening in June, it won't see the founders return to their previous jobs. They are all fully invested in Box of Wine and are currently in the process of taking on investment with plans to expand the business further in Ireland and into the UK by the end of the year.
"We definitely want to expand further afield into the UK, but we definitely think there are a few synergies with the 'Box Of' brand that we would love to eventually explore. We are just ironing out the subscription model for this industry of wine but there definitely is other avenues we can go down with the brand," he adds.