As part of our Boost My Business initiative we throw a spotlight on a small business expanding their reach with franchising.
Fiona Alston spoke to a Dublin scientist who is sparking the curiosity of primary school children with an entertaining way to explore science.
Scientist Tracey-Jane Cassidy took her childhood curiosity and created a company from it.
It's not exactly what she had planned for her career as a scientist, she really had planned on completing a graduate programme in medicine in Warwick University but when life threw her a curveball and her marriage ended, she retreated back to Ireland from London with her young family, ready for a do over in 2012.
Her sister asked her to run an afterschool science club at their local school Foxrock, Dublin. And once that seed had been sown there was only one thing for Cassidy to do, grow into an award winning business woman.
The science club grew into a business idea which became the Junior Einsteins Science Club, and now nine years after that journey back to Ireland, into a life of single motherhood, Cassidy has franchised her Science club and currently has five franchises located in Kildare, Louth, Meath, Westmeath and in one in London, and she's actively seeking more.
"I come from a family of entrepreneurs, but I never planned on having my own business," says Cassidy. "It sort of happened out of necessity, and they say that necessity is the mother of invention."
"It was my sister's idea really, she asked me would I do a science club for them and I had about two hours to come up with a name because they needed a name to advertise to the parents," she explains.
Within three weeks of starting Junior Einstiens at the school Cassidy had to make her first hire.
"The word got out and other schools wanted it. And then somebody asked would I do a science party and suddenly I had nights where I was sitting up writing scripts and coming up with ideas and it just took off. It was desperately needed in Ireland," Cassidy says.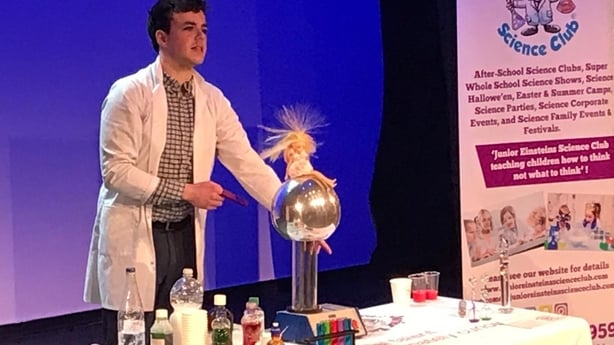 The classes are very hands on and creative, getting the children to learn about science and expose their natural curiosity in an environment where they can safely learn from their mistakes and have fun doing it.
"The children are doing their own experiments. They are not just watching and listening or reading it out of a book," she says.
"We are getting children young," Cassidy explains. "We have children as young as three and four in out afterschool clubs in out afterschool clubs in creches and montessoris but we are aimed at primary school children from the age of six to twelve and that's the same for our camps."
While Cassidy could aim for secondary school children to gain a bigger market, despite its success this business still remains very much a passion project. Cassidy is on a mission.
"It's too late at secondary school," she explains. "My goal, my passion, my mission with my own three children, now fourteen, twelve and ten, is to get them when they are young so when they get into first year of secondary school, they already they love science, and they want to do science."
The business side of things has been big learning curve for Cassidy and her decision to franchise the business certainly has given her plenty experience of the toll getting to the position to be ready for franchising takes on a small business.
"It's not for the faint hearted," she explains, "it's very time consuming and very expensive to do it right. You have to invest a lot, because what you're offering is something that needs to have a lot of value in it."
Cassidy invested in her online booking system because the one she was originally using was breaking the bank.
"We used to use one we had to pay for and after 144 summer camps one summer, we realised we paid the booking system €7,000, and at that point, I thought no, it's worth now spending serious money on the back end of our websites and improving it all to make sure that none of the franchisees ever have to ever have to pay that money for a booking system," she says.
"I had excellent help from the franchising associations in both Ireland and the UK. I got a franchise consultant in to assist me in putting together the documentations - legal documents as well as the operations manual," she explains.
The whole process took Cassidy three years, but she was running her core business and bringing up her three children at the time.
"I think you could half that time, but you wouldn't be able to do it sooner without skimping," she continues. "So ultimately, as I said, significant expense, significant time commitment and you've made all that investment and then you have to make it back by granting franchises."
This is something Cassidy didn't have any trouble doing, one of her full-time employees who 'really ran Junior Einstiens in Ireland' quit his job and took on his first franchise in Co Meath and four months later started a second franchise in Westmeath.
Cassidy's love for science started at a young age, something her parents always encouraged in her.
"They would indulge me with chemistry sets and all sorts of geeky things that weren't that easy to get back in the 1980s," she explains.
Through Junior Einsteins Cassidy is ensuring primary school kids have the same access to 'geeky things' which sparked her curiosity as a child.