This week Boost My Business takes a look at Irish tech companies who are solving issues with their products and making life a little easier during Covid.
Fiona Alston spoke to three founders about why they felt there was a need for their product and about their journey so far.
Gradguide was created to bridge the gap between university and graduates landing their dream role in technology - or at least preparing them for it.
Born out of frustration from his own experience, Mark Hughes felt there was a clear need to connect graduating tech students with the Irish tech ecosystem in order to help them find their first job in technology.
In 2017 Hughes graduated from Trinity and thought it would be easy to find a job. He knew he wanted to work in the technology sector but just wasn't quite sure how to make it happen.
"I went through the whole 'praying and spraying' CVs everywhere, applying for jobs that required five years' experience, getting nowhere and having no success," explains Hughes.
"I was working in a bar for six months after finishing my degree and it was probably the most anxiety ridden time of my life. I didn't know what I was doing but luckily enough I leaned on a mentor."
Hughes' mentor was a few years ahead of him on the career ladder in the tech sector and coached him and trained him through the process of finding his first job - and Hughes got a sales job in Intercom.
"It was something I wanted to give back when I got settled in Intercom and I did it on an adhoc basis," he says. "I wanted to put a bit of structure around it and build a website with a simple application which effectively matches recent graduates with mentors – to help them accelerate their career and navigate that process to land their dream job in the tech sector."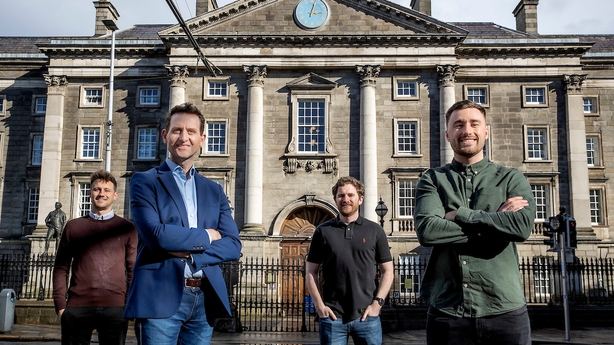 Hughes kept Gradguide going as a passion project until enlisting more help to get the company off the ground.
"Some of the mentors, Matthew, Ian and Dave, they were initial mentors on the platform, and they came in in more of a management capacity and co-founders in January 2020 and that's when the business really took off," says Hughes.
Due to Covid-19, Gradguide saw a massive uptake in signups, and they have seen 1,000 students get through their mentorship programme since Covid. They now have over 100 mentors involved from six different countries and are also working with six company partners on their entry level hiring.
"I am going to be fulltime [with Gradguide] as of this Tuesday," says Hughes. " We were fortunate that we were majority acquired with a $2 million investment from Clune Technologies."
"We are on a mission to breach the unemployment gap between college and technology companies, and our overall vision is to be the biggest graduate recruitment network in the world," he adds.
HR software company Eppione have been busy this past year developing a tool to help businesses screen their employees before entering the workplace or client sites - this need came at clients' requests.
"In the earlier part of Covid we had customers come to us and explain they were trying to work through the pandemic, for example companies working in distribution or pharmaceuticals," explains David Kindlon, CEO and co-founder of Eppione.
"They wanted their employees to continue to turn up on site or turn up on clients' sites. They wanted to be able to screen their employees on a daily basis – as back up to help prevent the spread of Covid within their organisation," he says.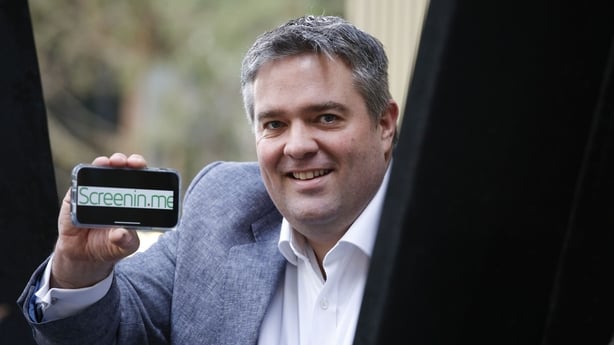 "We decided to build it as a stand-alone piece of technology and then market it to companies everywhere between Ireland, the UK and Australia, and we actually picked up a nice client in the US as a result," he adds.
Screenin.me caters for the different Covid guidelines in the country and is used for prompting a series of questions. Based on the answers the system tells the employee if the can proceed to go to work. The system also cates for different languages.
In the case where Covid has been detected in the workforce it can be used to run a report and identify who was working on the same day.
"We purposely didn't build an app for screenin.me," says Kindlon, "and the reason we didn't do that was because of all the negative controversy around the Covid app and the tracking concerns."
To avoid any issues with employee concerns over tracking, Screenin.me is a webpage which employees log in to.
"You can store it as a tile on your iPhone or store it as a tile on your android when you click on it, it just opens up a webpage, you just fill in your details and it's very simple and easy to use," he explains.
Conor O'Boyle and Shane Ennis co-founded Sweep to combat some of the issues which arise when potential customers are searching for cars to buy online.
While the car buying process rarely results in love at first swipe, the Sweep team have set up their app to work along the same line as Tinder, like what you see swipe right, and swipe left if you don't want to continue the dalliance.
"We felt that the car buying journey was quite broken, particularly in Ireland but also in other countries," says O'Boyle. "The entire end to end process of buying a car in Ireland takes about six weeks. Fundamentally the way people browse for cars is quite flawed."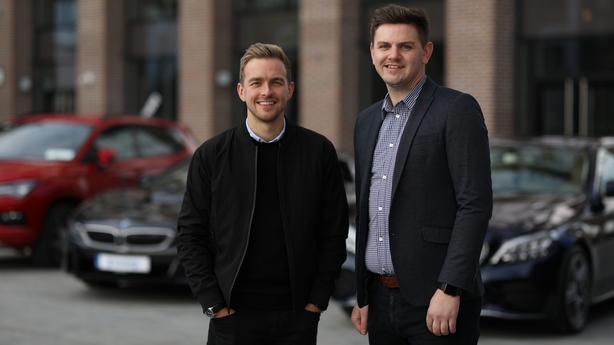 Their concerns were consumers using other car marketplace websites were being repetitively shown cars they had no interest in, delaying them from seeing cars that might tick all boxes.
"Critically what happens is when I do the same search over and over again, I'm seeing the same cars I didn't like previously coming up over and over again," he explains.
"We say what had happened in the dating industry at the time with the likes of Tinder and Bumble, that quick and easy way of searching for your other half isn't too different from finding your next car," he continues.
"You see images of people and you make that quick decision and we really wanted to bring that quick decision into the car buying journey because there's such a choice in the car buying journey."
On Sweep you see one car at a time, there is one image, and you see five or six key points about the car including price, mileage, year and location. If you swipe right it goes onto your shortlist and if it's left you will not be shown the car again.
"What that allows us to do overtime is it allows us to be more personalised with you," says O'Boyle. "We learn everything about you from a car buying perspective so we can be a lot more targeted with what we show you going forward."
Sweep's clients are all dealerships, and they have a messenger service on the app for the customers and dealers to chat through before they arrange a viewing of the vehicle.
They have also recently added WhatsApp messaging to the platform.