As part of our Boost My Business initiative, Fiona Alston had a chat with Workvivo's co-founder and CEO John Goulding about how to maintain employee connections when your team is working remotely.
Workvivo is an employee engagement software company started by Goulding and his co-founder Joe Lennon four years ago in Cork. The company has grown rapidly over the past year and now has users in 82 countries, counting the Royal College of Surgeons and Laya Healthcare among their clients.
"Workvivo has been completely designed around the things that are important for employee engagement and for shaping the culture in the organisation," says Goulding.
"When you look at the last twelve months, when everyone began to work remotely the first thing companies set out to do was ensure they solved the productivity challenge by providing everyone with the tools to work from home," he says.
"They were quick to solve all the transnational issues but the piece that wasn't looked after was the piece about shaping the culture in the organisation. How do you protect the social capital in the organisation, the glue that keeps everybody feeling part of something bigger in the company?"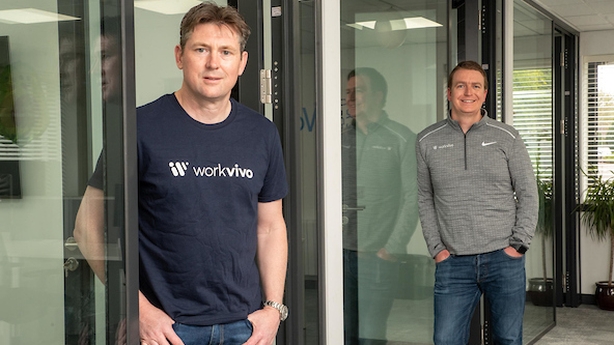 Well, luckily Goulding let us in on a few of Workvivo's tips to keeping that glue sticky. Below are seven ways you can keep the company culture alive while your team works remotely.
Video updates from the CEO – we need the human connection and a great way to do that is for CEOs to pick up their phone and record a quick video message. These informal video updates are great for moral and a reminder to employees they are not just a number, they are involved in a living breathing organisation - something that is easily forgotten when you are working in solitude at your kitchen table.
Set up communities within your company – whether it's a running group, a baking group or a mutual appreciation for Marvel movies group, virtual communities within your company will help keep colleagues connected and motived. Small talk can be tricky in the virtual world but finding common ground in groups eases the flow. It might even encourage some employees to take up a new hobby.
Employee spotlights – allow an employee's personality to shine through in an employee profile. This allows colleagues to read and learn more about who they are working side by side with, it also is an ideal way for new employees to find some nugget of common ground to break the ice in meetings with people they have never met before.
Podcasting within – use the podcast functionality within the company. It's a great way to get the company voice and culture out to the staff without them having to spend even more time glued to a screen. These could be interviews with employees, discussions on the future of the company or their green agenda. Podcasts are like having a personal audience with the speaker and who doesn't like a little one on one with their workmates?
Weekly townhall meetings – get the whole company together on a video call once a week. "It's really effective in capturing the heartbeat of the organisation," says Goulding. "Every Monday we have this pulse, where everybody connects and gets on the same page. We have a bit of fun while going over what's happening in the business and we have different people from across the organisation who present at it."
Start meetings at five past – This is a personal favourite of Workvivo's, they start their meetings five or ten minutes past the hour or half hour. It gives everyone time to refocus before jumping on a call if they have just finished one up, a few minutes to regroup their thoughts or switch subject matter. This doesn't work if trying to finish up early says Goulding, take your five minutes at the start, not the end, or you won't get them.
Take time off – just because we don't have holidays planned or midweek getaways, we should still be taking time off. Encourage your staff to take their holidays so they can recharge even if they have nowhere to go, a few days of not thinking about work or staring at a screen will do them a world of good.