As part of our Boost My Business initiative Fiona Alston talks to three Irish start-ups whose products aim to improve the health of the nation. 
Conor Kerley has had a keen interest in health and nutrition after his multiple sclerosis diagnosis as a teenager, since then he has gone on to earn many qualifications and accolades in nutrition and dietetics.
When the country disappeared into our own homes a year ago Kerley was in the middle of research and development on some products in the areas of blood pressure and blood sugar but the pandemic put paid to the clinical trials he had organised; he had to stall his plans and get creative.
Phytaphyix created a new product Immune Phix.
"We worked really hard to go from clinical trial ideas to a new concept and commercialisation and thankfully we were able to do that within six months," says Kerley. "We eventually launched on October 12th as a direct consumer business."
Although the product creation moved quickly there was a slight delay in the digital side of the company.
"Our website was delayed, our website didn't go live until November 11th, almost a month later," he explains. "Our first order from our website was from a teacher in San Diego and I have no idea how they found out about us."
"We have now exported to 14 countries, most recently Singapore and Vietnam," he adds.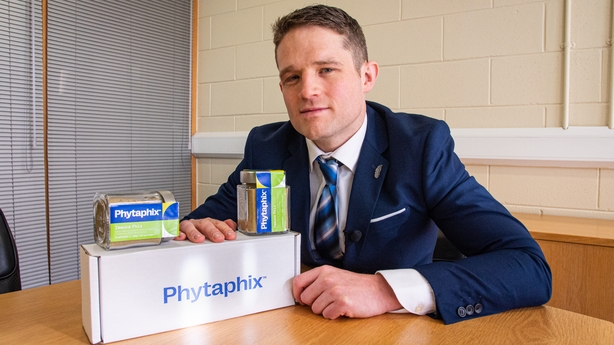 Not only are they in high global demand but in the short time since they launched, they have racked up a few titles to their name.
"We're five months old and we have been shortlisted for five award finals, which validates the quality and the innovativeness of our product," says Kerley.
Immune Phix is a nutrition product which can be added to drinks, cereal, shakes or really whatever you are eating. It contains Vitamins B12, C and D3 and has the minerals Magnesium, Selenium and Zinc, and is created using all Irish ingredients. As the name would suggest it is specifically for immunity and to help with energy levels.
The team of two has been supported by their local enterprise office and the New Frontiers programme and they are based in the retail development centre at the Dundalk Institute of Technology.  
Down in Dun Laoghaire another start-up in the nutrition and wellness space has survived the Covid year. For Suzanne Leyden owning her own business is not a new concept, before The WellNow Company she was involved in tv and film production running her own tv commercials production company.
Leyden changed her career when she had her children, it was a natural progression having always had an interest in nutrition after an IBS diagnosis in her early 20s. Turning her interest into a business has projected her into start-up territory, not an easy place to be during a pandemic.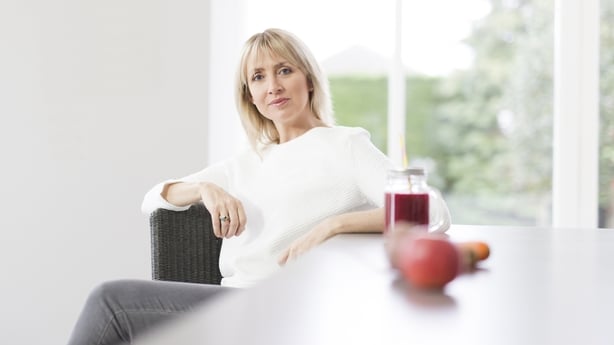 "In January 2020 I started on the Going For Growth programme," explains Leyden. "It was amazing, it was kind of what got me through the initial part of lockdown, it really kept me on track having that accountability to the group really made a difference. We'd monthly meetings for which you would set targets and that really did keep me on track."
"It's like what we do with coaching, having that accountability, it was almost like doing what I teach other people to do but in a business context, it was very beneficial," she continues. "And it's a lovely community and network that I'm still a part of."
The WellNow Company delivers one to one health coaching, but Leyden has also created programmes which can be accessed online.
"I set up The WellNow Company with a vision to take health coaching beyond just the one to one, which is very powerful and is still one of my main offerings, but I also wanted to help as many people as possible with positive behaviour change to improve their health and ultimately their quality of life," says Leyden.
"And in doing that I felt using technology and creating online wellness programmes was the path to take," she continues. "It has helped in terms of maximising reach and accessibility and it allows people to experience health coaching on their own terms."
"It is video led and they watch it whenever it suits them, and they have access to tools and techniques so it's quite a convenient, nice introduction to health coaching," she adds.
Leyden's coaching takes a three pillared approach looking at selfcare and awareness, nutrition, and lifestyle. She also adds a sustainable aspect to her coaching.
"I've got a sustainability approach to everything that I do as well," she explains. "It's ultimately helping to empower clients to have the confidence to make sustainable lifestyle choices and changes to have a positive impact on their life."
As part of their commitment to sustainably they have just lunched Bulk Shopping on their website where customers can buy eco-cleaning and personal care products including brands like Faith In Nature, Ecover and Lilly's Eco Clean in 5 litre containers which reduces excess packaging and waste.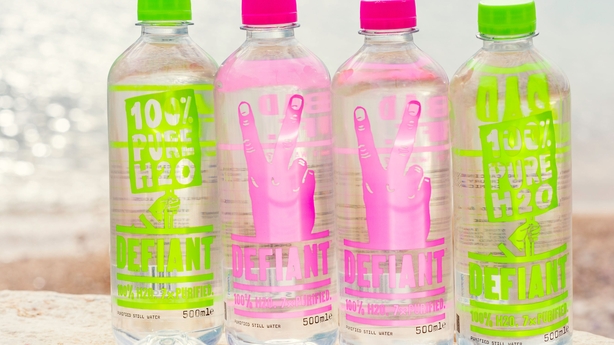 Another start-up looking to influence our self-care is a new Irish water company.
Dublin gym owner, and personal trainer, Aidan Roche has now added start-up founder to his resume with his new water company Defiant Water. Not satisfied with the water being supplied in an already saturated market he decided to add one more to the fridge shelves, but this time with nothing in it but water.
He began by testing the current waters on offer and through lab testing he claims all waters tested had traces of metal in them. Concerned about the impact that might be having on the body he went in search of pure H2O.
"When the lab gave me certified results, I said I needed to do something about it so I began studying how we can purify water properly to give us H2O, which is all that we need really," explains Roche.
"I got talking to an engineer who had eighteen years' experience in water filtration, and we designed the machinery that 'seven-stage filters' the water to get down to as nearly as clean as we can," he says.
The filter system takes everything out of the water so aside from removing as much metal particles as possible the water also contains no minerals.
Covid did have its part to play on the delay of getting bottles on shelves. They had planned shipping out through a distribution partner last June but the timing wasn't right. They did however launch their website in December 2020 and began getting bottles in stores in January with BWG appearing in Mace, Spar, Londis and others in their portfolio.
"We've just secured Tesco for the 22nd of March this year," says Roche. "We've also secured Gala which is another 170 stores, and we have taken a sponsorship so we will be the main water partners for Shamrock Rovers for two year."
Roche owns two gyms, one in Dublin and one in Navan with another being built in Dundalk so running a business is not new to him, convincing people to believe in his start-up, well that was a different story.
"The biggest challenge was getting the distribution deal, getting the guys to actually sit down and talk to us and believe in the brand," he explains. "It's a perception of people that think water is just water."
"To get a company like the Primeline Group to look at us and to hear my story and to back it, I think that was the hardest part, and now that we've done that I can only see things getting better and better," he adds.