As part of our Boost My Business initiative Fiona Alston spoke to a traders' network who have secured a way of keeping the spend local through gift cards.
The businesses of Carndonagh in Co Donegal have come together through their local business network to increase trade in the town after what has been a very difficult year for the rural community.
"It's been  a very challenging year, really challenging but you know, it has pushed us a bit, and it's moved our skills net out a little bit," says Deirdre Bradley, Chairperson of Carndonagh Traders' Association. "We did lose a few businesses too. We lost seven businesses since the start of the pandemic, but we have also had three new businesses open here too.
"It's encouraging to see that people are not going to lie down because of the pandemic," she continues. "A lot of people are training and upskilling at the minute using the Donegal enterprise board."
"Everybody is kind of pulling out the positives, although we have had a lot of sadness here too with deaths and tragedies. It's been a very hard time for people but for the main part people are pulling together really well, we kind of live in a bubble here in Inishowen," she adds.
The Carndonagh Traders' Association was set up three years ago in preparation for the Irish Open being held in Ballyliffin and to date they now have around 80 members.
The town of Carndonagh was Ireland's most enterprising in the 2020 Bank of Ireland Begin Together Awards and as part of their application they proposed a gift card which could be used at local businesses within their area.
The Carndonagh Gift Card was launched earlier this month with the premise of keeping spend in the local community. The card is a scheme from UK fintech company Miconex. It's a prepaid card and businesses require a card payment facility to avail of the service.
"We wanted something that was going to be as economically run as possible, so that it wasn't something that was going to start today and finish in six months when we discover there are too many hidden fees and so far, so good. We are very pleased with it," says Bradley.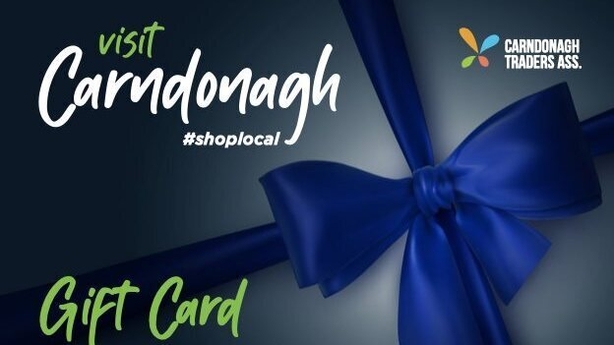 "We only launched it two weeks ago and it's going very well," she continues, "we see it as a way of securing local jobs and securing money within our region because if people buy a Carndonagh voucher that money will stay in the locality whereas if they put €50 in a card it could end up anywhere."
"This is a way we think of keeping hundreds of thousands within our area, it might someday enable someone to take on a new person to work or to expand their business as little bit. I always say an extra five customers through the door every day is the difference between keeping the doors open or them closing," she explains.
Bradley has her own doors to open when the restrictions are lifted. She owns Deirdre at the Diamond and has seen lots of changes in her own business to keep herself trading over the past year.
Deirdre at the Diamond is a ladies fashion and accessories store in the centre of town and when Covid hit Bradley had to reconsider her stock. Our clothing needs have changed during the course of the pandemic and Bradley had to adjust the business accordingly.
"We had to diversity. I started selling masks and hand sanitiser at the beginning of the lockdowns," she explains. "I'm selling things I never thought I'd be selling. I never sold trainers, I'm now selling trainers, I never sold joggers and I'm now selling joggers. I'm not selling dresses which is the downside. I started up a website and had a massive clearance sale. If I had given the dresses away for a euro each, I don't think I would have sold them because nobody is thinking beyond right now."
"The month we were open in December it was really good but all we were selling was hats, scarves and jumpers, there was no evening wear. Any of the stuff I had bought in was just sitting there, it's been a real challenge, but you know what, it's probably made us better buyers and better thinkers," she says.
So far just over 40 local businesses have signed up to the town's voucher scheme. At the moment the vouchers can only be purchased online but as soon as the restrictions lift, they will also be available in Carndonagh tourist office.