Boost My Business throws a spotlight on an Irish gravy company who are scaling as fast as Covid will allow.
Fiona Alston caught up with Porter & Nash co-founder Gavin Cassidy to find out how they have been keeping their gravy boat afloat during the pandemic.
Gavin Cassidy returned to college as a mature student to upskill after 32 years in the catering industry. There he met his co-founder Eoin Lennon, who had also been working as a chef for 20 years in the upmarket restaurant sector.
As part of their Culinary Arts degree, they were tasked with product development and despite being in different groups they had a mutual bond over the potential of gravy.
The pair decided to challenge what consumers knew about gravy and to create something more flexible for all diets whether they are a meat eater or living the vegan lifestyle and everyone in between.
"Everyone's perception of gravy is either meat juices that's converted into a gravy or it's coming from a powder," explains Cassidy. "So, we said we'd look and see what was on trend and see what was getting popular. Seaweed was getting popular and so was veganism and flexitarian diets."
"We had both worked on plant-based products, so we whittled them down, put them through the innovation funnel and the best result was the gravy," he says.
"Obviously, the design of the gravy within the college was small portions. To scale that up so we could accommodate larger amounts to get onto shelves  - we worked for a year on that," he adds.
Using seaweed was the challenge as it has such a strong marine flavour, so a lot of development went into matching that flavour or reducing it.
"What we did was use the seaweed to give us that umami flavour which is your fifth taste - a savoury taste," says Cassidy.
The flavours they developed are Roasted Root Vegetable, Caramelised Onion and Balsamic Sauce and Slow Roasted Garlic and Thyme Sauce using local food producers and a small seaweed company from the West of Ireland.
"They are basic flavours," says Cassidy. "We have actually done a lot of R&D on different products and we have some wild stuff that we could bring out, but we are still researching to see whether the Irish palate or the Irish market is ready for these unique sauces."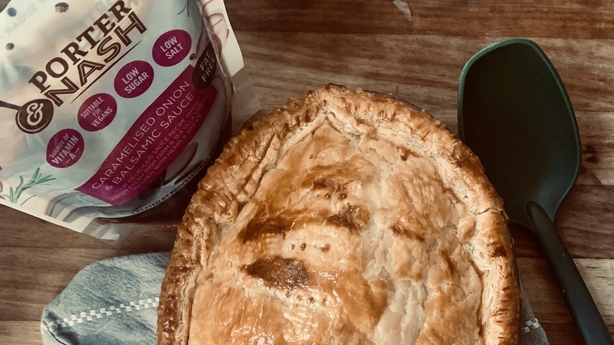 Aside from the challenge of getting their sauces just so, these chefs had to learn a whole new way of doing business having never experienced the retail sector before. Their products made it into the SuperValu Food Academy and Cassidy found himself on the Enterprise Ireland New Frontiers programme when they began trading in 2019.
"I did New Frontiers to get experience in running a business in retail which is completely different than running a kitchen," says Cassidy.
"Catering is very tough, it's very long hours and it's a pressurised job but retail is as tough, it can be as long hours as well, but it is different, you are dealing with a lot more people," he continues.
"You are dealing with people face to face, trying to get distribution and trying to get it into stores."
On completion of the Food Academy, Porter and Nash was stocked in a selection of the SuperValu stores. "We are in around 70 stores now which includes a lot of independent stores too," he adds.
Despite the growth of their product in Ireland the last has been tough. Many food producers rely on taste tests in supermarkets and without them it is a challenge to draw new customers eye to their products on the shelf.
"Prior to Covid we were doing tasting three times a week, in three different stores," Cassidy explains. "And that is one on one with your customers, you are educating them how to utilise the product. That hasn't happened now for the last year so that meant it was tough for us to grow."
The chefs have created a free cookbook which is on the Porter and Nash website to give some recipe ideas and information on how to use their gravy.
While supermarket taste tests are some way off, they have been able to tickle the tastebuds of a new market, they are currently in talks with a company Stateside, so sometime soon our American cousins might just be sitting down to some Irish gravy with their biscuits.