Way back when Covid graced the shores of Ireland a new movement was created. The sewers of the island answered Ireland's call and the mask makers came out in their droves.
As part of our Boost My Business initiative Fiona Alston reflects on those times with three of Ireland's mask makers.
Shenda Burchell was diagnosed with a rare blood cancer in 2017, it prompted her to create a bucket list and one of those things was to learn to sew. On the agenda for 2019 she learned the crafted and contemplated making it into a little side business which she called Sew Shenda.
"Then Covid happened so in March, I started making masks with fabrics that I had here and donating them," says Burchell. "I live behind Peace Haven Trust, so I rang them and explained they were not surgical grade masks."
"I thought as they people they work with have intellectual disabilities it might be nice to have the children's patterns and stuff, and they were thrilled," she says.
"Then it was all word of mouth, so I was making masks for different people, local volunteers and essential workers," she adds.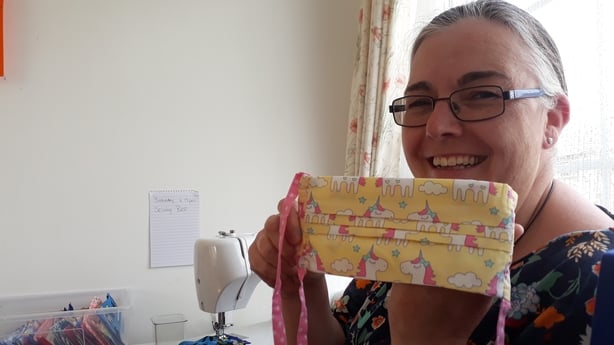 She got involved with the Masks 4 All Ireland, a group of 'super sewists', producing masks to support healthcare professionals and other essential workers in local communities.
Donating masks was not entirely sustainable at the rate of her own materials she was using so friends started to suggest to Burchell she should sell her masks.
She gradually switched her donations to her local Greystones Cancer Support and for every mask she sold she would donate two masks to the cancer support team.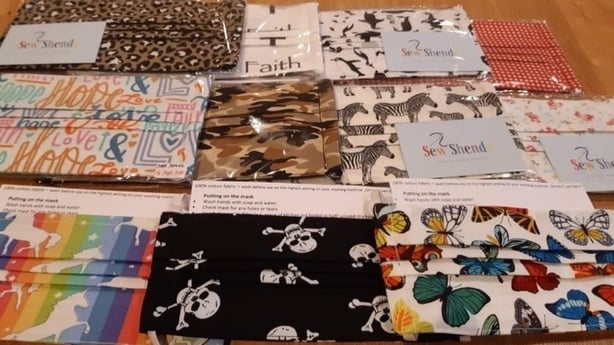 Heidi Sheehy has had a busy year making masks from her home in Glenealy in Co. Wicklow.
"I have a little business called Lilac & Moose Designs," says Sheehy, "and I've been running that for, I'd say about 10 years. I do items for kids rooms like kids décor - mainly bunting so I was already set up for sewing."
"I have a little studio in my house, I had the fabric and all the bits and bobs that were needed," she explains. "So, when the pandemic arrived, I was just approached by a lot of my regular clients to make masks."
She didn't jump on the idea straight away as she had reservations about the types of masks people were required to wear.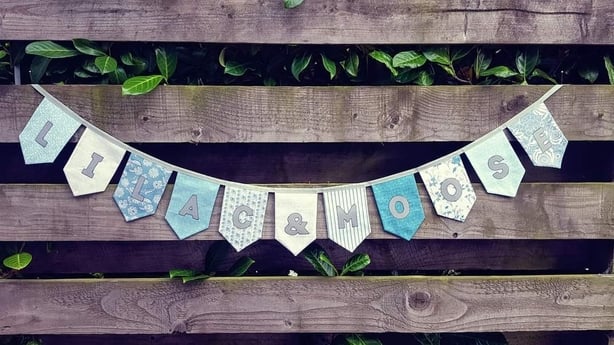 "There was a whole thing about them having to be medically graded and they wouldn't be, so there was a bit of resistance from my part at the start," she explains. "I didn't really want to get into trouble and also I didn't want it to be an opportunist thing where because people couldn't get masks, I was making a quick buck."
"I told people at the start I didn't really want to make them," she continues, "but then the pressure just got too much. I had people whose parents are in nursing homes and had nothing and then I felt really guilty so then I just made them. I had to put a big disclaimer on my own Facebook page and then it was kind of accepted."
The flood gates opened, and Sheehy could not have anticipated how busy her newfound project was going to be. It turned into a family affair.
"It was just really really busy, and I was working fourteen hours a day and over the weekends," she says, "I was doing nothing but making masks."
"I had to put one of my daughters, Lily, on the on the payroll," explains Sheehy. "She looked after all the Facebook inquiries, she did the packaging - she was a great help."
"I think the reason why I was kind of successful at the start was because I was already set up to go as I had all the equipment, I needed to start making them immediately," she adds.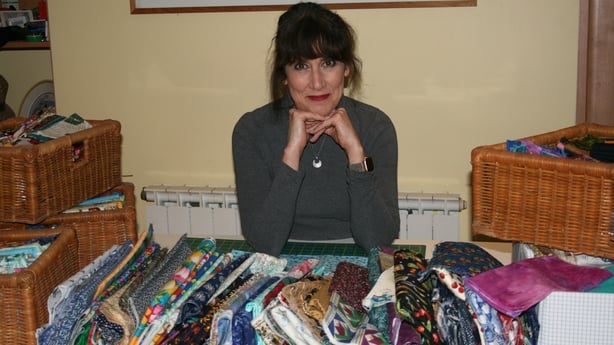 Rachel Harshman was also ready to respond to the demand for masks as she has a wealth of fabric for her hobby of quilt making.
"It wouldn't be a way of being able to pay the rent but I am a quilter," says Harshman. "I live by the creed of she who dies with the most fabric wins! My stash is substantial."
Harshman works full time for the HSE.
"I was going off into the office, because of the position I hold," she explains, "but my children's schools and colleges were cancelled, and my husband was working from home, so everybody was working from home."
"Even though the weather was quite good we were becoming quite depressed with the daily data from the news so what we did was we created masks for ourselves."
"I did research online and I found a woman in America who was there before me and she found a fit that was an over the head over the neck fit that would save the ears," she continues, "and she had made 150,000 of them so I think she was a good person to learn from. I followed her lead and avoided her initial mistakes."
They found that the mask making was lifting their mood and they were delighted with the style of the mask, so they decided to turn it into a business, after all they had a stash of material to raid.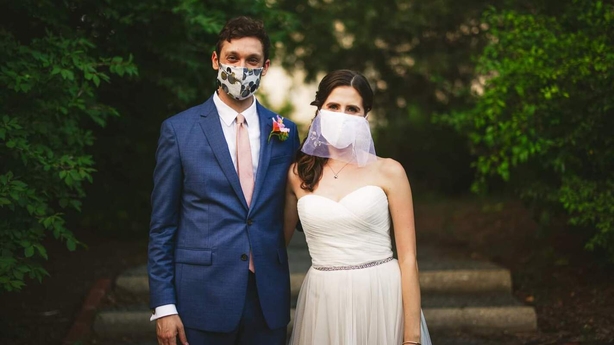 "With some coaxing and cajoling Face Mask Vogue was born," says Harshman. "We wanted to share the quality and the whimsey of the fabrics that we had. My stash was raided and destroyed."
"It caught on, people like the whimsy of it and people got to know the fit of it because we don't go around the ears – the fit of it because it goes over the head it's way more comfortable than anybody has," she adds.
They have created different ranges and even have a bridle range for the bride and groom. They have sent their masks far and wide and have had great interest in the tricolour or county colours especially from those living abroad.