With the loss of charity events this year companies are coming up with new ways of giving back through their sales.
As part of our Boost My Business initiative Fiona Alston spoke to four companies who are playing their part by applying social responsibility to their small businesses.
Emmett Kerrigan and Keith Loftus learned all about kombucha while living in Canada - they were running a landscape construction company in Vancouver. On their return to Ireland, they decided they wanted to bring their new healthy lifestyles with them and create a company from it.
"When we came back to Galway, we wanted to start another business that was more aligned with what our values were," explains Kerrigan. "The values we picked up in Vancouver were yoga and meditation and this product that keeps you internally well."
Originally, they set up a food stall selling avocado products at festivals while testing the waters with their kombucha product, All About Kombucha.
"We were selling the kombucha with avocado sandwiches at the likes of Body and Soul, Electric Picnic and All Together Now," he says. "And then we slowly wound down the food stall for this year - that was a really good decision because there wasn't many festivals anyway, and we went full on into the Kombucha."
"We started in a converted shed at the back of my house in Galway," he continues, "that's where we started to do our test batches that we were giving out to friends and family, and now we're doing it on a bit more of an industrial scale and we deliver it to the lovely shop owners and cafe and restaurant people around Ireland.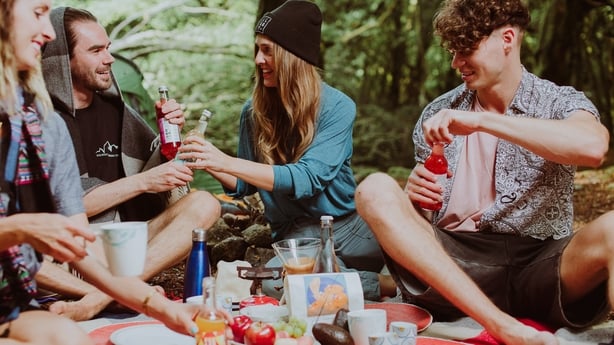 They now have a production facility in Moycullen and for the past year have been part of Aldi's Grow With Aldi development programme.
"That was incredible, we were very surprised how much we sold in Aldi in the year," says Kerrigan. "It really set us up so we're in a really good position now, even though it was a bit of a downer of a year because all the cafes and restaurants are not doing much business."
In alignment with their healthy product, they also wanted to do something healthy and responsible for the planet and they give back through the 1% For The Planet programme
"Once you sign up for it, they review your accounts at the end of the year and you either give 1% of your revenue or 10% of your profit back to initiatives that are helping with climate change and environmentalism," he explains.  
"We're going to be planting native trees to in Ireland to help with the sequestration of carbon," he says. "We're using our 1% for that."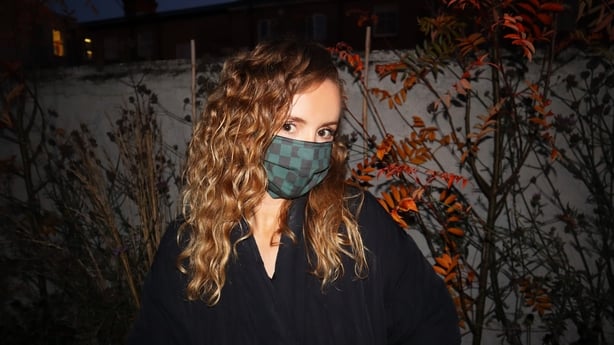 Designer Niamh McCabe has been running her interior design company Spacey Studio for the last four years, but this year Covid was restricting her contracts and she found herself exploring other avenues to keep the business going.
"I design office spaces for tech companies," says McCabe, "but offices are closed at the moment. The work was just unknown, and people haven't gone back into the office.
"I have been planning for a couple years to start a homeware line, but I was so busy with my interior design I never had the opportunity to actually sit down and work on it," she explains. "Back in February, I ordered my first custom fabric, and it was just sitting in my studio waiting for a moment for me to be able to play around with it and make something."
In April McCabe got that opportunity and decided that her very first item would be a mask she could send to the guy she was dating as he was stuck in lockdown.  
"I thought it would be cute to send him something in the post," she says, "and I made one for myself as well and I posted it on my Instagram."
"From there it just honestly took off really quickly," she continues, "I started making sales through Instagram and then Etsy, and very quickly, within the space of two weeks, I launched my own website Nim because I could see there was just so much demand and potential for these masks to grow."
In the meantime, her friend had been volunteering on the phone line of Dublin Rape Crisis Centre. This inspired McCabe to want to give back through her mask sales.
"I just think its so important for men and women to have a service like that, that there's people so readily available to chat and to help them," she says. "So when I started making the masks and selling them I just felt like it was such a weird time and profiting solely from masks, which are to help people during a pandemic, it just seemed like too selfish of an act to take everything for myself."
"I decided from the get-go that I wanted to donate 15% to DRCC and since April - and this has actually blown my mind - I've been able to donate €4,000 in total.
"In my second month I sold 800 masks which was a sizable chunk to be able to donate," she says. "The day I donated it I actually cried."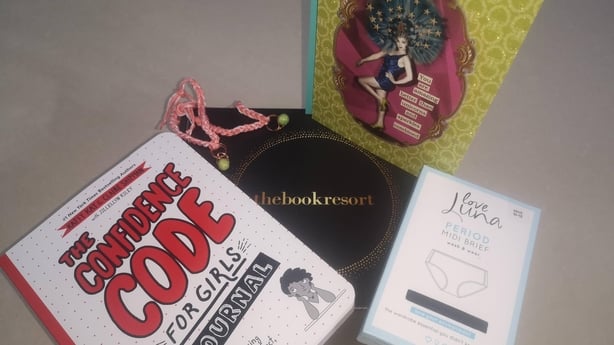 In Waterford Aisling Finn has been very busy lately with The Book Resort, her subscription book box company.
"We started in October of last year and we were pottering away lovely," says Fin. "We had a good few subscribers and last Christmas was really busy, well what we thought was really busy, obviously it wasn't compared to this Christmas."
"Everything was ticking over nicely and slowly but surely we were growing and then Covid hit and we spiked straight away, literally overnight," she explains.
"I think what really drove it for us was there was a big increase of public support for Irish companies," she continues. "We're Irish obviously but all our products are Irish as well and always have been - the public really got behind this."
"When you buy something off us, our boxes are made in Ireland, our packing is made in Ireland, the books are from an Irish wholesaler and the chocolates all Irish and all the products are actually from other Irish businesses so it's like this big domino effect."
The idea for The Book Resort came from Finn's own need, she simply wanted a new book every month and some chocolate. Fed up with paying high delivery charges from a subscription box from the UK she just decided to create her own and was delighted to find out that she was not alone with her need.
"They do say that if you're looking for something, you're probably not the only one out there looking for it," she says.
During the summer, The Book Resort gave 50 gift boxes to frontline workers and since then Finn has been looking at another way she can give back through the company. This comes in the shape of the Confidence box which is aimed at teenage girls.
"Sometimes life can be tough, and it can be difficult," she says, "and if you're in care and you're going through periods and hormones and maybe you are lonely, and then Covid and maybe your mental health is not good - that's where the idea for the Confidence Box can came from."
"It's basically a box that has the Confidence Code for Girls in it, it has the period panties, there is also a little pair of friendship bracelets in there, and there's this lovely card with sparkles and unicorns on the front," she explains.
"We wondered how could we give back? What would people like to support?" she says, "and most of my customers are women and we do all remember what it's like being a teenager."
"People do seem to really like it, and we are going to focus on Waterford and give one Confidence Box to a teenage girl in care for every ten boxes sold," she adds.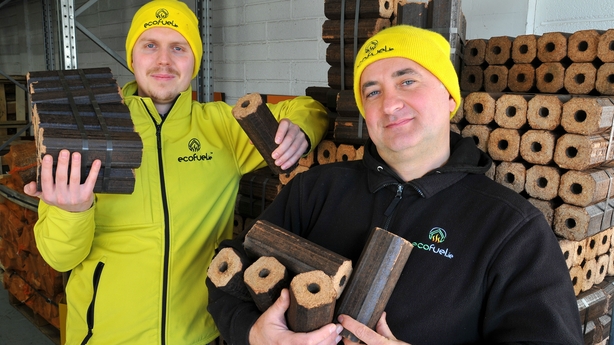 Back in Galway Latvian born Janis Vitols has created a company from his passion for his home country and the developing fuel market.
Vitols owns EcoFuel sustainable fuel products for open fires and wood burners.
"My brother was suggesting to me about sustainability how the fuels where changing," says Vitols. "and at that time Latvia was a major manufacturer of firewood products and all kinds of wood products so I said I'd just give a try."
"We've basically grown from a small Irish company into the one of the leading Irish companies for sustainable fuels," he says.
They concentrated on growing their customer base online and through home delivery and this year opened their second store, this time in Dublin.
"It's been growing really strongly," he explains. "We already had a really large customer base in Dublin but now we can service them better. Customers can drive up to our location and they can see all the products and we can give them all the information, because sometimes people don't know really what to buy."
"We also have a call centre in Galway so they can ring us and then we can answer all their questions, but a physical location is important - it's all about educating the customers," he adds.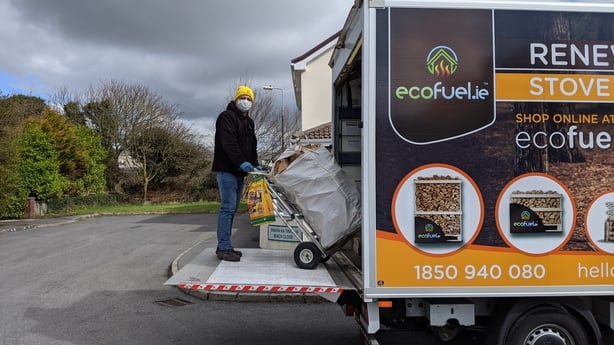 EcoFuel is one of four companies involved in a four-month project to raise funds to help end fuel poverty in the Galway area. With a target of €10,000 to be raised to buy winter fuel for families through St Vincent De Paul, the four business owners have each been playing their part in the project depending on their skills or wares.
Fuel4Good is the brainchild of Ruairi Guckian of GHR Consulting, Alan Haverty of Outlier.ie, Brazco Coffee Academy's Linda Lydon and of course Janis Vitols of Ecofuel.ie
"With all the money that we have raised, we will be purchasing the EcoFuel at cost, so whatever it is costing us up to the door of the warehouse," says Vitols. "I will be buying the fuel products for the project and will be helping with all deliveries and all of the logistics."