There has been a huge rise in the demand for vintage or second-hand items, whether it is a fashion statement, from an environmental point of view or simply a love of old things.
As part of our Boost My Business initiative Fiona Alston spoke to five companies in the business of selling vintage items.
Carmel Crawford owns two shops Chic Marilyn and Soeur de Marilyn side by side in Drogheda, Co. Louth. The first, Chic Marilyn opened in 2017 and sells antique jewellery, small antiques and paintings. The second store which sells high-end vintage clothes was put on the long finger for most of this year.
"The shop next door became available, so I took that as well," says Crawford. "I was supposed to open around March time, but then the lockdown came so that put all of that on hold. It has been good in one way because I've been able to collect more items and more clothes. We are only open in the last week or so."
"I really went for the higher end of vintage clothing. I have a lot of very good labels and designers from the 60s and 70s and unusual modern items as well," she continues. "The American opera singer, Jesseye Norman, who died in August and I managed to get a number of pieces of her personal wardrobe which I bought as a collection."
Crawford also has some other star-studded clothing including a Prada dress once worn by actress Jessica Alba.
"I look for the unusual with a bit of a story behind it, something that sets it apart, it's not just second hand," she says.
And this is something she carries through into Chic Marilyn too as the art she sells has seen many decades, if not centuries.
"Most of my art would be from the 19th century, I also have a very large English portrait dating from about 1680," she explains. "It's mainly English, French and Continental paintings is what I like."
While business has been slow this year with the shop closed and the delay in opening the vintage clothing store Crawford says it does not really affect her stock.
"I know there was a hold up this year but that doesn't matter," she says. "My things are vintage and the longer I have them the older they get so they get better all the time, it doesn't matter to me if I didn't sell them this year, I can sell them next year."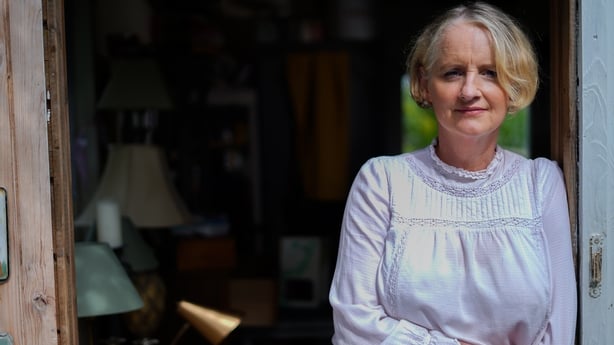 Down in county Cork Rita Holding decided to turn her passion project into an antiques business.
"I'm based between Rosscarbery and Clonakilty in West Cork. I work out of a purpose-built workshop in the garden of my home and I started trading officially on the first of January 2017," says Holding.
"Prior to that I spent 25 years in England and always had an interest in vintage and antiques," she says. "I worked in finance and corporate expenditure and then I decided sod air-conditioned offices - I'll just try to turn my passion into a business."
And that is exactly what she did as RH Vintage Interiors. After building up a network of antiques dealers and auction houses in Ireland and the UK over the past couple of years Holding upgraded her website this year with the help of the Trading Online Voucher.
"What I found with the lockdown was my business didn't really slow down that much because I suppose I was already online and I'd spent two years marketing," she says.
"The main thing I do really is I source vintage and antique furniture. But I also do a lot of commissions and specialise in chalk painting, but only with quality vintage furniture," she adds.
While Covid has not really impacted her business, she has a new threat in her sights which has resulted in her scouting for goods in other markets.
"Now because of Brexit I will probably go to France and Europe instead of the UK because it's so complicated. The importing and getting a commodity code - it could be a commodity code for 10 different types of sideboards," she says, "it's just very complicated to bring stuff in from the UK at the beginning anyway."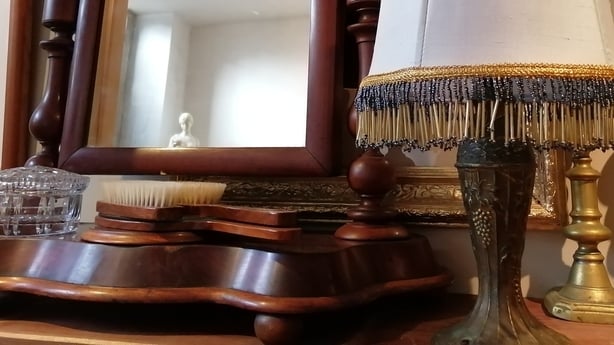 Michael Wall owner of Salvagem loves to restore old furniture, it was a hobby which he returned to during a time when he felt he was getting restored himself. His mental health was having a serious impact on his life and his hobby was something that helped him through that period.
"What I started off doing was I'd salvage stuff like an old set of picture frames that I might pick up in the charity shop, for example, I'd take it home, strip it of its paint, I'd regild it, repair it and I'd cut down the glass," says Wall. "I was kind of trying to, I suppose, restore and save items at the same time."
"The name of Salvagem - it's essentially saving something that's precious, which is the furniture of restoration," he explains. "So realistically it kind of saved my life."
To keep the costs down Wall uses original materials he salvages from other pieces and he does all the work by hand. Initially selling his wares though markets and pop-up shops before finally settling into a location in Cork City centre.
"I just wanted to showcase some of the pieces that I had restored," he says, "tables, chairs, lamps, mirrors, pictures, different bits and pieces, and it took off very, very well."
So much so that year he is joining forces with a friend in the same business and they are opening a new store complete with workshop on MacCurtain Street very soon.  
"It's cool, it used to be the old scout shop. The building itself is pretty much untouched and we've unearthed loads and loads of bits and pieces – old features, old beams, old pictures rails," he says.
"The building is almost one and a quarter century old so we're trying to retain as much as we possibly can," he adds.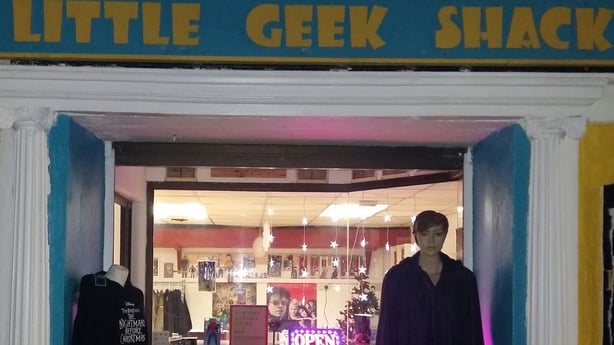 Someone else in the vintage business who has recently moved location is Sharon Messitt, owner of Little Geek Shack in Wexford Town. The business started with music and movie t-shirts before adding collectable figures to collection and more recently Messitt added a further arm to the store.
"After the lockdown I decided to get into vintage clothing because as I was doing the T shirts people would give me their old ones and I would sell them on," she says. "It got me thinking and I started looking at vintage clothes."
"I did my research, started doing the vintage clothes properly in July and it's just grown from there," she adds.
She had been trading from a small shop in the main street in town, but it had no changing facilities for customers and was cramped for space, not ideal during Covid so she moved.
"I had my first day in my new shop on Tuesday," she explains. "It's in St. Peter's Square and it's a massive shop. I now have two rooms in the shop, the backroom is vintage clothes and the front room for the collectibles, and new t-shirts and hoodies."
"I'm actually beside a really cool second-hand bookshop, Red Books, and he deals with antiquarian books," she continues. "We kind of go hand in hand. I don't think I would have moved to this specific location had he not been there already - he's got a really cool vibe going on in his place."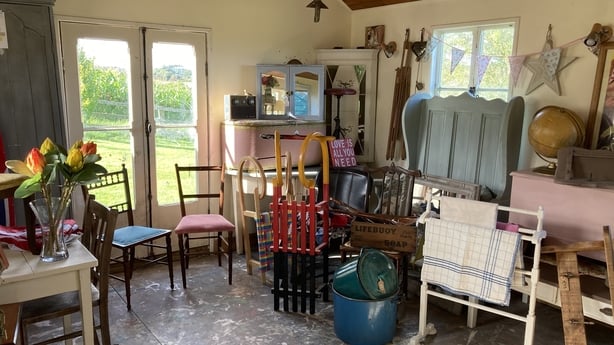 Vintage clothing became an interest of Katie Sloane. When she lived out in America, she started buying up items and storing them so when she finally moved back to Cork she made sure the vintage collection came too.
"A friend of mine was moving back to Ireland and he had this pick up truck that he was sending home on the ship so I asked him would he mind taking my boxes home for me," she explains.
"I stored them at home for a while and took them out and looked at them every so often," she says.
Finding that her wardrobe was mostly made up of second-hand clothes, nice items she'd found in charity shops with the labels still on them, she decided to take to social media and let others know the merits of buying second-hand/pre-loved clothing.
"I just set up a Facebook page called Peach Vintage three years ago and I started selling my own clothes that I no longer wore, and then I got my sister's clothes," she says. She began taking clothes from her friends and family.  
"I was giving my family and friends 50% back of what I was earning and people just kind of grabbed onto it and just started sending me messages asking me could they sell their items with me too," she explains.
Sloane only accepts vintage and preloved clothes that are in good condition and by maintaining that standard her business grew and with it the trust of her customers.
"The more I have gotten into it especially over the last 12 months I found I'm learning more about the environment," she says, "and am more aware of the fact that I'm playing my part and so is everyone else who buys from me."
Peach Vintage has now grown from it's infancy as a Facebook page to an online business where Sloane continues to sell clothes for her customers giving the peace of mind it's a genuine sale and taking away the hassle of organising the delivery of items sold.