Being digitally connected at any age has become so important to us this year and many of us take it for granted as we've grown up in the digital era.
Those who didn't can be left behind, overwhelmed by the devices we interact on leading to frustration or worse, isolation.
As part of our Boost My Business series, Fiona Alston spoke to Philip Hogan, founder of Acorn, the tablet designed to help the older generation in the digital era.
"The concept behind the Acorn was formulated as a result of visits to a geriatrician with my elderly father," explains Hogan.
"I got talking with Dermot Power, who is a Professor at the Mater Hospital, and he talked about social isolation and loneliness, and how it was affecting the health of some of his patients," he said.
The Professor also talked "about how digital isolation was playing its role in accelerating the social isolation of individuals because if you're not digitally connected - a major part of world engagement today is through that process."
The project started as an app but very quickly they realised the project needed to be in tablet form as the technology needed to be simplified with the user in mind.
"From turning it on to finding the right applications to making settings and changes on the tablet - all of these things are intimidating and difficult," says Hogan.
"Many of the features of tablets are very different - the user interface for many of the applications, whether it's email or phone calls, or accessing the web is very, very different so you have to learn each of the individual applications," he says.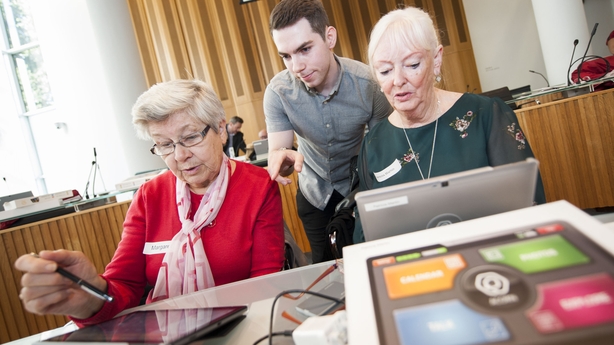 They focused on making the ability to modify the tablet easy and to navigate the core features easy whether it's sending an email, making a video call or browsing the internet they all operate on a common universal design. It also eliminates the issue of app providers updating apps with only the younger market in mind.
"We try and present that in a way that's easy to access," he explains. "We decluttered the infinity of the internet, in a way that for somebody starting out will find it easy to navigate, but not be restricted."
"You can download from play stores, you're not restricted in any respect – it doesn't make any assumptions about your desire to grow in terms of digital usage," he adds.
The tablet has suggested apps which it thinks are relevant to the user but it also has links to the Google Play store and IOS Apple store.
"We have the capacity to manage all the tablets out in the network and we have the capacity to remotely update the technology and to monitor usage - where appropriate and applicable," he says.
"We have a suite of apps called a Companion App that allows users friends, families, carers interact with the Acorn and also monitor it if they have the application to do so," he continues.
"And we work with Amazon and a number of different providers to pull together all this technology and manage most of it from the cloud and into the platform."
Users pay an annual subscription which allows the company to run the support services remotely, apply upgrades and they also offer telephone support.
While the device was initially designed as an older person's tablet it is now being used to support people with learning disabilities, dementia and even Parkinson's. It has also proved its worth as a useful tool in the case of domestic abuse.
When it was first launched it was connected by mobile data only but now they have the option of both Wi-Fi or duel connectivity, the latter costing more as it's supplied with an Eir sim with an allowance of 100GB 4G data per month.
"When we did that originally we wanted to encourage digital citizenship and the utilisation of the product everywhere," he explains.
The product was launched October 2019 and had a good Christmas last year. As Covid joined us at the start of the year they expected to have a decline in sales, but it had quite the opposite effect.
"We saw a dramatic increase [in sales] and in fact as we move into this winter there is a significant increase again," Hogan adds.