We all have toys on our mind this week as it's the countdown to the greatest toy show on TV this week.
Today Boost My Business throws a spotlight on a company who are launching their range of augmented reality toys into the Irish market in December.
Fiona Alston spoke to the wife and husband team of Kate Scott and Declan Fahy, who founded HoloToyz alongside their co-founder Paul Cosgrave.
Coming from digital backgrounds, Scott and Fahey have a very tech savvy household which includes the digital abilities of their two kids who are four and six. Their range of AR toys are inspired by their kids' fondness for social media filters.
"The face filters that people play with are all augmented reality - any digital layer that you put over another screen, enhancing someone's environment. The only difference is we're providing it as an entry level entertainment piece for kids," Fahy explains.
"One of the things that we found was that our kids love the filters that you'd find on the likes of Snapchat, Instagram and other social networks," he continues.
"But the only problem we found was that when we gave the phone to them, we're not very comfortable with them initially swiping left or right and then all of a sudden being presented with content that's not appropriate for their age."
This inspired them to develop an app which was entirely appropriate for their age group but still had the AR built in - they wanted to take it a step further and included a range of toys the app would work alongside.
"We were looking at stickers, tattoos, books, and wall decals," says Fahey. Once you open the app and point it towards the items it brings them to life.
"We took the whole idea and concept to the world's biggest toy fair in Nuremberg in Germany in January this year and the response that we got was just phenomenal."
One thing that was important in the app development was that it was 100% child-friendly and it required no registration or in app purchases. It's a free download on both IOS App and Google Play stores.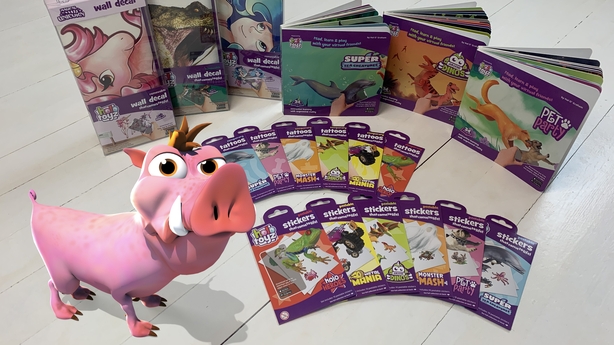 The app also allows users to place the characters in their surroundings, move around the 3D creatures and take shareable photos and videos. They have over 100 animations that come to life.
"The user experience was really important to us and also keeping it really simple," says Scott. "I've seen so many apps that are designed for kids and they're so complicated, and there's so much irrelevant information in them and it's just turning the kids off. With our simplicity of it was really, really important."
There is a click through option in the app which will bring you to the HoloToyz website for ordering toys.
Despite the year being as haphazard as it has been, and the fact that all of the manufacturers they are dealing with are either in the States, Europe or Asia they seem to be finding their stride working from home during these pandemic times.
"Working at the moment is very different than the way we would have worked this time 12 months ago," says Fahy, "but it's brilliant, because it allows us to be able to work at different times of the day and then you fit in more.
"That's the biggest change for us is actually - designing out your day to fit your kids but also to fit around people that we're working with, because we are working with people in different time zones in terms of America and China so we kind of do have to work around the clock anyway, regardless of our kids' setup," he explains.
"On the Irish side of things, the team is 100% Irish and we are launching in FAO Schwarz in Arnotts and with Ken Black stores nationwide," adds Scott.