As part of our Boost My Business initiative we throw a spotlight on an Irish liqueur business sending the cream of Co Cork worldwide.
Fiona Alston spoke to Five Farms co-founder Johnny Harte about how Covid has impacted business and building his American dream.
The Donegal man created the company as a joint Irish-US venture with McCormick's Distilling company in Western Missouri where they first launched the product three years ago.
"We decided that we would do one container to see what the potential was of the product," says Harte, "thinking that container would last a long time in the market, because no one had ever gone into the Irish cream category and sold their product at a 30% premium to Bailey's and succeeded."
They launched in late November 2017 and by the time Harte went out to Kansas and Missouri in January there wasn't a bottle to be found anywhere.
"In fact, one store said before Christmas they only had one case left and they had to raffle each bottle – whoever's name was pulled out could buy the bottle," he says. "In the 30 years I've been in the business I've never had an experience like that."
It's no wonder that, Stateside, they were awarded the fastest rising star of the drinks industry in 2019.
"We didn't see the full potential of the brand to begin with," says Harte. "We knew we were onto something special but you're a bit nervous. You have to be very honest with yourself in the drinks business because you can you can get carried away with your own concept and not see maybe some of the negative aspects over the brand and then it's too late to change."
The name Five Farms comes from the production of the product itself; the cream is taken from five different family run farms in Co Cork, the product is fully sourced and produced in the area which gives it it's marketing concept.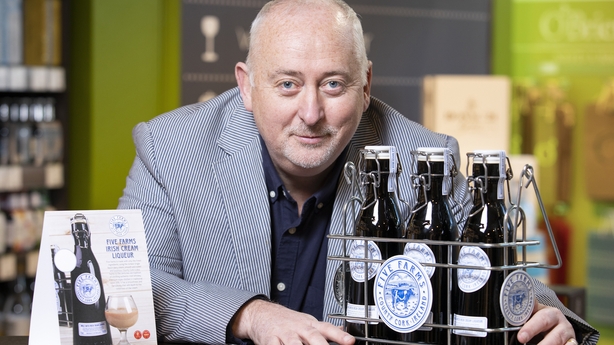 It was important for Harte that the dairy was sourced from grass fed cows, in keeping with the tradition of the lush pastures found in the area.
The product has done very well in overseas markets and this year was to be a roll out year into more but as Covid has affected travel it's put paid to some of those plans. Five Farms is however exporting to the USA, Canada, Germany, Italy, Spain, Austria, Slovenia, Ukraine, Bahamas, Thailand and they have just scored a big name account in the UK – Harrods of London.
"That was the target account for us. We haven't gone mass market - we've picked retailers that we felt best understood the product," explains Harte. "We stayed away from the multiple retailers in the UK until we got the product established and Harrods loved the idea and the concept, and they wanted to do more with it.
That was a fantastic shot in the arm to us," he says. "There's other high-profile accounts that we will be announcing as we go forward."
Back home is where they have really felt the impact of this year's struggles in business. They had a growing market in the hospitality sector with restaurants and hotels but due to the lockdown and restrictions it's had a knock-on effect.
"The brand is something you would have after a meal, along with a coffee a lot of the time – some restaurateurs were starting to create desserts with Five Farms. That took a good bit of the potential growth of the brand in the Irish market - no hotels and no restaurants meant no sales," he says.
"Some of the hotels in Cork have been really helpful and really got behind the brand as a drink that you to get as part of your hospitality," he continues. "We were replacing the traditional bottle of champagne in some places so that was great and look, we'll get back there again."
Five Farms has picked up many accolades in the last couple of years, including awards for its packaging and marketing, but an award coveted by Harte was one from his home country – Five Farms was awarded a Gold Medal for Ireland's Best Liqueur at the 2020 Blas na hEireann.
"It's always great to win awards internationally but if when when your own people award you something, that's something special," he says. "Blas na hEireann do a great job to promote genuine Irish products."