Fiona Alston shines a spotlight on jewellery designer Melissa Curry as part of our Boost My Business initiative.
When it comes to the trials and tribulations of 2020, you could say that Melissa Curry has been preparing to deal with the challenges of this year all of her life.
The jewellery designer has had to show a fierce amount of resilience to be where she is today, so a global pandemic is just another obstacle on her road to success.
Success came early in her career. A move to Paris to work resulted in her work being showcased on the biggest platform for creatives in fashion; Paris Fashion Week.
"In 1998, I stepped out in Paris Fashion Week with my first collection, not knowing that I had an edge and not knowing that I was very different, but I obviously was because I invited Liberty London back to my stand and they asked me back to their HQ in London," she explains, "and really, that's where my world as a designer started."
"I think we opened about 20 accounts at our first show [Paris Fashion Week], which was kind of extraordinary," she continues. "Liberty picked me up - they were doing the Millennium campaign, Feel at Liberty, and I was incredibly lucky to be chosen to represent jewellery and accessories – I was only a really tiny start-up, a girl with the dream that was all I was."
Big accounts started to come her way and her career as a designer of luxury jewellery started to soar, but it was during that time she learned a valuable lesson in business.
"I went very big too quickly, but that's what you're supposed to do," she explains. "But you're supposed to have a team which I didn't, it was just me, my hands and my mind."
The workload started to take its toll and she began to consider a new direction.
"Before my son was born I started to really think whether or not I'd be better off working for a company, as a creative," she says, "and I had started to put myself out there as a creative director, and then my son arrived and he became very ill very quickly."
"That was it, there was a very sudden change and a substantial change," she continues, "because when you're caring for somebody, the fashion world almost disappears - it's egotistical, very driven, fast paced and demanding - it just started to disappear very, very quickly."
"My world as a designer shrank and disappeared," she says, "just my whole world disappeared. My son's father died and we were just left on our own - I went from financial independence to having nothing."
This was a new turning point in Curry's life, she moved back to Ireland and began to rebuild her life and her career.
Creating opportunities within her creative field, she worked on some low-key projects while caring for her son.
It gave Curry a new perspective and time to consider her options until inspiration took her back in the direction of her own collection.
"I had a little boy who was really challenged so he changed my perception and being a mum, you change also," she explains. "It did give me time to look at the gaps in the emerging markets and to look at what was happening in the consumer market - it has greatly informed the building of my business now – and it has prepared me for Covid."
"I'm well able, I'm resilient, I'm independent and I know the outer world, so it's helped me navigate it," she adds.
The first collection Curry launched was called Success and the first piece was gifted to Michelle Obama, which gave it global recognition.
Her jewellery was sought after in the travel retail sector and she had multiple contracts with international airlines, but unfortunately Covid has grounded travel and therefore all current projects. It also put a hold on a big launch Curry was due to have in Miami in March with Virgin.
"I lost my team, I had to let them go immediately, our revenues dried up almost instantly," she explains. "So instead of having a nice plush bank account, after years and years of working, we were minus and it hurt a lot – I had to retreat back into my kitchen."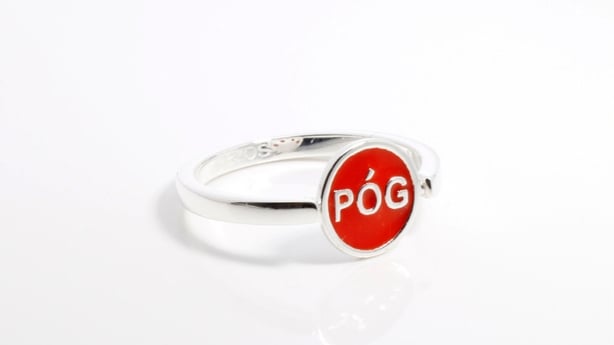 Not one to let the likes of a global pandemic stand in her way, Curry once again sought new revenue streams and found one with her PÓG collection.
The media got wind of her campaign to 'send a kiss to someone you miss' with her PÓG jewellery and orders came in so fast they sold out very quickly.
Back in stock, with every 'kiss' sold PÓG supports Jigsaw, the charity for youth mental health; and for now all Curry's revenue is being made through online sales.
Her next move is to consider other retail outlets, so we may soon see Melissa Curry jewellery for sale on the high street.
"PÓG for me is a reaction to a kiss, which was very personal to me – my son's kiss always kept me going through a time of real solitude and loneliness and it was always reassuring," she adds.