Boost My Business throws a spotlight on a Dublin menswear store. Fiona Alston spoke to business owner Shane Burke about how his business is coping with the challenges Covid-19 has brought.
As businesses remain closed, under the Level 5 restrictions, one Clontarf store which is following suit is Stylish Guy Menswear.
The store is dedicated to menswear and with Shane Burke at the helm the focus is very much on making men feel good in the clothes they wear.
"I was a personal shopper and a fashion stylist," says Burke. "Now people are coming to me to dress well and look good and feel great.
"I offer a supporting, empowering service for men who want to invest in their image with just basic straightforward fashion - nothing too loud, nothing too out there," he explains. "It's all about good style, good quality and a good fit."
Shane Burke started the retail store five years ago and things have gone from strength to strength since its inception, despite the recent upheavals.
"We're growing at a rapid pace because we keep getting better and we keep getting better brands on board," he says. "We've implemented so many things, for example, we have an email marketing campaign, I have somebody full time looking after social media and I have somebody full time looking after the online store."
"We're very active on social media and I'm passionate about my job - I adore fashion, style and helping people," he adds.
While the store has had an online presence in the past it was really the lockdown, earlier this year, that meant they had to make the tool work better for them.
"We spent about a year building our online offering and it was just very tedious, we made all the mistakes, and it was trial and error," he explains, "and we just kept soldiering on."
"We were getting massive hits on the site, but we were getting very little conversions," he continues, "but on the other side of that we were getting a lot more out of footfall into the store."
"The moment lockdown happened the last time sales went through the roof," he says.
He credits the success to people wanting to support local and the fact that he changes his window every week. Throughout lockdown people were passing the sea front store while they were out for their daily exercise, so it was the perfect opportunity for Burke to show his wares.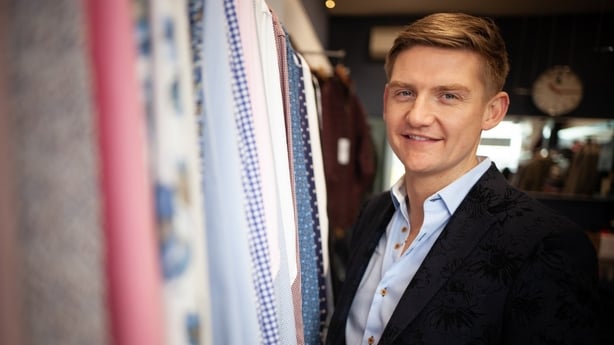 He also hand delivered the orders in his Dublin area himself which meant people could avail of same day delivery.
There is also another reason Burke has manged to maintain his business throughout the turbulent year.
"I've got a very good landlord," he explains, "just extremely understanding and very supportive in many ways. He had my back from the get-go. That was a great support for my mental health and me trading."
"It's been good and bad [in business this year]," he says, "but it was more good than bad and I wasn't worried in any way because of my landlord's behaviour."
As the store adheres to the Level 5 restrictions imposed nationwide, Burke has been ramping up a support local campaign through Stylish Guy social media channels.
"I'm fairly active within the Clontarf area and there are certain businesses that I love and would deal with on a regular basis," he says. "We decided that on our platform, we're going to support businesses that we like to support ourselves."