Since the countrywide lockdown many of the restaurants, hotels, bars, and cafes around the country moved their offering to provide a takeaway service by implementing online ordering on their websites.
As part of our Boost My Business initiative, Fiona Alston spoke to James McCarthy - co-founder of online ordering platform Flipdish - to see how the tech start-up has fared since Covid came into our lives.
"We are basically an omni channel online ordering platform for restaurants," says McCarthy. "We also service cafes, hotels, bars, butchers and so on."
"We allow them to receive orders directly from their customers on their own websites, on their own app, in store on a self-serve kiosk, or on a table ordering device," he explained.
People can scan the table's QR code on their phone which will bring them to an ordering website powered by Flipdish.
By using the Flipdish platform, customers can place an order directly with the restaurant rather than going to a marketplace, like Deliveroo or Just Eat.
One benefit of a restaurant choosing Flipdish over the marketplace style platforms is the data is collected directly from the customer and theirs to do with as they see fit.
This is useful for updates on orders, keeping in touch with your customers, and of course there are many marketing benefits to owning your own data as well.
"They have that direct line of communication which is much nicer for the restaurants – to have these relationships with customers," James McCarthy says.
The company was founded five years and have been successful in entering other markets.
"We're actively selling in six markets, the UK, France, Spain, Germany and North America and we have customers in about 13 or 14 countries," says McCarthy.
Despite their success to date they didn't know how it would play out for them when the virus first came to Europe.
"Initially, we didn't know what was going to happen. We saw closures of restaurants, especially in Spain, France, Germany but they have opened again," he says.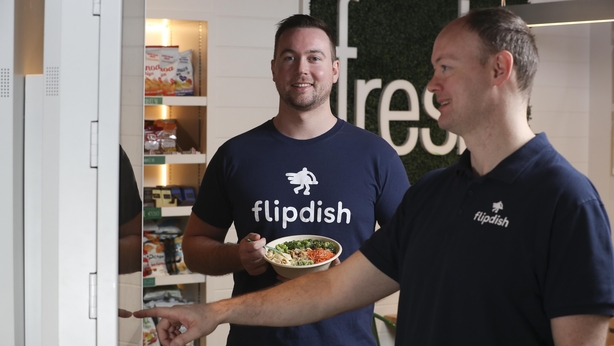 It wasn't long before they were starting to see the rewards of having regular diners with nowhere to eat out.
"We saw a huge uptake in the level of orders going through existing customers and a lot more new customers coming on board," he continues.
"More and more restaurants were reaching out to Flipdish asking us to help them. We probably have tripled in terms of volume of the number of orders gone through the Flipdish system."
In terms of the cost to their clients "we take that small percentage of each order" says McCarthy, who claims it's less than a third of the cost of their nearest competitors. "It's based on volume so the more volume restaurants might be doing with us, the lower a percentage they'll pay."
The company employs 130 people, they majority based out of their headquarters in Sandyford in Dublin.
Since the initial lockdown the company has been working remotely and a recent inhouse poll established employees would prefer a flexible working model which would allow them to work from home for the most part. "I think that for the foreseeable future, it's going to be remote working," says McCarthy.
As for the future of Flipdish, it would appear they've set their sights on a bigger slice of the online ordering pie.
"We're going to continue to make the product better. Continue to help restaurants to the fight the good fight, so to speak, and to provide some sort of future proofing to their business while continuing to build our brand," says McCarthy.
"The UK market is 20 times bigger, it's the largest takeaway market in Europe. We're already in about 800 restaurants in the UK, and our plan is to be number one in the UK. The big focus will be the UK over the next 18 to 24 months," he adds.