Boost My Business shines a spotlight on a tech start-up whose app maps accessibility via its users and AI.
Fiona Alston chatted to Matthew McCann CEO of Access Earth about how his app helps users find businesses which have the accessibility requirements for their particular needs.
McCann has cerebral palsy and uses a rollator to get around, and it's his personal experience of trying to access businesses like restaurants and hotels which proved the need for the software.
"Growing up it was difficult for me to find accessibility information whether it was going out to eat somewhere or going to the shops and for me that's a really important thing to know ahead of time," says McCann.
"I realised then going into college I wanted to be able to do something about that - figuring out the world isn't accessible at the moment and I wanted to make that change," he says.
While at college studying software engineering, the Celbridge native started working on his first version of Access Earth 15 years ago. But last year they launched the beta of the app and with the latest update they have an added Covid feature.
The app is a free download on both Google play and the Apple's App Store where businesses and the public can upload information about the local businesses and venues in their area.
Not only does Access Earth rate the accessibility to businesses but now they also rate them by the ability to social distance - this was an update that McCann was keen to add to help those who are compromised due to the ongoing pandemic.
"We made that change because we knew that the majority of people using the app are essentially in that at-risk group. Social distancing, and Covid-19 has sort of brought accessibility to the forefront of businesses, so we felt that it was important to be able to do that with the 3.0 update," says McCann.
"It has never been about naming and shaming businesses. It's about providing that platform to have that conversation about accessibility and why it's important to be able to get access to a wider range of customers," he continues.
"And yes, while some businesses, maybe due to the building that they're in, can't make it fully accessible, we can still make small adjustments to just make it easier for people to access it than before. You know, it's very much about encouraging that positive conversation of accessibility," he says.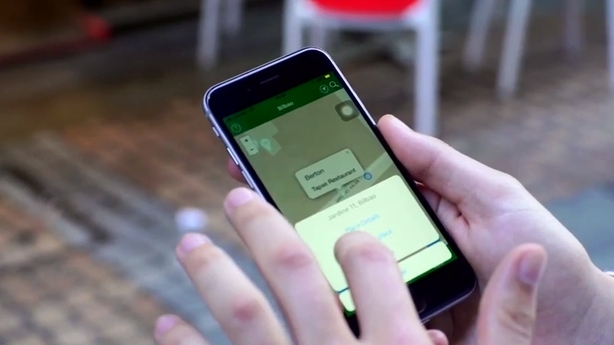 Access Earth have done several campaigns to make people aware of accessibility in their area and are now not just in Ireland and the UK but they have increased their following around the world. It's particularly popular in Australia and they have an increased following in Philadelphia in the US.
Last year they ran a campaign with Microsoft to map London and their most recent venture has been into the AI space as they have worked on an incubation project with the European Space Agency which uses satellite to map accessible car parking.  
"We did a pilot with Smart Sandyford where we can identify all the different wheelchair parking spaces within the district using AI. We'll be merging the two together to get the most complete picture of accessibility information is out there."
The onset of the pandemic, and its impact on local businesses, has really driven Access Earth forward this year in a bid to support local businesses.
"We've always thought from the local perspective first, and how we can use this information to help benefit the local neighbourhoods and businesses," explains McCann. "We saw Covid-19 as an opportunity to not only help get more information onto the app, but also to help local businesses as well to increase consumer confidence."