Covid has thrown many businesses into disarray. Whether you or your employees are working from home, back in the office, or getting back on the road, the rules have changed. Therefore, so has our workplace safety.
As part of our Boost My Business initiative Fiona Alston meets two businesswomen who make your safety their business.
Sheelagh Brady owns SAR Consultancy, a security analysis research provider, with her partner John Roberts which they began in 2014.
While the pair were working abroad in conflict zones, Brady as a security analyst and Roberts as a logistics expert, they became embroiled in a difficult situation.
"We had both been evacuated from Libya. When we worked with the EU, I was a security analyst with the EU mission there," says Brady. "We were evacuated by road to Tunisia, where you have to end up going through militia held territories and we had basic access to security information."
"I was a security analyst," she says, "but still we kind of got the idea that it could be done much better, more integrated systems and that you felt at least you had some real time kind of relevant information."
The idea was shelved until they started their own consultancy business. Some of the work involved more world travel and thoughts of the need for the all-encompassing security platform called to them again.
We began speaking to LEO Kildare and DCU Ryan Academy, about our idea of transitioning from the consultancy to the tech solution," she explains.
"We've kept both going parallel, the consultancy to bring in the money, and also to build on that kind of information that we had with our clients and network, and to apply that then within the technology solution."
The original idea was for a travel risk management solution, predominantly for high risk solutions but the more they spoke with their clients they began to realise business continuity was as important for them as a travel risk management solution.
"When we built a proof of concept, which we did with the help of feasibility grant from LEO," she says. "We kind of upgraded our desires into a software solution that aggregates the best travel risk management solutions, of which there are many, and critical and risk management solutions, which there are fewer of, so that we could actually look after people's staff while they were traveling, but also more regularly during routine business."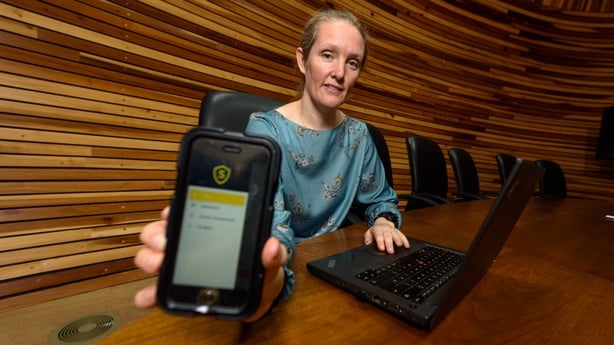 Brady explains where she felt the need for this solution came from.
"Security had been such a traditional kind of people focused human, heavy resource intensive service and things like AI and Machine Learning have really provided an opportunity to go through multiple sources of data, and to pick out anomalies and patterns that the human would never see," she says.
"We want to harness AI and machine learning of big data sets to actually provide companies with more valid and user-friendly information," she adds.
The app has four main functions; it has a text messaging function, it gives you geo-fenced relevant security information which could be to a building or a person, it allows people to trigger an alert to a security manager or response centre and it provides decision making information relevant to the situation which is occurring.
Brady plans for the security solution to launch in eighteen months.
Another businesswoman who is making your safety her business is Rebecca Mooney, owner of Business Minded, a start-up she launched earlier this year.
For the last decade Mooney has been employed as a forensic engineer, investigating personal injury claims on businesses, for insurance companies.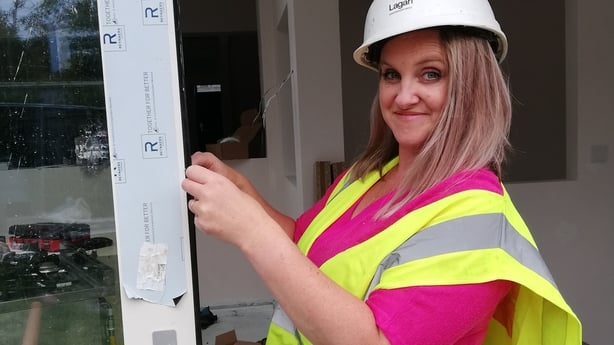 "I have always felt that there are a number of things flawed in the system, one being that having numerous experts, like engineers and medical experts, represent each side doesn't necessarily lead to the more unbiased expertise," suggests Mooney.
"I feel that a neutral expert providing evidence to a court [would work best]. They do systems like this in Australia, it would also be much cheaper which would hopefully eventually be carried through to insurance costs."
Mooney has decided with Business Minded to take a rather different approach. She is looking to prevent accidents occurring in the first place.
"I am looking to go into premises and businesses and see what potential accidents are to prevent them from occurring in the first place," she says.
"Not only are you taking the headache out of it. If there is an accident, is there going to be a claim and all of the ensuing frustrations over the years while you're waiting for the claim to be brought to court and all of that."
"It also makes you a much more favourable candidate for insurance when you can prove that you've mitigated the risk, generally your insurance premiums should go down," she says.
One business risk that she didn't see coming was Covid. While she was still able to consult on some projects the country's lockdown and change in priorities brought her start-up to a near stop. So Mooney had to asses her own damage.
It came in the shape of a quick pivot to the working from home space.
"Employers don't seem to be really that aware they still have to comply with Safety, Health and Welfare at Work Act," she says. "They have a duty of care to their employee regardless of where the workplace is so if people are working from home their whole working environment has to be appropriate."
"I feel that there's a raft of employer liability claims coming down the road," she continues. "Expecting people to work at kitchen tables on their laptop is one thing in an emergency situation but it's now just the new normal and you need to provide people with appropriate essentials."
Mooney is doing virtual assessments of people's workstations via Zoom and then liaising with employers to provide the recommended office tools to make it a safer working environment.
As employees have been returning to the workplace, she has been assessing the basic return to work protocols and helping people reopen their doors safely.
"Making sure that by introducing one measure to mitigate risks of Covid you're not introducing another risk of something like hand sanitiser on the floor in a building that someone could slip on," she explains.
"People are so Covid focused that they're not seeing the larger risks they could have on their premises," she adds.