As part of our Boost My Business initiative Fiona Alston hears from Spark Crowdfunding's CEO Chris Burge on how their platform puts Irish start-ups in front of investors.
Spark Crowdfunding is a platform which allows other start-ups to seek investment without going down the VC route.
Seeking a platform in Ireland for his 'small time investor' antics Christopher Burge spotted a gap in the market.
"I'd seen a start-up company I'd have liked to have of put a little bit of money in and it was a really complicated and expensive way of doing it," Burge explains.
"I'd seen the advantages of doing it by crowdfunding in the UK, and further afield and thought Ireland doesn't have one of those, why don't I give it a whirl? So I did," he says.
"We didn't reinvent the wheel here, we just copied a lot of the aspects of the stuff that was happening in the UK, in Europe, the States and beyond. We took what we thought were the nice bits of each of them," he adds.
The platform has been live since May 2018 and so far, they have had a significant uptake of investors signing up to use Spark.
"We've a database now of thousands of investors, most of whom are Irish," says Burge. "About 82% of them are based here in Ireland, another 10% are probably in the UK, but have some sort of Irish connection of some description. The rest of them the other 8% are dotted around the world in Hong Kong, Singapore, Australia, which is nice."
When companies approach Spark they are not automatically accepted for the platform. The application is considered amongst the team and on acceptance start-ups will then begin a consolation process which brings their pitch up to the level required to introduce them to the investors.
"We are very careful about who we put onto the platform - not everybody who sends in an application form gets accepted - we make some tough calls sometimes as to whether a company is investable or not," he says.
"We'll hand hold them to create a campaign," he continues. "We are quite proactive in assisting the companies to get a campaign which is, we think, sellable – that our investors will invest in."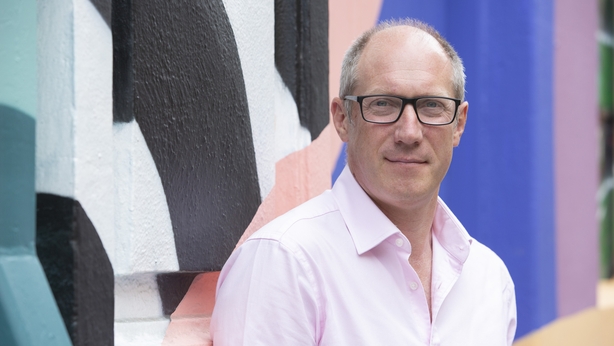 On the investor side, anyone can sign up as long as they are fully aware of the risks taken and, of course, have the funds.
"We need them to understand there are inherent risks to their money and when they invest with us we need to know what they have as liquid assets - you can only invest a proportion of those liquid assets," explains Burge.
Spark charges 7% of monies raised through their platform and typically a campaign will last twelve to fourteen weeks. As yet they've had no exits but are hopeful of some in the near future.
"There are a number of companies now who raised money with us and are with us for a year or two years now, he says. We have a timeline of between three and seven years to get that exit. And so, we're hopeful that we'll have a success yet, in the next year or two."
"We're very agnostic on the sectors - our database of investors seem to want to invest in all sorts of businesses. It doesn't have to be just FinTech, it can be Agri tech or Med tech, it doesn't even have to be a tech business," he adds.
Spark featured recently on RTÉ Business when tech start-up Frequency announced they had raised more than €500,000 during lockdown. You can read that article here