As part of the Boost My Business initiative, Fiona Alston spoke to Limerick based start-up Tracworx about their new contract tracing solution, launched in a response to workplace restrictions.
Tracworx, founded by Chris Kelly, Fionn Barron and Eoin O'Brien in 2016, have added a track and trace solution to their portfolio which essentially helps companies track the movements of their onsite employees during the ongoing social distancing regulations of the Covid-19 period.
Tracworx initially developed a tracing system for patients in hospitals using the hospital's Wi-Fi system.
"The company was founded on the basis of trying to boost efficiencies in hospitals, so basically what we do is indoor tracking," says Aaron Keogh, Account Manager at Tracworx.
"We found a unique way to track patients indoors in hospitals and we can track their progress throughout their patient journey - how long they spend at each stage care from admission, to consultation, to theatre, to recovery - the whole process start to finish," he says.
"It gives real insights, and location data, to the management of the hospital," he adds.
The company was gaining traction with the hospital tracking solution in Ireland and had garnered interest from the UK until the countrywide restrictions.
"That was all put on hold because of Covid because hospitals weren't allowed to have any new visitors in to implement any new solutions," he explains.
As tech innovators they were not prepared to sit it out due to the restrictions and this led to their current solution, Blueworx.
"We could see the issues companies were having with social distancing and contact tracing, places weren't really allowed to open if they didn't have efficient ways to contact trace and stay two metres apart," explains Keogh.
"We saw our current device could be altered to suit the needs for companies like Pharma, MedTech and offices."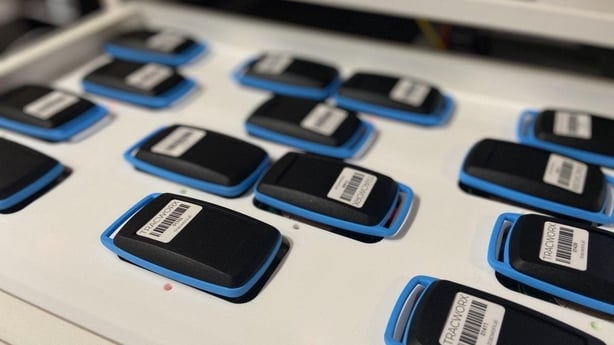 The Blueworks device can be either worn on the wrist, or as a lanyard. It uses built-in Bluetooth technology to monitor movements within the organisation, recording any interactions with other devices under two metres and offers a traceable solution should any employee contract Covid-19.
"It tracks the interactions you have with other people within a two-metre boundary and registers that as a contact on the device and on the system," he says.
The data is stored in a secure Cloud based system which is fully GDPR compliant and no data is held on the Blueworx wearable device.
"The dashboard gives people live insights on how socially distanced they are through the day," he continues. "And in the event of someone contracting Covid-19 they can pull up their contact list for the last month – this could save a whole production line from being shut down."
The Blueworx contract tracing and social distancing solution was launched at the end of June.
"We are currently in live in three sites and will go live with another in the coming weeks. In total we have over 600 users so far," Keogh adds.