Kildare businesses are in the midst of a county wide lockdown.
As part of our Boost My Business initiate Fiona Alston chatted to two Maynooth businesses who are joining forces to create a Kildare crafter's collective.
Illustrator Ruth Cahill is owner of Duck Blue, a handcrafted card company which she runs from her home in Maynooth Co. Kildare.
She hasn't always worked for herself, before her first son was born she worked in a Dublin based branding agency but then everything changed.
"My oldest son is now twelve, he was born with cystic fibrosis. At that time, I was working in Dublin City, commuting in and out, and spending three hours a day in a car," she says.
"When he was born, I re-evaluated my life – cystic fibrosis is very unpredictable and we just didn't know what was in store, so I decided to give up work," says Cahill.
"I've always loved art and always drew. I used to draw cards for my friends who were having babies and everyone I gave a card to thought they were amazing, so I just thought there is no time like the present.
"I set up my company eleven years ago, on a very small scale," she explains.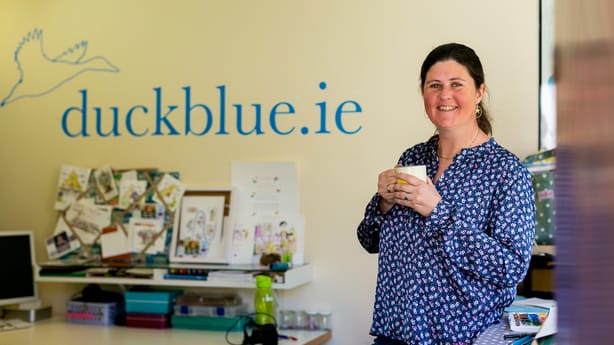 In more recent years Cahill began taking the various courses available to her through Kildare Local Enterprise Office which helped her to bring the business along to where it is now.
"In the last few years, as my kids got bigger and I was able to spend more time with my business, I started doing all these courses and the networking through that really helped me," said Cahill.
For most people, the lockdown came as a huge shock, this was a completely new way of life for us but for Cahill and her family this was just business as usual.
"We've been in lockdown for twelve years. What everyone else is feeling right now is how we have felt since cystic fibrosis came into our lives – this is no different than any other day," she says.
What was unusual was the uptake in business. She saw an influx to her website for people to buy her cards assuming they were once off purchases of people who wanted to 'support local'.
"There's one customer who orders around €80 worth of cards a month," she says. "I expected people to buy a birthday card but not to get repeat business from it."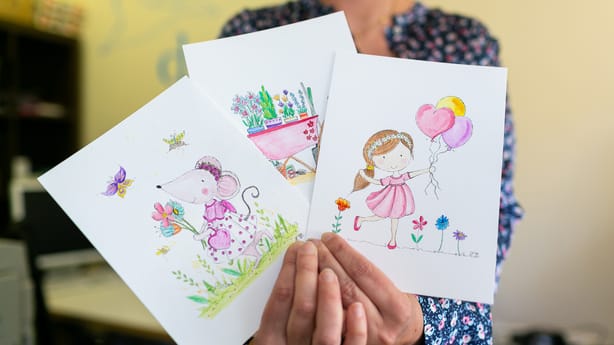 "It's probably been a good time for a card business because rather than sending a text, people are writing letters to each other, and I suppose during lockdown people had more time to write letters," she says.
One project which has been curtailed, somewhat, by the Covid restrictions is Original Kildare – a cohort of designers and craftspeople from Co. Kildare – of which Cahill is the chairperson.
"We were supposed to launch on the May bank holiday weekend. There are fifteen of us and we are all different and over the past year, we've been doing a course to try and create this group," she explains.
"We were hoping to go to the likes of Gifted, Bloom, and The Wexford Opera festivals as a group," she says.
"Take Gifted, for example, for someone like me with a very small business, it would be, €3,000 - €4,000 for a stand, which is a huge cost for someone like me. As a group, we could go to something like that and split the cost amongst the fifteen of us."
Another member of the Original Kildare group is Maynooth's Yvonne Kelly Jewellery.
Yvonne Kelly has always had an interest in local handcrafts, it stems from her many visits to craft markets while traveling abroad, but it always remained just an interest until one day she spotted an opportunity that would pave her way to entrepreneurship.
"The School of Jewellery were advertising a full-time course, for one year. I contacted them and they said the course wasn't starting for another few months, but they were looking for an apprentice. So, I left my job as sales manager with entertainment.ie, did the apprenticeship and then started their full-time course," explains Kelly.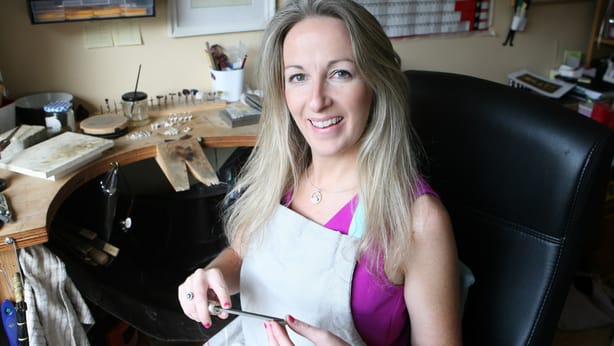 "It was a huge jump, but I just thought, the drive to create was so strong it kept me going. If you put it on paper, somebody would probably say you're absolutely mental to leave a good secure job where you're well paid but it still wasn't enough for me," she says.
"I set up the business and my website went live in October 2018," she adds.
Kelly works with silver and gold and she describes her jewellery as 'wearable art', a' very quirky and individual' style.
"Most of my pieces would have a meaning attached to them. For example, I have a 'Little Piece Of My Heart' pendant and the meaning behind it is for the person who wears it, to put a piece of their heart into everything that they do." She explains.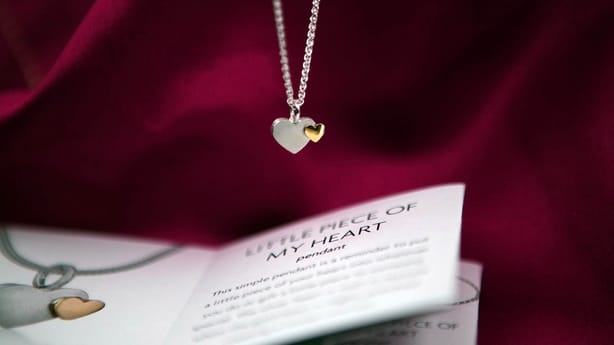 The business was thriving but Covid had an impact when four of her regular retailers closed their doors. She was fortunate to receive help from the Kildare LEO, they set her up with a marketing mentor and she has also received a Trading Online Voucher to improve her website sales.
"I'm going to get some professional photography done. Because there's not a physical shop everything on your website has to be optimised," she says. "When customers come to your website the information has to be there for them, they want to know everything. They want to know, how it looks from a certain angle or what sizes are available."
"I really had to look at every product and ask what information the customers need so they don't have to come asking me. It should be there in front of them because people can go off your website as soon as they go on it - sometimes they don't have any patience," she explains.