Digital hubs and co-working spaces have been slowly creeping up around the country in recent years bringing some much needed opportunities to the far reaching parts of Ireland.
If the lockdown has taught us anything it's that Ireland needs to move forward a remote working environment and now is our chance to prove that skilled workers don't have to migrate to the cities for work, the work can come to them.
As part of our Boost My Business, Fiona Alston spoke with two south west digital hubs, of opposite size and scale, who opened for 2020 and a tech company who's platform matches employers with remote workers and creates a heat map for future digital hubs.
Cormac Fitzgerald, Managing Director of accountancy firm Fitzgerald & Partners, has recently launched a digital hub/co working space within his own offices in Kinsale, Co. Cork. The town centre location was launched at the beginning of the year.
"We just started this in 2020, and then due to the pandemic we had to close it down. We only reopened about four or five weeks ago. It has been well received at the moment, thankfully, by people looking for safe co-working space to base themselves," says Fitzgerald.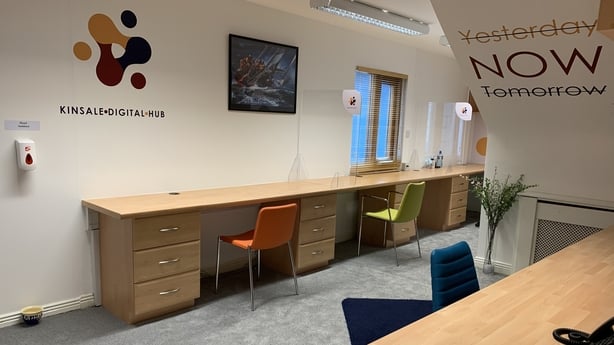 "We had some spare office space and a lot of our clients and contacts found that they just needed somewhere to go one or two days a week," continues Fitzgerald. "It could be for some CEOs working from home or some start-ups that didn't want to commit to taking out new office space themselves where they'd have to pay insurance, rates and all the overheads that go with it. We decided to set up a flexible model for them in town centre here. A lot of people like the flexible working model because with technology, you can base yourself anywhere."
"We've had approaches from companies who wanted to take the whole space but that doesn't suit the ethos of what we're doing," says Fitzgerald. "We are charging €20 plus VAT per day, and we offer a flexible model. We don't tie people into longer term contracts unless they want to do three or six months."
Fitzgerald has had some interest from start ups looking for longer term contracts and for a monthly contract he is charging €300 plus VAT per month.
"There isn't a facility like this in Kinsale," Fitzgerald adds, "and we're adapting it as we see fit. I think it's kind of the way forward for towns to try and attract new business to the town post pandemic - to attract people to live and work in Kinsale."
Over the border in neighbouring Co. Kerry, the RDI Hub, a joint venture between Fexco, Kerry County Council and Munster Technological University and supported by Enterprise Ireland, is based in Killorglin. The digital hub was officially launched in February but Covid forced the doors to close again in March until recently.
So far, the hub has 40 members and, in comparison to the co-working space of the Kinsale Digital Hub, the RDI hub's offering is on a grander scale.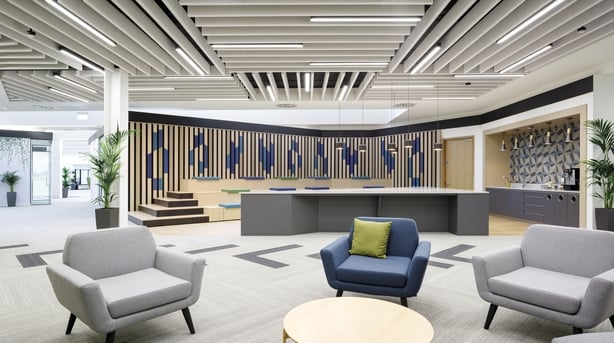 "We have a large space here 12,000 square foot of space. We are looking to attract companies that are looking for more flexible work practices, so we would have room for up to 60 people," says Liam Cronin, RDI Hub CEO. "We're currently in discussions with a number of corporates who see the value in offering more flexibility to employees, and who's seen the impact on business performance in terms of retention, creativity, and morale."
"One of the anecdotal pieces of feedback that we've seen," continues Cronin, "is that while productivity has probably increased, initially during the Covid period, with people working from home, creativity and innovation have declined. Spaces like the RDI hub certainly offer that opportunity for creativity and innovation to shine."
As well as offering desk space, to high potential start ups and corporates, the hub offers ideation programmes, R&D collaboration with Munster Technological University, event space which hosts a nine-screen video wall and mentorship opportunities.
"I suppose overall I think the value is that you're in an environment where there's a very strong growth mindset - there is a very strong collaborative mindset," adds Cronin. "And I think there will be great serendipitous opportunities, to develop new products and services, for companies to come in here."
The RDI Hub is part of the ongoing project by AEC to connect all the digital hubs in the west of Ireland from Donegal to Kerry.
Dublin based tech start-up Abodoo is a smart data platform which matches employers with skilled remote workers throughout Ireland. Co-Founder and CEO, Vanessa Tierney explains how the platform differs from conventional job seeking platforms.
"When you open it up to remote working or SmartWorking, you open it to people with mobility challenges, returning parents, older people who want to work part time," explains Tierney. "Maybe traditional platforms for job seeking are not very supportive in that regard - we make people anonymous so that the match is based on skills first which removes any unconscious bias."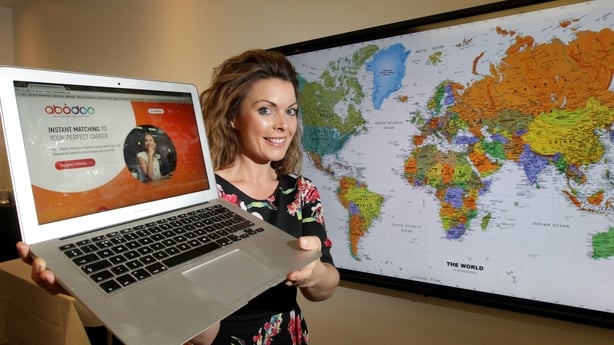 "We work with this phrase called SmartWorking," says Tierney, "which is when a company establishes the best model for their business, their people and their culture. That might be leveraging a co-working space and meet ups once a month or it could be a fully remote model. You have to just work out what's good for your business. I think SMEs who are long standing would really benefit from exploring digital hubs as an alternative to city locations."
The data collected by the platform creates a 'heat map' of skills clusters around the country which can be used to inform official bodies of the need for better connectivity and digital hubs for the area.
"The heat map highlights where the skills clusters across rural and regional areas and that intelligence can be accessed by local governments, with a license," explains Tierney, "which enables them to know if they need to expand a digital hub, invest in one or locate a new one. This is brand new service for Government called Geonostics Platform powered by Abodoo - as far as we can tell, it's the first dynamic skills and platform for remote workers internationally."
Abodoo is currently running a campaign with Cork County Council to develop a skills map of the county. A previous project in Wexford was used by the IDA in landing a company into a new digital hub in Wexford bringing new employment opportunities to the area.
Tierney has just published an ebook Your Company With No Walls which she co-wrote remotely with Tijana Momirov, who lives in the Brazil – interestingly the pair have never met in person.
Relevent Links
For a list of the digital hubs throughout Ireland click here.
Information on the AEC hubs project in the west can be found here.
You can find more information on the co-working communities in Ireland here.