For some companies, the last few months has been a reminder of what they've been through before. The 2008 downturn still fresh in the minds of many, may have been the harsh lesson needed to help ride out the Covid-19 storm.
One man with plenty of business experience, after 30 years in the trade, is carpenter John Logue owner of Logü based in Letterkenny, Co. Donegal. He spoke to Fiona Alston as part of our Boost My Business initiative.
Logue has seen it all and had to make changes during the 2008 downturn, most of which he never changed back.
"After 2008 I let all the staff go and went solo, back to where I'd started, because there was just no market. I decided to cut back on what I was doing, moving away from the kitchens, pub fits and bedroom furniture and working on smaller goods that I could manufacture myself, basically without having to go out and fit them. The desk was just one of those progressions. It's something I can make in house and there is no going out to fit it so I don't need more staff for that reason," says Logue.
The desks Logue makes are marketed as remote working desks as they can be assembled and taken down in just a few minutes. Consisting of five pieces of wood they're designed so you can feel like you leave the office behind at the end of the day as Logue's son, also John, explains.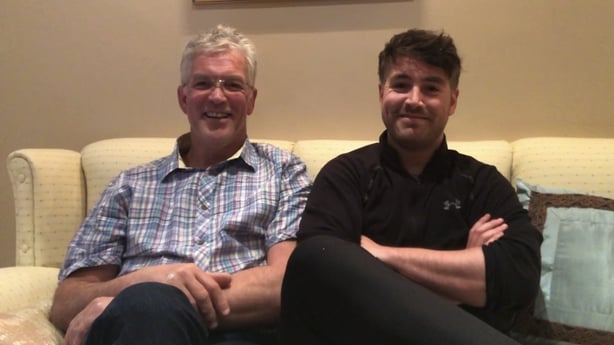 "A lot of people were being forced to work at their kitchen table or maybe the dining room table and there was no separation between home and family life because of that," he says.
"Your monitor was always there, and the leads were always there, and you never really psychologically got away from work. Whereas the beauty of this desk is not only it goes up in 60 seconds but can go down in 60 seconds as well. You can effectively dismantle the office in the evening and forget about it until the next day and it can go up just as easy."
The junior of the Johns handles the operations and marketing side of the business while his father does all the manufacturing – these lines will never become blurred apparently.
"It's a project that I've loved to be involved in, it suits both of our personalities," says son John. "I don't understand the first thing about wood and would take fright if I had a hammer in my hand so it's the perfect combination."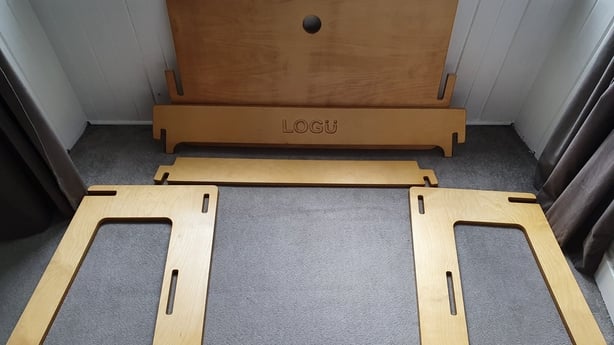 The desks, which can be easily stored in a cupboard or under a bed as they go down to 4ft x 2ft x 2in with no tools needed, are proving popular and they've 400 units sold already.
As John junior's background is in the charity sector the pair have recently started a new campaign called, 'Desk and Donate'.
"Having talked to a lot of people in the charity sector in Ireland, it's clear a lot of corporate fundraising the charities rely on, isn't happening – the fun runs, the marathons or the corporate events," explains John Jr.
"If a corporate body in Ireland signs up with us and their employees buy a desk, we'll donate 10% of the profit to their chosen charity partner. It's a means of employee fundraising when employees aren't in the office, while it's fulfilling a need to get them a remote working desk. It was nice to kind of bring that experience into the sector while doing some good at the same time."