At 4.15am on 24 February 2022, I was startled awake in a Kyiv hotel room.
Whether it was the sound of an airstrike or something else, it was only when I reached for my phone and saw the alerts that I realised.
'Explosions heard in Kyiv, gunfire at airport', flashed one. 'President Putin announces "special military operation"', flashed another.
It was happening.
For months, I had been reporting on the Russian build-up of troops on Ukraine's borders, and the frantic diplomatic efforts by the west to get Putin to change course. Those efforts had come to nought.
Now Russian armoured columns were pouring into Ukraine, accompanied by a massive fire strike on command-and-control centres and air defence targets.
The first instinct was to call my editors in Dublin, where it was around 2.30am.
Should we get out of Kyiv immediately and drive west to Lviv? Try to get as much information as possible and then make a decision, was the response. Our personal safety was paramount.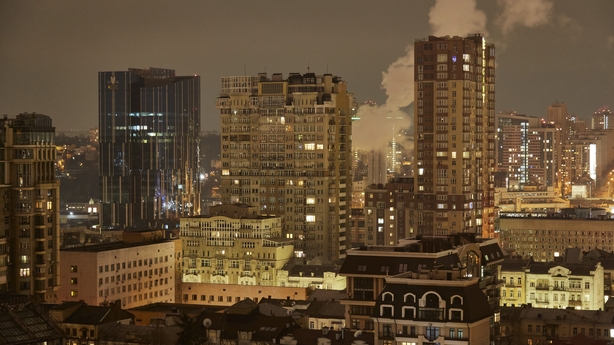 Journalists staying in the Radisson Hotel were bundled into the underground carpark, where staff were setting up a working bomb shelter with coffee, power and Wi-Fi. For the next three hours, we reported what we could, based on official announcements and the sounds of airstrikes overhead.
Around 8am, we emerged into daylight, scoping streets around Maidan Square, deserted save for couples and families clutching suitcases, children and sometimes pet carriers, walking fretfully to the metro, gathering at cash machines, getting into cars that would join a teeming exodus to the west.
Ten days before the invasion, I had arrived with cameraman Bram Verbeke. Streets and shops were busy, and nightlife seemed typically vibrant.
Yet, behind the scenes, school children had been shown where their air raid shelters were, families were stockpiling food and water, and preparing travel documents in case of sudden flight.
Olga Ishyna, a 40-year-old mother of two who worked in film production, had a suitcase packed and was ready to escape to her mother's place in Zhytomyr, northern Ukraine.
"We are not afraid, we are prepared," she had said. "We have plans for different scenarios."
Ukrainians will tell you the invasion had begun in 2014, so there was plenty of good-humoured defiance. While some western analysts thought Putin was bluffing, locals said they would never trust him.
Embassies were closing. On 12 February, the Irish Department of Foreign Affairs had urged Irish citizens to leave the country.
Meanwhile, on the morning of the invasion information continued to filter into the Radisson bunker. President Volodymyr Zelensky had delivered a message to the Ukrainian population. He and his ministers were staying put.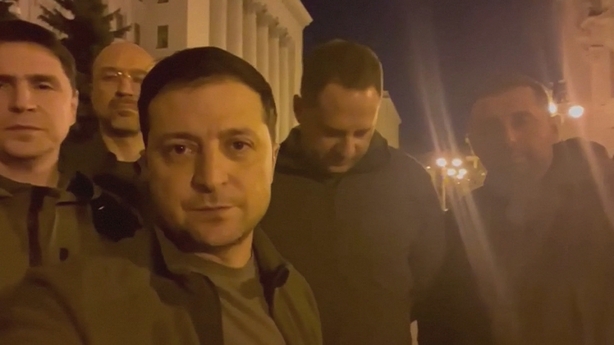 Video footage began circulating of Russian attack helicopters swooping low over apartment blocks through plumes of dark smoke. Was this the full aerial assault on Kyiv?
It turned out to be the battle of Hostomel, a key military airbase 30km northeast of the capital, which Russia had planned to capture as a bridgehead into the city.
For a reporter, those first hours were disorientating and frustrating. So much was happening across the country, yet it was difficult to confirm anything. Russia was claiming to have wiped out swathes of Ukrainian defence systems. Ukraine claimed to have shot down two helicopters.
Yet everyone had assumed that Russia, with probably the second most powerful military in the world, would capture Kyiv within days if not hours. In the Radisson bunker, we debated the prospects of staying, placing ourselves at the tender mercies of the Russians, or getting out.
Moscow's plan, according to a report leaked by Ukraine's military intelligence, was a full-scale assault on the city, with elite parachute forces seizing key targets, shutting down power and communications, sowing panic and chaos.
Should - or could - we stay to report this? The river of humanity pouring west from Kyiv was widening. Soon reports said it would take between 15 and 18 hours to get to Lviv. Queues of refugees 30km long would build up at crossing points into Poland and Slovakia. The battles around Hostomel meant getting out might be too dangerous.
For the next 48 hours, we agonised over the decision. At midday on 26 February, we decided to leave.
The Radisson could no longer guarantee our safety.
We squeezed into our driver Artem's Mercedes - two Belgian colleagues who crammed in had to leave their luggage behind - and joined what seemed like seven lanes of one-way traffic, inching forward until we reached Rivne by 9pm, two thirds of the way to Lviv.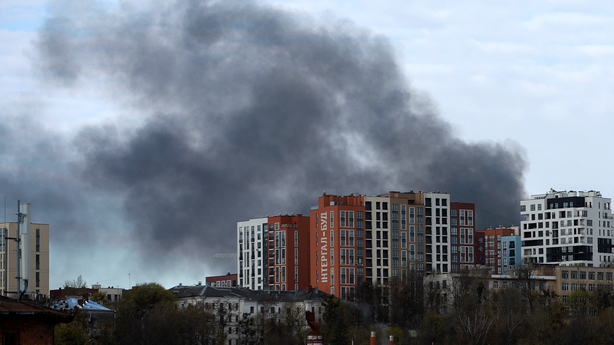 Lviv, an elegant Austro-Hungarian city close to the Polish border, was gripped with tension and fear. Locals apprehended alleged collaborators for marking densely packed residential buildings with a special paint that would allow Russian bombers to target them.
Territorial defence units were assembling concrete blocks into checkpoints, while a local - and highly successful - craft beer company was converting their bottling plant into a Molotov cocktail factory.
A Greek Catholic priest was loading a van with ground sheets whose material could, we learned, protect Ukrainian troops from Russian helicopters equipped with night-vision.
For another five days, we reported from Lviv on Russia's steady land grab from the north, east and south.
Cities and regions were becoming household names: Kharkiv, Chernihiv, Mariupol, Luhansk, Odesa, Kramatorsk, Dnipropetrovsk. The first civilian casualties were reported as Russian artillery and rockets started hitting apartment blocks and food markets.
At that point, most observers still figured it would be a matter of time before Kyiv fell. But then something changed.
Reports that Ukrainian troops had recaptured Hostomel air base, thus thwarting the swift capture of Kyiv, turned out not to be government propaganda, but to be accurate.
Social media began lighting up with pictures of stricken Russian tanks being towed by Ukrainian tractors.
A 60km-long convoy of Russian tanks and armoured vehicles got stuck on the Gomel axis that ran from Belarus to the north down towards the capital.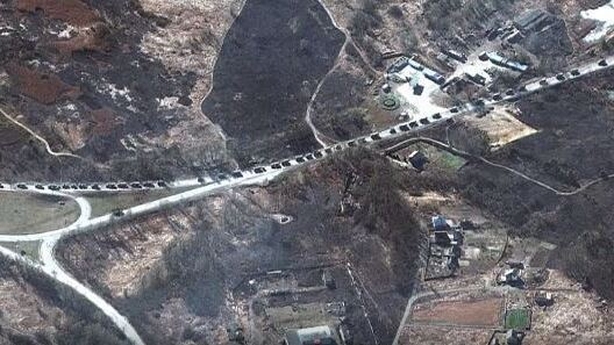 Reports emerged of poorly fed and armed Russian soldiers who had not even been told they were going to war.
On 6 April, as Russia's problems mounted on the approach to Kyiv, Moscow announced it had effectively failed to capture the city. It was "repositioning" troops to Donbas in the east. It had been a brutal, dizzying six weeks. The world order had been upended. Kyiv was still standing.
Western governments struggled to adapt to the shifting narratives, from assuming Ukraine would be crushed, to thinking it could hold out then sue for peace, to believing the country could actually win.
Yet, sanctions had failed to bring the Russian economy to its knees and there would be no palace coup against Putin. Russians demonstrated in their thousands, yet when dissent was crushed, they left their country in their hundreds of thousands.
Throughout spring and summer, the narrative of Ukrainian bravery took hold, peppered with tales of valour and defiance, such as Ukrainian defenders on Snake Island radioing "F**k You" to a Russian warship that had ordered them to surrender captured the mood.
Kyiv sank the Moskva, flagship of the Russian Black Sea Fleet, just eight days after Moscow retreated from the Ukrainian capital.
But this was not yet a David and Goliath comedy. Horrors greeted the liberators of towns just to the south of Hostomel, which had remained under Russian occupation for several weeks. Bucha and Irpin would soon live in infamy.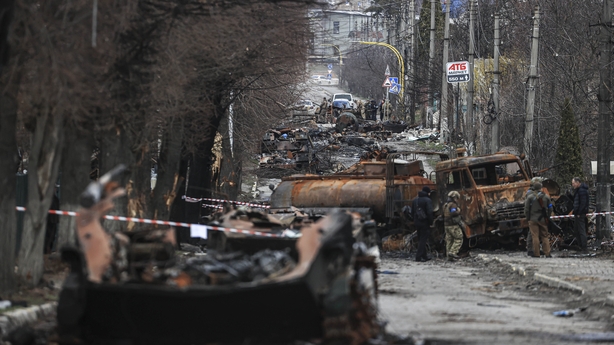 Today, Irpin's mayor, the stocky, 42-year-old Oleksandr Markushyn, moves swiftly from one meeting to the next in his battle-scarred municipal building overlooking the town square, his 24/7 work week swept along by the needs of a population not clinging to survival, but determined to rebuild their lives.
Armed only with a few weapons and skills he learned as a hunter, Markushyn gathered together as many men as he could find to defend the city on the morning of 24 February, marshalling them to set up checkpoints and dig trenches.
Having failed to capture Hostomel airbase, Russian brigades were determined to push through Irpin, and its twin, Bucha, to get to the capital.
The mayor's priorities were to evacuate civilians and slow the Russian advance. He managed to get 95% of the 100,000 residents out, but not without a horrific cost, as Russia deliberately - according to Human Rights Watch - targeted columns of them trying to cross the Romanivsky Bridge to relative safety.
"One of the hardest moments which I cannot forget, and which I see in nightmares," Markushyn recalls, "was the death of a family during the evacuation on Romanivsky Bridge".
"A volunteer died, and a mother and two little kids died because of the shell the Russians fired. I witnessed these people dying with my own eyes."
Some 300 people would die in Irpin at the hands of Russian troops throughout the month of March. The city was liberated on the 28th. Ukrainian troops found kindergartens and children's toys mined and booby-trapped.
"When we liberated Irpin, there were dead bodies," says Markushyn.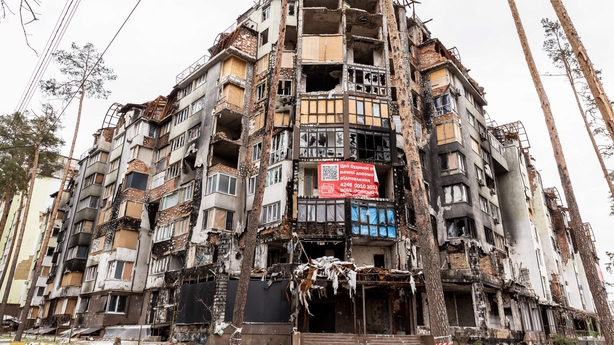 "The bodies of a woman and two males right on the street. They had been absolutely smashed by tanks passing over them for three weeks, so that Russians could show their complete disrespect, and to intimidate others."
Just northwest of Irpin, today Bucha is ringing with the clamour of drills and hammers as one home after another along Vokzal'na Street is being rebuilt from scratch, or restored from the ruins of a savage assault.
Several of the 419 civilians killed, many executed with their hands tied behind their backs, were found lying on Vokzal'na Street, or on the corner with Yablunska Street, which hosted a notorious Russian torture basement.
"It was like Berlin in 1945."
Vasl Molchan, an amateur photographer, kept a video camera running, mounted on a gable window overlooking Vokzal'na Street.
It captures the chilling moments on 27 February, when the first Russian soldiers of the 64th Motorised Rifle Brigade wander into the frame, followed by armoured personnel carriers and fighting vehicles, as they move unhindered down the street.
At one point, a soldier looks up at the window and shoots, piercing the window and knocking over a plant, but failing to disarm the monitor, or kill Vasl.
Later that day, the Russians reappear outside Molchan's window, having apparently been shaken by the ferocity of Ukrainian resistance at Irpin.
Molchan eventually escapes, but when he returns to Bucha he is stunned by the destruction.
"It was like Berlin in 1945," he told RTÉ News.
In fact, the Russian troops who had retreated from Irpin were then pounded by Ukrainian artillery.
It was when the town was liberated on 1 April, that Ukrainian soldiers found evidence of the massacre which would shock the world.
Just a ten-minute drive west of Bucha lies the smart commuter town of Vorzel' where Olga Onishchuk lives.
She is a former deputy justice minister and founder of the Get It Back organisation, which helps people lodge compensation applications for homes destroyed in the war. Some 300,000 are confirmed damaged so far, but the number will rise and rise.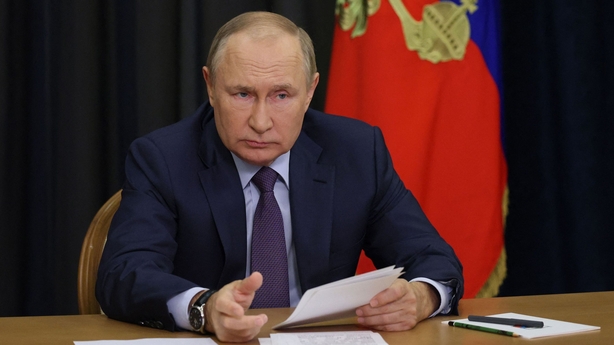 On the morning of the invasion, she could see smoke billowing over nearby Hostomel airbase and hear the explosions as the Russians attacked.
At one point, she says, the helicopters flew so low over her house that she could see the eyes of the pilots.
"It was difficult to come to terms with the fact that such a thing could happen in the 21st century," she recalls.
"Not in some far-off place, but right next to my home in the heart of Europe.
"The really terrifying moments were yet to come, so I kept telling myself that it wasn't happening. The most frightening moment was when I saw a column of tanks from my window, with one of them aiming directly at my house.
"Russian soldiers were perched on the tank, and the Russian flag was waving in the wind, which seemed to be trying to tear it to shreds.
"We all felt a sense of anger, which often overpowered our fear. That was when we realised that we had been invaded, and there was no way to escape it. We were forced into survival mode."
At one point, a friend who was a nurse in a nearby orphanage for some 50 special needs children called for help.
"The building had no electricity, the children were freezing and had nothing to eat as there was no way to cook food. She came to me to help cook for them. It was another terrifying moment to realise the children could starve and freeze and it was happening for real."
Olga had to deliver the food by foot, walking in terror through Russian patrols.
After two weeks under occupation, she realised the children would have to be evacuated as food and hygiene products were running out.
"We got ourselves in the car while mortars were landing around us, even though we had marked our vehicles with a Red Cross sign. I had my children and neighbours in the car, but I couldn't take my pets with me, which was traumatic. We treated them as part of the family."
To the northeast of Kyiv in the district of Desnyans'kyi, 40-year-old Irina Hevorkian is busying herself between children with plasticine and arranging food and hygiene parcels in a Red Cross centre for internally displaced people (IDPs).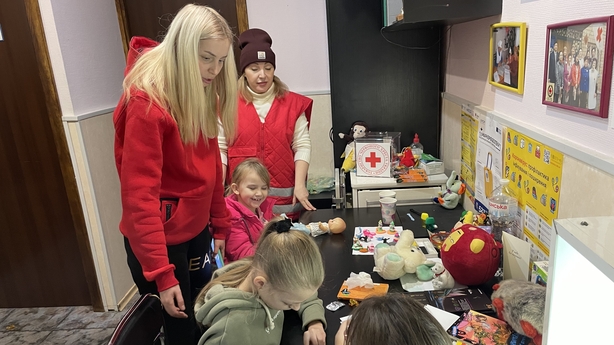 She herself is one, among a total of 25,000 people in this district alone (there are ten such districts in Kyiv) who have fled the fighting in the east. A former car salesperson from Nikopol' in the Dnipropetrovsk region, she has thrown herself in this frontline work, she says, to keep from falling into despair.
She stayed in Nikopol' with her sons, two and 16, for as long as she could, cowering in basements, until Russian artillery strikes on residential blocks became too much to bear.
She now helps with the Red Cross team to distribute food and clothing, but more importantly to counsel children who have been traumatised by what they have experienced in the east.
"One family under occupation spent three days in the basement," she says.
"There was the mother, two children and a grandmother. The second child, the boy, was three-and-a-half years old, and he didn't really listen to his parent's instructions to be quiet.
"So, his parents had to put their hands over his mouth to save their lives. His family forced him to be silent so that he wouldn't make a sound and Russian soldiers would not find them. This had a big impact on the child and he became depressed and withdrawn."
One year on, Olga Ishyna, the film producer we met ten days before the invasion, is now in the Netherlands with her children and husband.
They are living near Utrecht; the two children attend school with other Ukrainians. The elder boy's knowledge of English means he can fit in more easily.
She returned with the children in September, when the weather was warm and the Kyiv was green, but then the airstrikes started and she realised that it was not safe to return home for good.
"In the first months of the war it was like a slow-motion movie," she says by phone from Utrecht.
"We couldn't believe what was happening. Was it a movie or a nightmare?"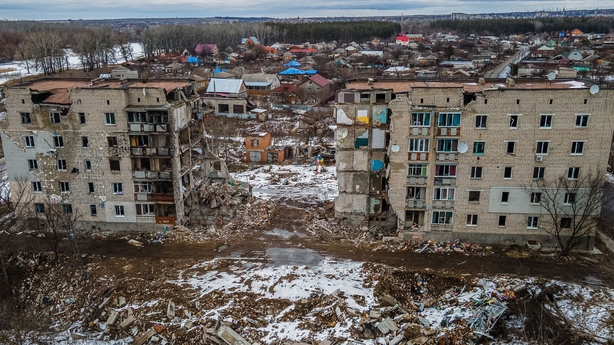 Her son's father is currently in the army at the front. He managed to see him at the end of January when he was on leave, but it was the first time in a year.
"I try not to think about ever returning so as not to create false impressions for the children. It is just too dangerous to go back now. They need to concentrate on the moment, on their education in the Netherlands."
The Atlantic School, which Olga's children used to attend, has remained open, although with most children now attending online (and not paying the full fees), principal Bohdana Lohush is not sure how long they can survive.
They have hired psychologists to help primary children to deal with the shock of airstrikes and power cuts. At times, the teaching suddenly has to shift to a basement sauna, which has been converted into a bomb shelter.
"One year ago, we were preparing for the attack, preparing the children, preparing our emergency suitcases. Then at 3am I woke up. I woke my husband and told him the war had started. Relatives began calling. We could see the bombing and shelling at Hostomel," Bohdana recalls.
She closed the school for a week so that the children could try to understand what was happening; lessons resumed but initially they were online.
However, with the school reopening after the Battle of Kyiv, the eerie new situation was shattered on 10 October, when the Kremlin sent a barrage of missiles to hit the capital. A nearby electricity station was struck, terrifying the children.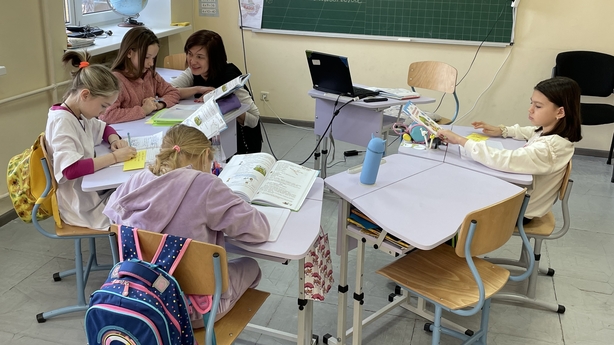 "After that they just had to learn the instructions, what they had to do, how they had to go down to the basement," says Bohdana.
One year on, what seemed unthinkable in the early weeks of 2022 - a full-scale Russian invasion - has become a settled part of the news agenda.
The public has to an extent internalised the war and daily horrors compete with the more immediate concerns of the cost-of-living and energy crises.
Russia under Vladimir Putin has become ever more repressive, and the population dazzled into a belief that their country is defending itself precisely like it had to do in 1941-45.
Sanctions packages multiply, but do not appear to make that much difference, while the world is edging towards a bipolarity: those countries who furiously condemn the invasion, and those who are indifferent.
For Ukrainians, there is no luxury in parsing the geopolitical arguments. They believe, with some justification, that unless they keep fighting and dying, unless the west keeps arming them and keeping their economy afloat, then the might of Putin's great power bullying will prevail and they will be eradicated as an independent country.
What keeps Ukrainians going is knowing that they must fight to survive, and that a European destiny has been offered, even if that offer does not push Russia out of its territory.
"We can see that Russia is trying to exhaust Ukraine," says Oleksandr Markushyn, the mayor of Irpin.
"But there is an enormous advantage for us in that we are not alone.
"We have reliable European partners, we have the United States, Britain and Canada. The whole civilised world stands with us, and they understand that our country is defending itself.
"They will continue to support us till we win this war. When it is going to happen - nobody knows, but they will stand with us till the very end."
We need your consent to load this rte-player contentWe use rte-player to manage extra content that can set cookies on your device and collect data about your activity. Please review their details and accept them to load the content.Manage Preferences