The Ukrainian army said it has regained control of the symbolic Snake Island in the Black Sea, after raising its flag there this week following the withdrawal of Russian forces.
"We have effectively re-established our control over Snake Island," a senior Ukraine military official, Oleksiy Gromov, said.
He added Ukrainian forces have "physical control" of the island after Russian forces seized the island in the initial stages of the invasion.
Ukraine said it had driven the Russian forces out after an artillery and missile assault.
Earlier, the Russian defence ministry said it had carried out "precision" missile strikes on the island this morning, killing Ukrainian soldiers and forcing survivors to flee.

Snake Island became a symbol of Ukrainian resistance after a radio exchange went viral at the start of the war, in which Ukrainian soldiers used an expletive to rebuff a Russian warship's demand to surrender.
The tiny island, captured by Russia from Ukraine at the start of the war in February, is strategically important because of its proximity to sea lanes close to Ukraine's port of Odesa.
Russia said it had pulled out from Snake Island last week as a "gesture of goodwill" to show it was not obstructing United Nations attempts to open a humanitarian corridor allowing grain to be shipped from Ukraine.
Russia occupies 22% of Ukraine farmland: NASA
However, NASA says that Russian forces now occupy about 22% of Ukraine's farmland since the invasion began.
Satellite data analysed by scientists at the US space agency shows that Russia's occupation of eastern and southern Ukraine gives it control of land that produces 28% of the country's winter crops, mainly wheat, canola, barley, and rye, and 18% of summer crops, mostly maize and sunflower.
Russia's invasion has blocked exports of food from Odesa, the main port on the Black Sea, and destroyed storage and transport infrastructure in some areas.
It also threatens the planting of winter crops in the autumn.
"We're in the beginning stages of a rolling food crisis that will likely affect every country and person on Earth in some way," said Inbal Becker-Reshef, director of NASA's Harvest program, which uses US and European satellite data to study global food production.
---
---
Earlier, Ukraine's foreign ministry said a Russian ship carrying Ukrainian grain had been allowed to leave the Turkish port of Karasu, calling it an "unacceptable situation" and summoning Turkey's ambassador.
"We regret that Russia's ship Zhibek Zholy, which was full of stolen Ukrainian grain, was allowed to leave Karasu port despite criminal evidence presented to the Turkish authorities," foreign ministry spokesperson Oleg Nikolenko wrote on Twitter.
"Türkiye's Ambassador in Kyiv will be invited to Ukraine's Ministry of Foreign Affairs to clarify this unacceptable situation."
Russian President Vladimir Putin launched his invasion of Ukraine on 24 February, calling it a "special military operation", to demilitarise the country, root out what he said were dangerous nationalists and protect Russian speakers.
Ukraine and its allies say Russia launched an imperial-style land grab, sparking the biggest conflict in Europe since World War II.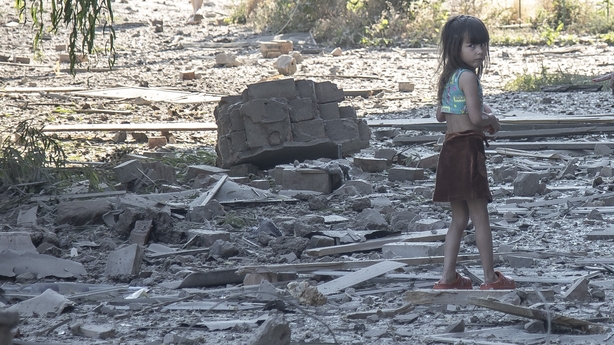 After failing to seize the capital Kyiv early on, Russia is now waging a war of attrition for Ukraine's Donbas region, parts of which are controlled by Russian separatist proxies.
Russia has sustained 'colossal losses'
The Ukrainian military said it had so far staved off any major Russian advance into the north of Donetsk , but pressure is intensifying with heavy shelling on the city of Sloviansk and nearby populated areas.
It said Russian forces were bombarding several Ukrainian towns with heavy weaponry to enable ground forces to advance southward into the region and close in on Sloviansk.
"The enemy is trying to improve its tactical position...(They) advanced ... before being repulsed by our soldiers and retreating with losses," the Ukrainian military said in its evening note yesterday.
Other Russian forces, it said, aimed to seize two towns en route to the city of Kramatorsk, south of Sloviansk, and were also trying to take control of the main highway linking Luhansk and Donetsk provinces.
"We are holding back the enemy on the (Luhansk/Donetsk) border," Luhansk Governor Serhiy Gaidai told Ukrainian TV.
Later, he said Luhansk was still not entirely occupied by Russian forces and that Russia had sustained "colossal losses."
"They will continue to try to advance on Sloviansk and Bakhmut. There is no doubt about that," he said.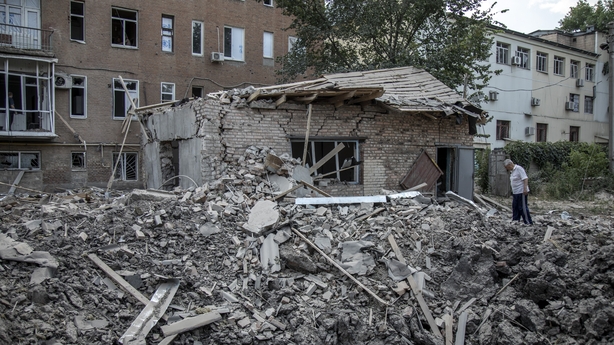 Sloviansk Mayor Vadym Lyakh told a video briefing the city had been shelled for the last two weeks.
"The situation is tense," he said, adding that 17 residents had been killed there since 24 February.
Russia's defence ministry says it does not target civilians and yesterday said it was using high-precision weapons to take out military threats.
Ukraine has repeatedly pleaded with the West to send more weapons to repel the invasion that has killed thousands, displaced millions, and flattened cities.
"At last, Western artillery has started to work powerfully, the weapons we are getting from our partners. And their accuracy is exactly what is needed," Ukrainian President Volodymyr Zelensky said In his nightly video message.