A couple of weeks ago Republican officials were talking up the prospects of a 30 seat majority in the House of Representatives.
Today, Republican pollster Frank Lunz is projecting a Republican majority of somewhere between ten and 15 seats. And he draws a big distinction between ten seats and 15 seats.
There are two stories here - first, what happened to the 'red wave' of Republican wins that was supposed to sweep away the Democrats?
After all, history was with the Republicans in calling a 30 plus seat gain: Since the days of President Ronald Reagan, first term presidents with approval ratings below 50% - like President Joe Biden - have lost 31 seats on average in the House and two seats in the Senate.
Pollsters at CBS Television delving into the entrails of exit polls and tracking polls have highlighted the role of independent voters - those who are aligned with neither the Republicans nor the Democrats.
In September, 55% of Independents polled said they were going to vote Republican. But in October only 45% of them said they were going to vote for the Republicans.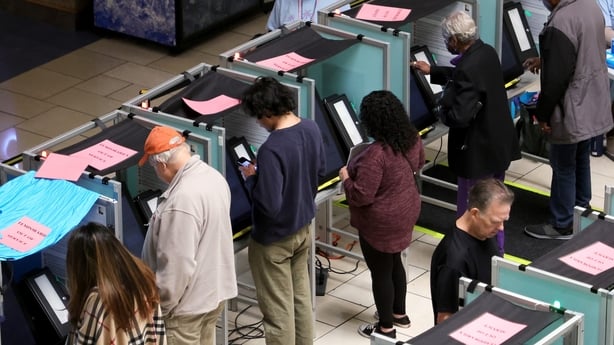 Analysts are still trying to put their finger on exactly why support seemed to swing away to such an extent, but could only come up with two changes to the political landscape.
One was the attack on Paul Pelosi, the husband of the Democrat speaker of the House, Nancy Pelosi.
The other was the rise and rise of Donald Trump talking about launching his campaign to be president again.
Trump is fairly unpopular among independents, and the more he dropped hints about what he will announce next Tuesday, the more it put off independent voters and may have driven some of them into the Democrat camp. It's a theory, but in very tight races, it might just have made a difference.
As for Frank Lunz, and his distinction between a ten seat and a 15 seat majority - well, that's about Kevin McCarthy, and his quest to replace Nancy Pelosi as the speaker of the House of Representatives.
---
Read More:
Democrats gain crucial Senate seat in race for Congress
These US election deniers want to run the 2024 elections in battleground states
---
A ten seat majority will give more leverage to the hard right of the party to block agreements on legislation - and to extract prices such as investigations into the FBI, the Afghan withdrawal debacle, the FBI and Hunter Biden's laptop.
The Republican hard right may even scupper McCarthy's chances of becoming speaker. They could drag the party to the right, just as the small Democrat majority up until yesterday made life difficult for Nancy Pelosi (and Joe Biden) with the far left dragging the party position much further to the left than many representatives were truly comfortable with.
The small majority gives small groups outsized power. According to Lunz even a 15-seat majority would make life considerably easier for McCarthy in managing the business of the House.
The Senate is still in play, the apparent win for John Fetterman in Pennsylvania giving the Democrats a net gain of one seat. Now its down to the results in three seats - Nevada and Arizona in the southwest, and Georgia in the old South.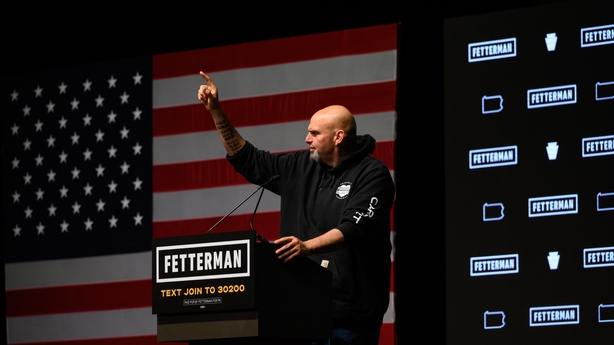 Democrat Raphael Warner has a wafer thin lead over American Football legend Herschel Walker - 49.1% to 48.8%. An independent candidate has 2% - important because Georgia state law requires a candidate to get 50% or more of the vote to win the Senate seat - and it looks like there are not enough votes left to be counted to get either candidate over the 50% threshold.
So it looks like Georgia will go to a recount - potentially leaving the issue of control of the Senate to 6 December, when a runoff election would take place. With Walker strongly backed by Donald Trump and carrying an extraordinary amount of baggage from his personal life, and potential control of the Senate at stake, it could become an epic battle.
In the governors' races, Ron DeSantis held Florida with a very strong performance, defeating his Democrat challenger by 59.4% to 40%.
His standing in the Republican party was enhanced by a four seat gain in the House of Representatives, thanks to an aggressive re-districting - apparently led by Mr DeSantis himself - that may have given Florida Republicans the biggest gain in seats of any state.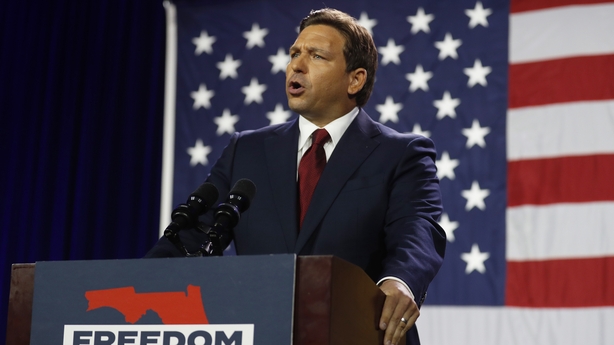 Incumbent Senator Marco Rubio also easily held his seat for the Republicans here. DeSantis has certainly played himself very much into contention for the Republican nomination for the Presidency in 2024 - in as much as anyone can be a contender this far out.
But a sign of the potency of his threat was Donald Trump mocking him as "Ron De Sanctimonious" at a rally on Saturday night: You know you have arrived if the Donald is calling you names.
Elsewhere it was a good night for women in the governors' races, which look set to yield a record number of female governors. Democrat Kathy Hochul becomes the first woman to be elected Governor of New York after a surprisingly tight contest.
Former Trump spokesperson Sarah Huckabee Sanders is the new Governor of Arkansas, following in the footsteps of Bill Clinton (and her own father Mike Huckabee). Gretchen Whitmer won Michigan over Republican challenger Tudor Dixon, while in Arizona - with a partial count - Democrat Katy Hobbs is leading Republican Kari Lake, who was seen as a rising star of the Republican Party, and possible contender for a vice presidential slot with either Trump or DeSantis.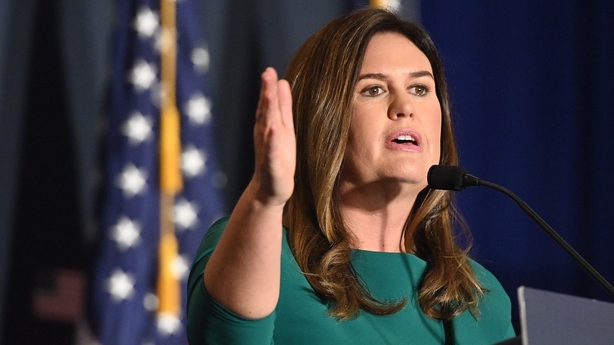 Her challenging of the result of the 2020 Presidential election - people who think Donald Trump won that election are known as election deniers in the US media - may not have paid off for her, as well as Republican candidates for Secretary of State and Attorney General. None of them appear to have made much traction so far.
But the votes counted first in Arizona are the mail in ballots that Republicans in the State have long complained about. There was also a higher than expected turnout of in person voters at polling stations in Arizona yesterday, and that is more closely correlated with Republican voters, so this race could tighten up considerably over the coming days.
Election officials in Maricopa county - in which Phoenix sits, and which accounts for 60% of the state's voters - told me last week that because of the 27 day early voting and mail in voting system, they now speak not of election day and results night, but of election month and results week.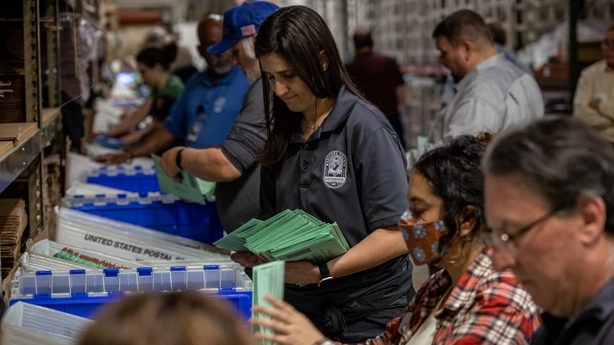 President Biden will still run into trouble with the new congress. It will be much harder for him to get things done on the legislative front. He predicted as much on Monday night as he returned to the White House from the campaign trial.
But as losing positions go, Joe Biden emerges from these elections in a much better place than many thought possible over the past month or so. For those Democrats who privately said a ten seat loss in the House and retaining control of the Senate would count as a good result for the party, they may be closer than they dared imagine to that good outcome
But despite the 'red wave' turning out to be more of a ripple than a tsunami, President Biden is still in a more difficult place than he was yesterday.
And if the House, the Senate, and the administration cannot work together, it bodes ill for the US and the wider world at a time of soaring inflation, fears of a big recession, war in Ukraine and tensions with China.