All roads lead to Ratheniska Co Laois today, as the National Ploughing Championships get underway after a three-year break.
A veritable tented city has been constructed on the 900-acre site over recent weeks, with 1,700 trade stands fully stocked and staffed, along the site's 37km of trackway, with around 300,000 people expected through the gates.
Traditionally, the ploughing has allowed farmers and rural people to come together and relax, catch up with friends and reflect on life and the state of Irish agriculture at the end of the summer.
This year, many conversations may well be tinged with worry due to pressure on farmers on many fronts.
There is a lot to talk about.
---
Inflation
The most recent figures from the Central Statistics Office on farms input costs highlighted in clear terms what farmers have to contend with.
Farm input costs have risen by 39% in the 12 months since July 2021. However, the overall figure does not convey the full picture.
Farmers' energy bills have risen by 51%, fertiliser prices are up 134% and animal feed is up 34%.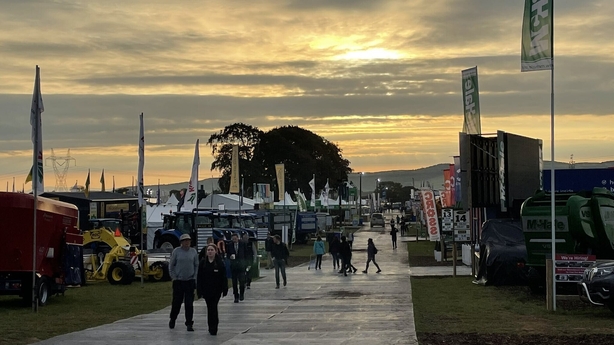 At the same time, the returns farmers are getting for their produce have only risen 28% - leaving a significant shortfall to make business ends meet.
The standout exception is the dairy sector where milk prices are up 51% in the year.
Farmers are keenly watching to see what reliefs they might get from the Government, so their enterprises remain solvent.
---
Emissions
Meanwhile, the country is facing an onerous task to reduce greenhouse gas emissions by 51% within seven years.
Agriculture, as the sector with the biggest emissions at 37.5% of the total, has been under the spotlight in political and environmental circles for some time, especially as the debate raged between Minister for Agriculture Charlie McConalogue and Minister for the Environment Eamon Ryan on where in the 22-30% range to set the Carbon Budget for the sector.
In the end, the figure they settled on was 25%.
All the farming organisations accept the need for change, and farmers, for the most part are willing to adapt known measures that will take them a long way towards their sector's target.
However, there is also a clamour for more detail on how income, that may be lost as farm operations pivot towards better environmental practices, will be replaced and how expensive investments will be financed.
---
Read more: National Ploughing Championships back after Covid break
---
CAP
There is concern too about the new Common Agriculture Policy and how farmers will have to adapt to its demands.
It begins next January and has adopted new approaches to payments aimed at achieving EU food security and environmental objectives.
25% of the main payment available to farmers will be dependent on environmental actions being completed - actions such as reduced chemical fertiliser use, tree planting, lower stocking rates and replanting grass meadows with multi-plant species for grazing animals.
That has raised fears among commercial farmers that production will be curtailed. There are also fears about convergence - the EU policy of gradually moving all farmers towards the average overall direct payment.
In Ireland at present, 56% of CAP funding goes to 20% of farmers but convergence will ensure funding is dispersed more evenly.
Again this has alarmed very productive farmers who will in effect lose money as a result. However, farmers who were on lower payments are looking forward to increased monies.
---
Budget
Normally when the National Ploughing Competition is taking place, the Budget is still four weeks away. Not this year though, and farm families are laser focused on what Budget 2023 taking place next Tuesday will hold for them.
Like the rest of society, they are having to cope with price increases from the petrol pumps to the food shop but farm enterprises are also being squeezed by soaring costs.
Farmers are looking for tangible measures to protect incomes, pay energy bills, aid the transition to greener farming models and retain and enhance existing reliefs.
So there is lots to talk about and no doubt many an animated conversations will take place around the ploughing fields of Ratheniska over the next few days.