Aung San Suu Kyi knows how to win over a crowd.
And not just in Myanmar. In 2012, Ireland was her first stop after she was presented with the Nobel Peace Prize in Norway - 19 years late.
On her first visit to Europe in 25 years, she told an audience in Dublin that the British had always referred to the Burmese as the Irish of the East - she said they never quite understood why but it was possibly because they never gave the British any peace and were very rebellious. 
As she stood in the Bord Gáis Theatre, a year after she was freed from house arrest, she'd just been elected to Myanmar's Parliament.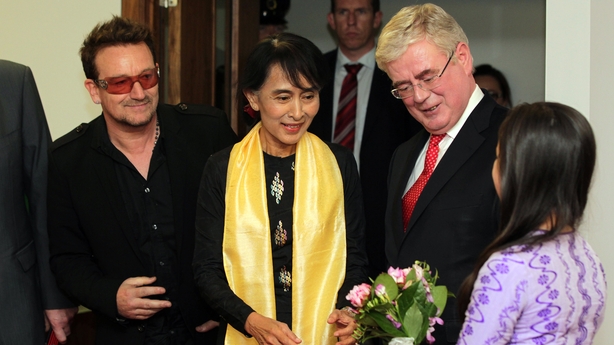 Her National League for Democracy had taken 43 of 45 seats in a series of byelections - a success it would repeat in the country's first "free and fair" elections in 2015 and which made her Myanmar's de facto leader.
But Suu Kyi's story is nothing, if not complicated.
Her father, Aung San, founded the modern Burmese army and negotiated Burma's independence from Britain in 1947. He was assassinated shortly after. In 1989, the army he founded arrested his daughter and put her under house arrest.
A global human rights icon for decades, Suu Kyi was in Dublin to receive Amnesty International's 'Ambassador of Conscience Award'. But just six years later, Amnesty would strip her of the honour, accusing her of a "shameful betrayal of values" for her treatment of Myanmar's Rohingya minority.
Six months before her trip to Dublin, I'd stood in the garden of her lakeside villa in Yangon as she prepared her first run for public office.
A far cry from the days when people risked arrest, just for listening
As Myanmar's 'democratic spring' began to bloom, I'd gone to talk to the country's military junta about opening a BBC bureau there. 54 million people live there - and millions get their news from BBC Burmese.
In recent years, the media has been liberalised. Until today, several BBC programmes were shown on local stations in Myanmar - a far cry from the days when people risked arrest, just for listening.
On that January day, thousands lined the streets, braving the baking sun, just to get a glimpse of the woman Burmese people call 'The Lady'.
After months of delicate negotiations with the junta, the military leaders had agreed to a transition of power - and Aung San Suu Kyi was going to contest a seat in Myanmar's lower House of Parliament.
It wasn't her first election. When Suu Kyi returned to Burma after a long period living in Britain in 1988, the country's longtime military leader stepped down.
Pro-democracy demonstrations were violently suppressed by the army - and Suu Kyi addressed an estimated crowd of 500,000 people, demanding democratic government. 
Eventually, the military agreed to hold elections in which her National League for Democracy won 59% of the votes. The military annulled the election result, and instead of becoming Prime Minister, Suu Kyi was placed under house arrest.
As we drove to the election office, where Suu Kyi would hand in her nomination papers, the eyes of the world were on a woman about to reach her destiny.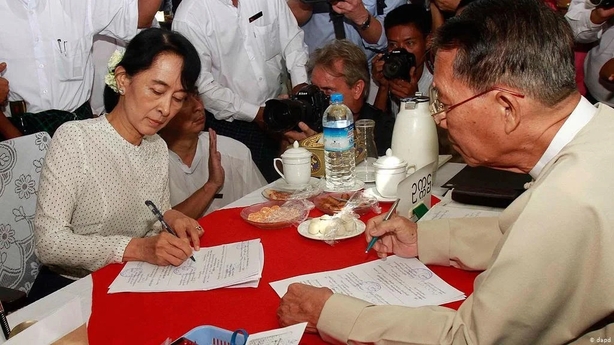 Dozens of her supporters packed into the small, drab District Election Commission office in Yangon's Thanlyan township. They erupted in applause as she took her seat to formally register for the 1 April by-election, sitting directly opposite a representative of a regime that had jailed her and made her famous around the world.
She won that election by a landslide, becoming opposition leader. And soon after, announced that she would run for the presidency in elections in 2015. Her National League For Democracy won a sweeping victory.
But the army had one last card to play. In 2008, it introduced a new constitution for Myanmar - with one special clause. It banned anyone who was the widow and mother of foreigners from becoming President.
In 1972, Suu Kyi had married the British historian Michael Aris, and her two sons had been born there. That prevented her from becoming President. It didn't stop her from becoming Myanmar's de facto ruler as Special Counsellor and Foreign Minister. Until today.
The democratic journey that began at her lakeside villa has ended as before - with Suu Kyi detained and Myanmar's military back firmly in control. 
Jon Williams is the Managing Director of RTÉ News and Current Affairs and was the BBC World News Editor from 2006-2013