Truth Matters. Bearing witness through Irish eyes is what RTÉ is all about.
In the early hours of February 24th, Russian missiles struck Kyiv. In that moment, our world changed. Shortly after the first strike, Vladimir Putin appeared on state TV and told told the Russian people he had ordered a "special military operation" in Ukraine. In truth, the only thing special about it was the unprecedented nature of Russia's aggression. For the first time in Europe since the end of World War Two, one country had been invaded by another.
When air raid sirens sounded across the Ukrainian capital at 4.30am, RTÉ's Europe Editor, Tony Connelly, and cameraman Bram Verkbeke hurried to their makeshift bomb shelter in the basement of Kyiv's Radisson Blu hotel.
It's one of the iron-laws of journalism, that just as everyone else is trying to get out, there are journalists trying to get in.
So, as hundreds of thousands of Ukrainians fled its capital, seeking safety, Tony and Bram returned to Kyiv to ensure RTÉ would be on the ground if Russia decided to invade. And when the war began, while the Kremlin and the Russian Embassy in Dublin claimed that Ukrainian civilians would not be targeted, RTÉ's reporting demonstrated how they were doing precisely that. Just hours after the first missiles struck Kyiv, Tony was broadcasting into a special edition of Morning Ireland, having ventured out to gather reaction on the streets of Kyiv. Before most of us were awake, the digital team in the Dublin newsroom began curating a 'live' page pulling together all the developments, while Bram's video of Tony talking to residents of the Ukrainian capital was shared to social media. Their reporting led an extended edition of the RTÉ News at One with Bryan Dobson, as well as the Six-One and Nine O'clock News on RTÉ One.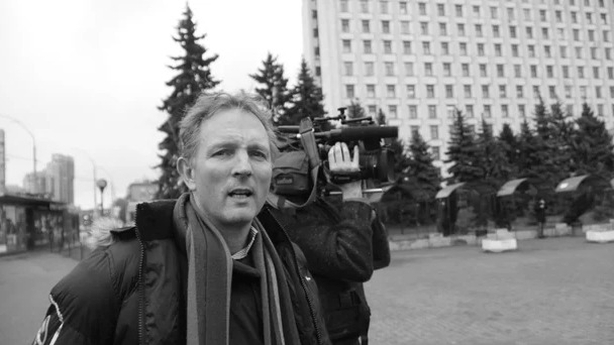 For 60 years, eyewitness reporting has been at the heart of what RTÉ does. From famine in Africa to the wars in Iraq and Afghanistan - and yes, in Ukraine. The world's biggest stories, covered for Irish audiences, with an Irish perspective. In English and Irish. Sin an fáth go bhfuil muid ag tuairisciú ó theorainneacha na hÚcráine as Bearla agus as Gaeilge. Táim bródúil as an daonnacht a shainigh tuairisciú RTÉ. I'm proud too of my colleagues' courage. Ours is a dangerous business. Journalism has already paid too high a price in Ukraine. Five journalists were killed in the first month of the war, including the Irish cameraman, Pierre Zakrzewski.
It's also an expensive business. It's only because of RTÉ's resources that we can do what we do - some certainty comes with public funding. And we do it because of our mission: to bear witness and to ensure the truth can be told.It's a mission that, this year, will see RTÉ add journalists in Africa, at the United Nations and in Eastern Europe - reporters who will help us make sense of the world by joining the dots. A mission too, that manifests itself in RTÉ Investigates - whether it's tackling those trying to con families facing repossession of their homes or exposing the illegal adoptions of those robbed of their real identities.
For every investigation that makes it to air, there are many that do not. With no guaranteed outcome, few commercial news providers are able to devote the resources necessary. But because of public funding, it was RTÉ that revealed how a Dublin creche was failing in the standard of care provided to children, and it was RTÉ that spent a month on the frontline of Ireland's fight with COVID-19 in hospitals, capturing not just the suffering of patients and grief of those who lost loved-ones, but the heroism of Ireland's health and social care staff.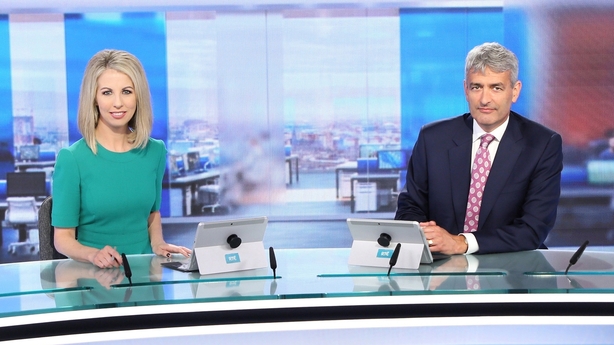 Whether in Russia, Ukraine or closer to home, the truth matters. But on its own, it's not enough. Last year, a study for the Broadcasting Authority of Ireland found that RTÉ was Ireland's most trusted news source. As grateful as we are, we know we also need to earn your trust every day. And while truth is an essential ingredient of trust, so too is transparency. That's why last summer, RTÉ News signed up to the Journalism Trust Initiative. Nine months on, I'm proud that RTÉ News is the first Irish news organisation to have been independently audited and awarded the JTI mark, the European-wide standard for trusted journalism.
RTÉ television turned 60 last New Year's Eve. We're proud of where we have come from, but we're focused on the future. Thanks to your trust and your contribution to public funding, the best is yet to come - from across Ireland and around the world, in English and in Irish, on air and online.

Mar tá tábhacht leis an bhfírinne.