Gerry Adams has been letting his hair grow. According to one of those closest to him, the sure way to keep him out of a barber shop is to advise him to get a haircut.
Suggesting he resembles Father Christmas would send his hordes of critics to the keyboards. So let's not go there. Instead, let's say that the un-groomed state makes him look like Willie Nelson or Kris Kristofferson.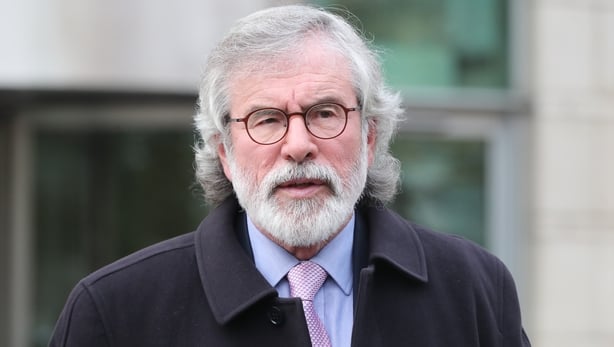 He surfaced on the campaign trail during the Dublin by-elections and in some of Sinn Féin's Westminster electioneering. As always, he is busy on "the twitter machine".
But there was no sign of him at the Titanic Count Centre in Belfast on Thursday night when Sinn Féin was celebrating the victory of John Finucane in North Belfast. He wasn't there to witness the defeat of the last working member of the DUP's most famous heavyweight triumvirate, Paisley, Robinson and Dodds.
The longer hair and the absence from some public occasions are proof that Gerry Adams is wintering.
Don't bet on him getting a burst of energy, as he has done so many times before, and facing into one more election campaign. The name of Gerard Adams, Gearóid Mac Ádhaimh, born 6 October 1948, is unlikely to feature on the ballot paper in Co Louth for the 2020 General Election.
He is in the autumn of his life. His recent pattern of behaviour indicates how in his typical, methodical ways, he has been incrementally adjusting to that reality.
From the mischievous to the malevolent, in public or in private, throughout the most turbulent of times, nobody could spot or create a hair of tension in their relationship.
He has reason for dreading December. Three years ago this month, he was having to process a possibility he had not anticipated. Something that even he, with his bordering on the unique back catalogue of epic emotional and moral box sets, was not prepared for.
The friend that he loved in every sense of the word was in trouble.
Gerry Adams had to privately prepare for the possibility that Martin McGuinness was dying.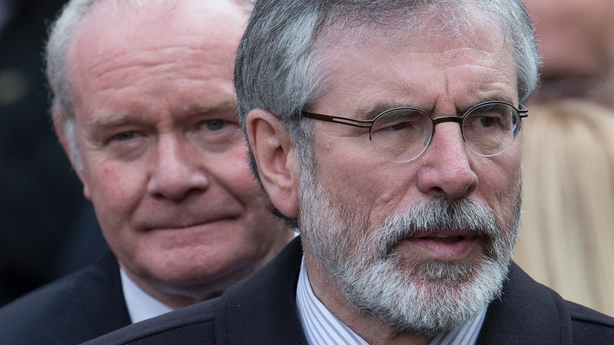 The legacy of legacy
A lot of people dislike Gerry Adams. With some, the reaction goes beyond dislike. The ones who see something of The Dark about him. They associate him with Bloody Friday and the Disappeared. They distrust him. They believe he ducks and dives in interviews.
They know the stories from the "Armalite in one hand and ballot box in the other" phase. When some republicans (and loyalists) put in a political shift during the day and became paramilitaries by night.
They know the anecdotes about how characters were trained to check out the different exits as soon as they entered a building. How, in discussions and in more pressing situations, they would fire a smoke bomb into a corner and while it was being dealt with, they would make their escape.
How, in the earliest days of handphones, they would whip out the battery and avoid any chance of being tracked or bugged, when conducting sensitive discussions.
Many see Gerry Adams as mercury.
With Adams, it's a walking trip to the North Pole to catch a public glimpse of the vulnerable side.
Non republicans, especially unionists, have an ongoing bugbear. It grates with them how the likes of the IRA and the INLA believed they could operate in a completely different way to their enemies, the British Army, the RUC or the UDR.
A guerrilla army could plant bombs (sometimes without warning), shoot its enemies (and sometimes those who got in the line of fire) and encourage civilians to pass on information about their neighbours who served in the security forces. The movements of a milkman or farmer who worked, part-time, in the UDR or RUC, and was being lined up for a bullet.
The state had to operate under different rules. And when it strayed from a set of legal standards of behaviour, those responsible should and must be held accountable for their actions.
Full disclosure by the state versus informers will be shot. Queensbury rules for some. No rules for others.
It's an equation that angers many unionists. They believe some republicans, while they press the state for full disclosure, will never tell the full truth about what they did and what they know. They struggle with the notion of former paramilitaries, now full-time politicians, having a role in their lives and regularly making statements about rights and wrongs and justice.
They see Gerry Adams and the cohort he represents as practitioners and beneficiaries of what they consider an inherently unfair equation.
Beyond the Sinn Féin support base where he is revered, many people like Gerry Adams. On the street, at home and abroad, strangers shake his hand. Younger ones ask for selfies with him. Bill Clinton, the former US President, has an Adams-autographed copy of his 'Negotiator's Cook Book' in his kitchen and he uses it.
The late Bill Flynn, the self-made chairman of Mutual of America, one of the most influential US supporters of the peace process, financed his treatment for a prostate condition in 2014. Tony Blair and Bertie Ahern say the Good Friday Agreement could not have been made without Adams' involvement.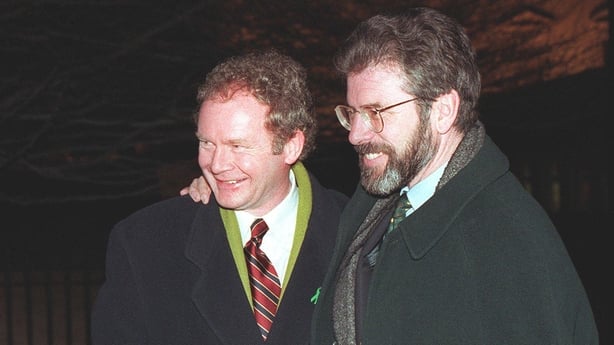 Martin McGuinness loved him like a brother. From the mischievous to the malevolent, in public or in private, throughout the most turbulent of times, nobody could spot or create a hair of tension in their relationship.
Close as they were, they were very different: often against their better instincts many people couldn't prevent themselves from seeing a warm side in McGuinness. With Adams, it's a walking trip to the North Pole to catch a public glimpse of the vulnerable side.
It was the ultimate statement about their relationship that Adams never, in any way, showed any signs of envying how people reacted in such a different, more clubby way to McGuinness.
Probably the worst period in Gerry Adams' life was in early 2017 when he saw, at first hand, the signs that his friend was fading fast. He went along with the McGuinness wish that Michelle O'Neill should succeed him as Sinn Féin leader in Northern Ireland.
He accompanied him in early January to the funeral of Dermot Gallagher, the former Secretary General of the Department of Foreign Affairs, in Co Meath. And then he braced himself for the trips across the Glenshane Pass to Altnagelvin Hospital in Derry, where his friend would quietly lose his final battle.
When Ted Howell arrives with stocks of granary bread and red lentil and tomato soup it's a sign that the Shinners mean business.
In February of 2018, a year after the death of Martin McGuiness, Gerry Adams came out of semi-retirement in an effort to rescue what had been their shared contribution to history. He was intent on trying to reach a compromise agreement that would end the stalemate in power-sharing.
The DUP and the staff in Parliament Buildings at Stormont knew there was something up. The Old Guard, led by Adams, arrived as part of the Sinn Féin delegation. And they brought food. When Ted Howell arrives with stocks of granary bread and red lentil and tomato soup it's a sign that the Shinners mean business. Yes Napoleon, an army marches on his stomach.
The deal Adams tried to cut with the DUP was probably the final effort and possibly the final opportunity for him to make a direct, telling contribution to a major Sinn Féin initiative.
The February 2018 proposal fell apart because Arlene Foster was not able to sell it to influential parts of the DUP. Colleagues like Edwin Poots had been across the detail. Westminster MPs like Gregory Campbell were shaping up to back it. But other MPs held back. And their silence killed agreement.
Within Sinn Féin the power and responsibility have completed the transfer to new leadership. Gerry Adams is conscious of it, he respects it. He is comfortable with it. Not that it matters to him, he probably has little option but to be so.
The raw nature of politics
Last week's Westminster elections count at Belfast's Titanic Centre in Belfast had the potential to turn ugly. The Chief Electoral Officer, Virginia McVea, anticipated it and acted accordingly. Access to the venue was strictly limited to cut down on the possibility of flag wavers and singers.
And yet, when the result of the North Belfast constituency was declared, there was no avoiding the rawness.
Nigel Dodds, the DUP's deputy leader and an MP since 2001, lost his seat to Sinn Féin's John Finucane, a member of Belfast City Council and its current Lord Mayor.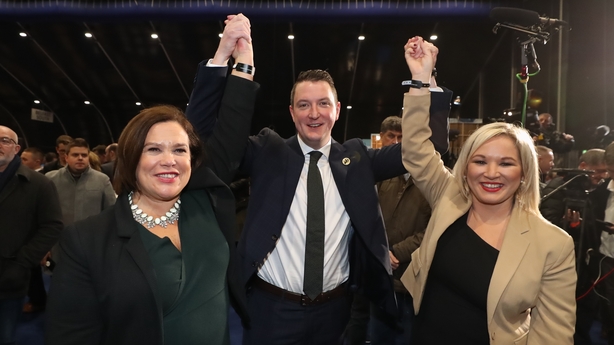 The winner was nine when he witnessed loyalist gunmen kill his lawyer father and injure his mother on a February Sunday evening 30 years ago.
The loser was 37 when in 1996, the IRA shot a police officer and tried to kill him as he visited his nine-year-old son, Andrew, in a north Belfast hospital. The boy died from his chronic illness two years later. The Dodds family still live in the bungalow they moved to in order to accommodate the needs of their ailing child.
After he made his vanquished speech in the Titanic Centre, Nigel Dodds was consoled by his wife Diane, their daughter Robyn and son Mark. What were they thinking as they drove home in the dark to Banbridge?
Brexit - the DUP's pay day loan
There is a widening middle ground - not definitively orange or green.
Brexit amounted to a huge payday loan for the DUP. Nigel Dodds contributed to his political undoing. In an earlier life, he was Ian Paisley's assistant in the European Parliament when the leader combined Westminster and Brussels roles.
His wife Diane is an able member of the European Parliament since 2009. She succeeded Jim Allister when he left the party over DUP participation in power-sharing with Sinn Féin and she defeated him, three times, when he sought election to Europe as an independent.
As a member of Westminster MP since 2001, Nigel Dodds has maintained the DUP's long standing friendship with Eurosceptics. He also has first-hand knowledge of the value of Northern Ireland-EU relationships.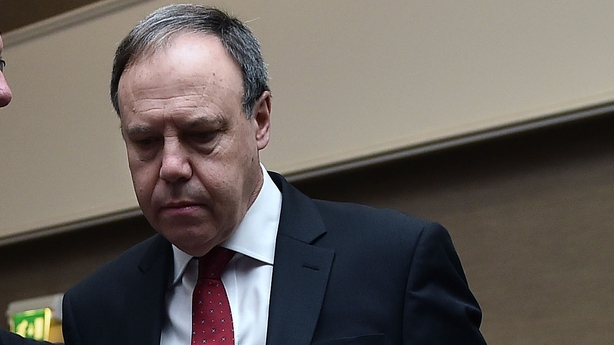 As the leader of the DUP 10 in Westminster and the party's deputy leader, he was an influential force in its Leave stance during the Brexit Referendum campaign.
After the June 2017 General Election, he was instrumental in the Confidence and Supply Agreement that committed the DUP to propping up Theresa May's government. He was around when memberships of the Privy Council were handed out and when DUP members were showered with invitations to dinner and television studios.
He was a player when Theresa May's deal was twice rejected by the DUP, effectively ending her role as prime minister. He was prominent when the DUP feted her successor, Boris Johnson, and when the new prime minister ignored the DUP and headed off to Brussels.
His October speech in Westminster, welcomed by Labour leader, Jeremy Corbyn, confirmed the Johnson deal wouldn't get through the House of Commons. It triggered the general election that cost the DUP two seats, his own included, and left the party a damaged brand.
For Sinn Féin, the Finucane victory was tempered by a pattern of sobering results elsewhere. SDLP leader Colum Eastwood's 26,881 votes amount to 57% support in a five-candidate contest.
Some of that landslide may have been the instinctive reaction of a city with a refined sense of justice to the misleading leaflets that were circulated about Eastwood.
But the SDLP performance in other places like South Down and Sinn Féin's reduced support in the likes of Fermanagh/South Tyrone suggest nationalists have misgivings about the Sinn Féin policy of abstentionism. And Sinn Féin's role in the closure and ongoing stalemate at Stormont.
The Alliance Party had no role in the collapse of power-sharing three years ago. It supports remaining in the European Union. As Justice Minister in a working Stormont for six years up to 2016, the Alliance leader, David Ford, was even-handed. His successor, Naomi Long, has built on that work.
When Stephen Farry defeated the DUP's Alex Easton for the North Down seat vacated by Independent Unionist Sylvia Hermon, Alliance arrived at a new place.
There is a widening middle ground - not definitively orange or green.
Will power-sharing flow from the Boris landslide?
Last Thursday's vote confirmed that the Eurosceptics have found the champion they have craved for 40 years. The Conservatives demolished Labour. Like Nigel Farage, Boris Johnson is a showman who can't resist the lure of centre stage. But there the comparisons end because Johnson is cunning as well as clever.
He ruthlessly used the gift that kept on giving, Jeremy Corbyn, to secure a five-year term in Downing Street. Better than the character selling religion to small town America in the 1960 Burt Lancaster film, 'Elmer Gantry', he sold his dream to the masses.
Now all he has to do is deliver it.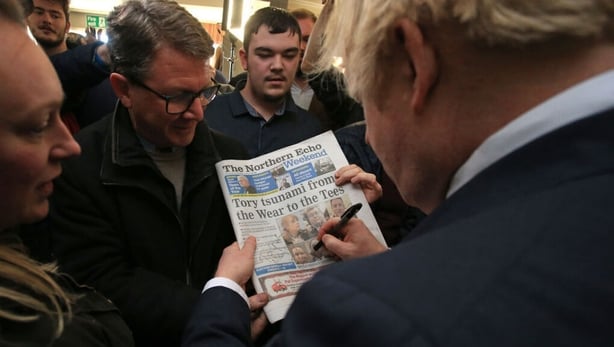 Cutting ties with Europe, the convenient bogeyman of the last 45 years (some would say 700 years) is not without risks. Mr Johnson is certainly going to take the United Kingdom to a new place. If the final destination turns out to be an improvement, he will deserve to be hailed as a political magician.
If he fails to deal with the UK's century-old pattern of decline as a world power, he could be overseeing its break-up. The nightmare on Downing Street.
Mr Johnson understands the potential usefulness and vulnerability of the next-door neighbours who speak the same language and will retain membership of the European Union. He was in phone contact with Taoiseach Leo Varadkar about practical issues on Friday evening - a change from the silence after he took over from Theresa May in the summer.
Mr Johnson made the prudent decision to, for now at least, leave Julian Smith in his Northern Ireland Secretary post. This will allow him to launch power-sharing negotiations alongside Tánaiste Simon Coveney at Stormont House today.
Some in the prime minister's circle would advocate dispensing with Mr Smith. But in his five months of service, he has earned a reputation for sensible engagement. Significantly, Fianna Fáil leader Micheál Martin acknowledged this on Friday, some hours before the "staying in post" decision was confirmed.
There is a danger that the DUP will arrive at the Stormont discussions today in bruised, tetchy mode. Sinn Féin has a well-deserved reputation for over-negotiating. The inability of the two main parties to get on caused the collapse of the administration three years ago.
A proposed Irish language act remains an issue between them.
Sinn Féin has at most four or five Assembly members with sufficient Irish to leave them able for interview on TG4. The DUP's counter claim to an Irish language act is it wants provision made for British identity, including Ulster Scots.
One dispirited worker in the eerily quiet Stormont said recently: "If all of them could speak Irish and Ulster Scots, they'd be having a row about French."
All 90 Assembly members have taken more severe pay cuts than the disgruntled health care workers, who are seeking a restoration of pay parity with their counterparts elsewhere in the UK. But the difference between the MLAs and the health sector workforce is one group is engaged in full-time work.
The health service itself has the longest waiting lists in the UK. It is in a worse state than the much-criticised system south of the border. Every family in Northern Ireland is affected by the problem, as canvassers found out on the doorsteps.
It will take political courage to refloat power-sharing in Northern Ireland. It will also require money. The health and education services require not just finance, but significant restructuring that will require brave policy decisions.
The cushion of social welfare funding that protects Northern Ireland from some of the UK's austerity measures is due to run out in March.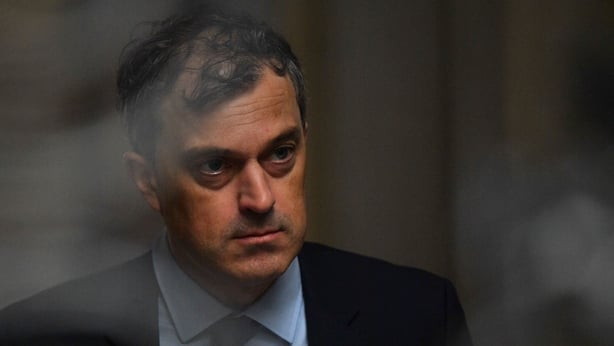 Julian Smith knows he will be expected to come to the negotiating table with the promise of a financial package to oil the wheels of any new Stormont administration.
If they can't reach agreement by next month's deadline, new elections are likely to follow immediately.
The Brexit factor will continue to be important. And potentially divisive. Northern Ireland remains the cockpit, the place where the UK and EU sets intersect. The Martin McGuinness/Arlene Foster letter sent to Theresa May in August 2016 recognised that Northern Ireland is a special place in a Brexit context. The DUP's subsequent stance of claiming Ballyclare is as British as Brixton came unstuck in the Westminster elections.
In Dáil Éireann, there is cross-party support for practical Brexit-related gestures of friendship to Northern Ireland citizens, with no strings attached. Dublin will commit to pick up the tab for extending European Health Insurance emergency cover for all Northern Ireland citizens. It will develop a north/south third-level colleges link that will allow Northern Ireland students continue to access EU Erasmus schemes.
The Taoiseach put Brussels on notice last Friday that Ireland is seeking a new version of the EU Peace Funding that has benefitted Northern Ireland and the border counties for over 20 years.
The level of "settlement cracks" aid required to allow Northern Ireland adjust to its Brexit-related unique identity would not overstretch EU resources.
The last chance for an Arlene-Michelle combo?
Those who suggest Arlene Foster's career as DUP leader is over struggle to come up with a ready-made replacement. She deliberately chose to not run in the Westminster elections. She is a committed devolutionist. She has the pay cuts and the political mistakes to indicate she has struggled to work it properly. If she has a future as the DUP leader in a power-sharing administration, this is her opportunity. Maybe the final one.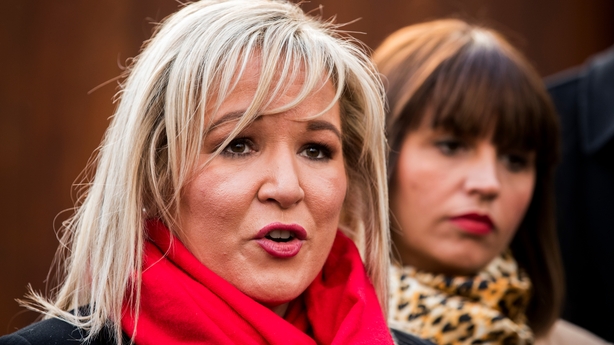 Michelle O'Neill is three years waiting to serve as Deputy First Minister. One third of Sinn Féin delegates supported John O'Dowd when he challenged her in what was a pointedly low-key election.
If abstentionism was a problem for Sinn Féin in the Westminster elections, the same issue and non-participation at Stormont could be negatives when Sinn Féin candidate begin knocking on doors, south of the border, in the forthcoming general election.
It's trite and unfair to dismiss Northern Ireland's politicians as a low grade collection of dysfunctionals. They are tasked with doing something that is not attempted elsewhere. Bind together, work for the common good in an all-party coalition and then knock lumps out of each other and fight for a new mandate in every election.
This is the demanding political challenge in a society emerging from decades of death and destruction.
If the different parties, aided by Julian Smith and Simon Coveney, strike a deal before 13 January, they will have two years to work together before the next scheduled Assembly elections. If they can't reach agreement by next month's deadline, new elections are likely to follow immediately.
The voters are watching. The important truth, a reality that now applies north, as well as south, of the border and across the water, is the middle ground counts.
And at every election, they get the chance to dole out haircuts.