DUP deputy leader Nigel Dodds has lost his North Belfast seat to Sinn Féin's John Finucane. 
Mr Finucane polled 23,078 votes while Mr Dodds received 21, 135 votes. The DUP's leader in Westminster had held the seat for 18 years.
The new MP for Belfast North said this was an election that transcended party politics as he arrived at the count centre.
Speaking to reporters, Mr Finucane said Brexit came up time and again on the doors in the constituency. 
"Brexit was the core of our message and that was received for us. All we did was focus on the message we had ... and it was a positive energetic six weeks."
He also paid tribute to his father, solicitor Pat Finucane who was murdered in 1989. 
"My father will always be with me...This has been big year...my family will be very proud. I believe in North Belfast and I always say its the best part of Belfast."
Outgoing DUP MP Nigel Dodds says "it's important that the Northern Ireland Assembly is up and running as quick as possible" so that Northen Ireland politicians can have a role to play in Brexit negotiations #GE19 pic.twitter.com/3NpEpE3LBq

— RTÉ News (@rtenews) December 13, 2019
The DUP's Emma Little-Pengelly also lost her seat to the SDLP's Claire Hanna.
Ms Hanna, who is originally from Connemara, Co Galway, had a majority of 16,000 votes. Speaking following her victory, Ms Hanna paid tribute to all the fellow Remain supporters from other parties who had voted for her.
"We know there is no good form of Brexit, we have many, many challenges ahead of us but we do know that the relationships that we have to protect within Northern Ireland and on an east west basis and north south basis have to be nurtured," she said.
"We'll have to do that at Westminster and hopefully we can do it in a restored executive."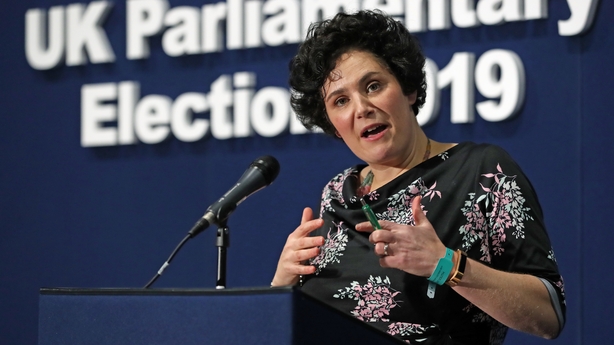 It was a successful night for the SDLP, with party leader Colum Eastwood triumphing over Sinn Féin in the Foyle constituency with a majority of more than 17,000 votes.
Whopping victory. @columeastwood elected in Foyle by a margin of 17k votes. pic.twitter.com/ULjHF7bwVl

— Louise Byrne News (@LouiseByrneNews) December 13, 2019
The Alliance Party's Stephen Farry was elected for the North Down constituency, beating the DUP's Alex Easton.
Mr Farry cruised to victory by around 3,000 votes in the affluent Belfast commuter constituency.
The senior party figure has argued strongly for Remain during his short election campaign to replace anti-Brexit unionist MP Lady Sylvia Hermon. The seat had been a key target for the DUP after Lady Hermon decided not to run again.
In Fermanagh and South Tyrone Ulster Unionist candidate Tom Elliott has said it is "too close to call" and added that it will be nail-biting until the end.
Meanwhile, the DUP's Jim Shannon was reelected for the Co Down constituency of Strangford. Sinn Féin's Órfhlaith Begley was reelected in West Tyrone.
Ms Begley won a 2016 by-election and held her seat in the 2017 election. Paul Maskey also kept his seat for the West Belfast constituency.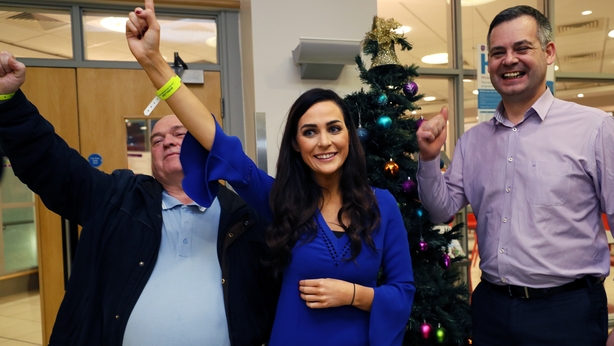 In East Belfast, the DUP's Gavin Robinson has been elected, beating Alliance Party leader Naomi Long.
In South Down, Sinn Féin's Chris Hazzard retained his seat. 
DUP MP Paul Girvan has been re-elected for South Antrim and his party colleague Sammy Wilson was re-elected in East Antrim, and will extend his almost 15-year stay at Westminster. 
Earlier, Mr Wilson rejected suggestions his party will have little influence at Westminster, should the Conservative Party win a big majority as predicted.
After the last election, the DUP became kingmakers as then prime minister Theresa May scrambled to put together a government.
Mr Wilson believes his party will still be politically relevant in London and says there could be another general election next year.
Speaking to RTÉ at the count centre in Belfast, Mr Wilson said: "We would have liked to have been in the position that we were after the last election. We're not going to be there but that still does not mean that there won't be opportunities.
"The prime minister has another year of trying to get a deal, a future arrangement deal with the EU. That will be full of all kinds of pitfalls, all kinds of things that his party will find hard to swallow."
Sammy Wilson of the DUP says the Conservatives may still need the DUP going forward #GE19 pic.twitter.com/2WN4a0v1gW

— RTÉ News (@rtenews) December 13, 2019
At the last general election in 2017, Northern Ireland saw a 65% turnout.
More than 93,900 eligible voters were able to cast their ballots.
Reporting Barry Lenihan, Louise Byrne and PA