The no-deal Brexit legislation published by the Government has loads of detailed provisions, with inputs from nine government departments covering a vast range of areas from pensions to licenses for harbour pilots
But at its heart is one simple idea - make a bunch of changes to the law of the land, so that nobody notices that anything has changed.
If the Withdrawal of the United Kingdom from the European Union (Consequential Provisions) Bill 2019 works as advertised, then the sundering of the legal base that underpins much of normal life for people in this country who have any kind of interaction with the UK that will result from a no-deal Brexit at the end of March will not have any noticeable impact on anyone.
That at least is the intention - to legally fix problems that can be anticipated.
So the bill deals with the "known knowns" that result from Brexit - such as changing section 191 of the Taxes Consolidation Act 1997 to ensure that recurring payments from Hepatitis C/HIV public compensation schemes in the UK remain exempt from Irish income tax.
Or that Irish people can still get tax relief (in Ireland) for undergraduate fees paid to UK third-level institutions.
The bill rounds up lots of small fixes like these.
---
Read more:
Which areas are covered in Brexit Omnibus Bill?
British crash out from EU still unlikely, says Coveney
---
It is the result of a year's worth of trawling through existing legislation by government departments, and so represents their best guess about what might be impacted by Brexit.
Parliamentary debate may throw up some more issues in the weeks ahead.
Tánaiste and Minister for Foreign Affairs Simon Coveney said he welcomed opposition amendments aimed at improving the bill - but they may have overlooked some things.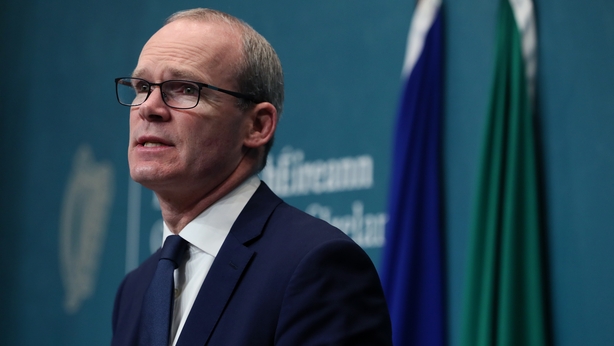 Has there been a bill yet written - anywhere - that covers all eventualities?
A core part of the bill derives from the Common Travel Area (CTA) - something that is often talked about on this side of the Irish Sea, but which is hard to find in legislative form.
The CTA predates UK and Irish membership of the EU, carried on during the membership of both states - and a key aim of the two governments is to preserve its operation after the UK leaves the Union.
Despite its name, the CTA is much more than a passport-free travel area (though nobody gets through Dublin airport without going through passport control).
It gives citizens from each state a right to live, work and get social welfare, health education and other benefits in each other's states.
Effectively Ireland and the UK agreed not to treat each other's citizens as "aliens".
So keeping the CTA after Brexit means the Irish will continue to enjoy the kind of free movement rights (and more) that EU citizens will lose after 29 March.
And British citizens - who voted away their own free movement rights to the other 26 states, will find they still enjoy freedom of movement in one EU state - Ireland.
This "freedom of movement" right actually rests on a vast swath of laws, which now have to be amended if it is to survive a no-deal Brexit.
So the Irish Minister for Health has to be given legal powers to make orders and regulations needed to maintain the current healthcare arrangements between Ireland and the UK.
The Tánaiste mentioned people from Donegal going to Altnagelvin Hospital in Derry for heart treatment, and of Belfast parents bringing their children to Dublin for paediatric care - unexceptional, common sense arrangements to ensure people get the right care in the right place.
It has to be paid for, of course, and arrangements exist for transfers between national health budgets under EU law.
Something has to be put in place to ensure such payments can continue after Brexit.
This means Irish people can continue to use the NHS, and British people the HSE just as they do now.
It's a similar story with welfare payments - there is an established EU legal base underpinning things that have grown up by custom on these two islands - and that has to be replaced so the arrangements can survive a no-deal Brexit.
The bill is a belt and braces approach to social welfare, as there is a separate process nearing completion in London and Dublin that will provide for continuity in social welfare arrangements after Brexit.
The biggest chunk of the bill relates to taxation.
Four of the ten-and-a-bit pages of the explanatory memorandum deal with tax matters - two full pages deal with income tax matters.
Again, the aim is legal continuity - whatever your arrangements are now, they should stay the same after Brexit.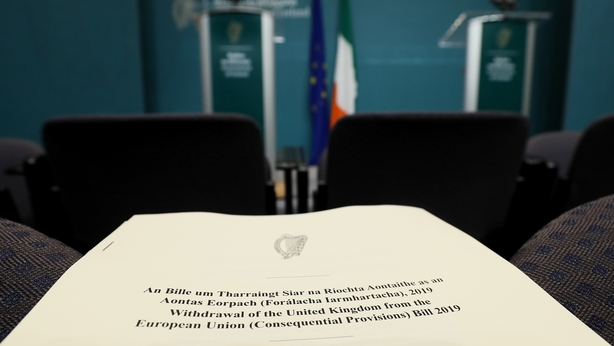 A lot of it is the mundane "plumbing and wiring" of life as we know it, but don't think about it, such as ensuring UK annuity providers can continue to get tax approval in Ireland for their products, and that policy holders can continue to avail of tax relief on premiums paid for approved policies.
Or that the tax reliefs available under Irish law for artists and sports people - that had to be extended to people resident anywhere in the EU - would continue to apply to people resident in the UK after Brexit.
Indeed one way to think in a very simple way about this 70-page bill is that any law that applies to EU/EEA residents will now apply to EU/EEA/UK residents.
But as well as continuity, there is some change as well.
The big change - and one that has to be widely welcomed - is to change rules on VAT payments for imports from third countries.
Right now, unless specifically excluded, VAT on third country imports is payable at the point of entry.
But for imports from EU states, its payable under the normal returns made every second month.
A disorderly Brexit would have left tens of thousands of firms that do business with the UK - most of them small - facing a very severe and sudden cash flow problem.
So the bill changes the VAT rules, allowing all VAT registered traders to use "postponed accounting" for VAT. It will tighten up again over time, but for now the cash flow crunch has been averted.
A second significant change for the business community is a legal base for more State support of export oriented companies.
This comes by way of an authorisation to Enterprise Ireland to make loans to client companies.
Up to now it could only offer financial support through direct equity stakes or grants for specific purposes.
Now it can become a business lender.
Enterprise Ireland will also be authorised to make research and development grants for research that is, in part, carried out abroad - if its purpose is to broaden a firms export market beyond the UK.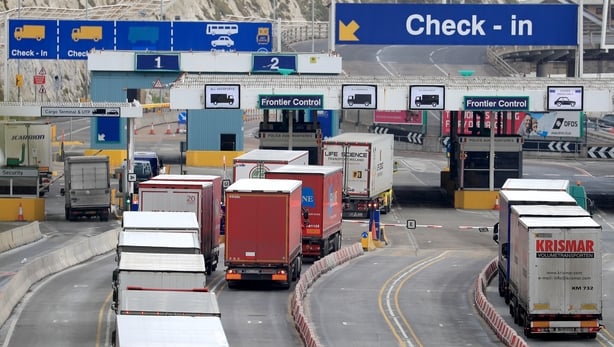 Getting Irish firms to do more business beyond the UK has been an objective of Enterprise Ireland for at least as long as I have been reporting on the agency (way back in the last century!) - this is another inducement it can offer.
On Thursday the agency set its 2020 target of a 50% increase in exports to the Euro Area. Joint projects with firms on the mainland would be a big help, as would hiring local expertise. The extra funding flexibility under this bill should help.
But one area of change where things will get worse is extradition law.
The difficult history of extradition between Ireland and Britain need not detain us here - save that it was difficult until 2003, when both states joined the European Arrest Warrant regime.
This legal regime made the whole process much easier, more efficient, and less controversial.
In part it did this by shutting down a whole lot of loopholes suspects and their lawyers could use to delay or frustrate extradition proceedings.
Under this bill Ireland will not go back to the pre-2003 legal regime. Instead it will try something new (for Ireland) - the 1957 council of Europe convention on extradition.
As this has been around a long time, it has plenty of loopholes and precedents for legal challenges.
It is widely expected to be worse than the existing arrest warrant regime - but is, it seems, the only quick fix available.
The proximate cause of a no-deal Brexit is the British parliament's hostility to the backstop clause in the Withdrawal Agreement.
But in a sense this bill is a bit like the backstop - it has been drafted in the hope that it will not be needed. And its promoters hope it will be rapidly replaced by something better.
So in the Alice in Wonderland politics of Brexit, following a year of civil service work, our parliament will now spend the guts of a month to pass a law nobody wants, in the hope it is never used, so it is ready for the President to sign at the end of March, just in case there is a no-deal Brexit that nobody wants either.
You couldn't make it up....