It has been a record-breaking week for heat and sunshine in Ireland.
The hottest "shaded air" temperature occurred at Met Éireann's synoptic station in Shannon, Co Clare.
That was on Thursday when the mercury hit a blistering 32C. We haven't experienced heat like that for more than 40 years. 
What was striking this time of course was the very widespread and nature of the heatwave we have enjoyed.
There wasn't a patch anywhere in the country that didn't swelter, with temperatures hitting 30C throughout much of the west and the midlands.
And what about that sunshine? Who in their right mind would want to waste money on foreign holidays if we were sure of summers like this at home? 
Met Éireann figures showed we have been getting three times our normal level of sunshine for this time of year. 
Weather-wise, summer 2018 so far has been outstanding.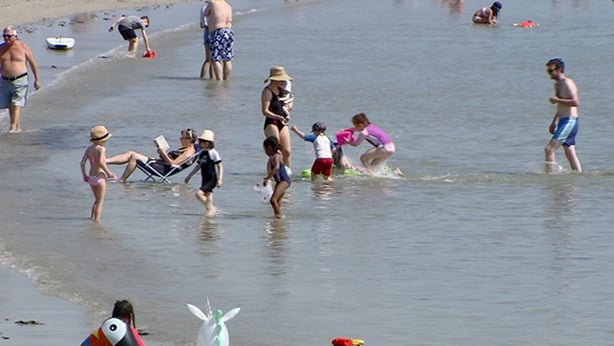 Malin Head in Donegal - Ireland's most northerly point- registered 16.5 hours of sunshine last Thursday. It's hard to believe.
The weather station in Valentia, Co Kerry, at the other end of the country clocked up a massive 101 hours of sunshine in seven days.
In many other parts of the country weekly sunshine is running well over 90 hours. 
The weather radar used by meteorologists suggested that rain had fallen in some patches on Wednesday.
However Met Éireann confirmed that no rain had fallen at all. It had simply evaporated into the thin, warm air long before it got anywhere near the ground. 
We came within a whisker of our all-time record temperature.
That was set back in 1887, in Kilkenny during an era when weather stations were a little cruder and contained less rigorous formats and instrumentation than today. The temperature record set on that occasion was 33.3C. 
The highest recorded during the 20th century was 32.5C at Boora, Co Offaly, in 1976. 
The Met Éireann forecast for last Friday suggested we were about to hit that level again.
In the actual event though it turned out we missed it this time by a small fraction as a slight cooling breeze kept the mercury down to 31C in Shannon and the mid-west.
Melting tar on the roads
All of that was enough to bring some of my own my childhood memories flooding back. Perhaps it's just a trick played by our minds but I have always felt that Irish summers were warmer and sunnier when I was boy.
I have very clear memories of being fascinated and amused as a small boy at being able to scrape the strip of melting tar from the middle of our concrete roads.
Melting tar on our roadways was a big issue last week but there is nothing innocent or fascinating or amusing about it. It is much more serious. Actually as a motorist it is quite terrifying this time.
First it was Mayo County Council who reported road surface temperatures of 44C on Wednesday.
They announced they were going to send out gritters as the melting tar was making the roads far too dangerous for motorists.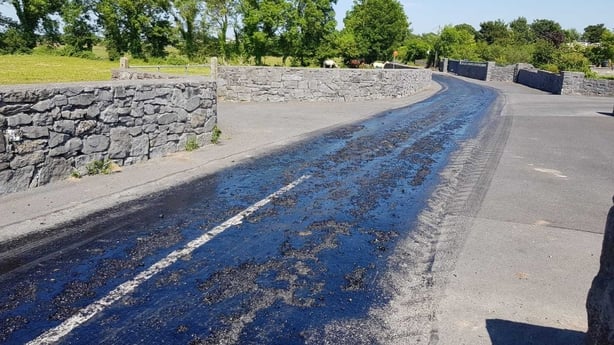 Sligo County Council followed with a similar warning and an urgent appeal to motorists to take great care when breaking.
On Thursday, Clare County Council reported road surface temperature in excess of 56C and said some roads might have to be closed.
By yesterday Kildare County Council closed the road from Rathangan to Clonbullogue in Co Offaly.
It had been closed for four hours the previous day but the heat and the melting had intensified leaving them with no choice but to close the road entirely for the day.
In Waterford City, the organisers of the Viking Marathon Race which was scheduled for this morning were forced to make a very difficult decision.
After consultation with various authorities they concluded that a 42km road race in this heat, and with these road conditions, was madness.
The Viking was downgraded to a half or quarter marathons, leaving it to the participants to chose for themselves.
Firefighters tackling fires across country
Fires have been breaking out all over the country. Yesterday, Wicklow County Council said its fire service attended 42 gorse, forest, and wild-land fires over the previous two days. Some had been serious enough to require the closure of mountain roads due to smoke. 
Similar fires have broken out in other locations too and the longer the dry spell goes on the greater the danger and the damage that's likely to result.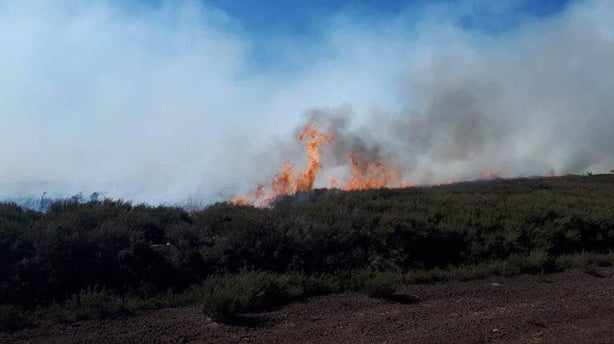 Animals too are facing very significant challenges in this weather. We've heard plenty of warnings not to leave dogs in cars, to be careful about walking them on extremely hot footpaths, and how important it is to ensure there are shaded areas for pet cats. 
There were even appeals from Inland fisheries Ireland to be on the look-out for fish in distress due to the hot weather and anglers are being urged to desist from using keep nets for fear of making matters worse.
Farmers too are getting particularly worried about the availability of water. Like everyone else they are hearing the warnings about water outrages and scarcity from Irish Water and all the appeals for people to conserve water. 
But cattle in particular need a constant supply of fresh water to drink. We have about seven and a half million cattle and five and a half million sheep. And they all need water to drink. 
Dairy cows drink up to 120 litres of water per day. For beef cattle it's a good deal less at 40 to 50 litres per day. But that is still a huge requirement. And if those animals don't get the water they need they are likely to break out of their confines and go searching for it with all the dangers that could entail for everybody else.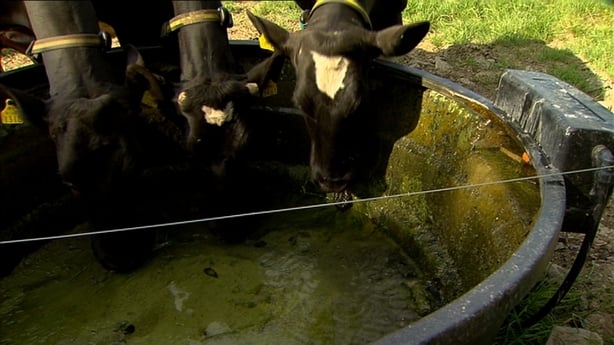 On Thursday this week, the Dublin to Galway and Westport train struck a group of cows that had wandered onto the train line near Tullamore. The cows were killed. The damage caused was described as severe. 
Crops too have been very badly affected in the heat wave. Earlier the sowing season had been severely delayed because of the very cold winter and late spring.
The result is that crops have weaker than normal root systems. They simply have not had enough time in the ground for normal root growth.
The extreme heat and dryness is now playing havoc and many farmers are facing significant losses as a result.
Water restrictions dominate headlines
Of all the weather-related stories over the past week however, it is water, and Irish Water in particular, that has dominated. 
The lack of rain so early in the summer was a big issue for reservoirs and water sources before this heat wave officially struck.
But a spike in the demand for water that accompanied the heat wave, especially in the Greater Dublin area has made it far worse.
Irish Water has about 900 water schemes and sources around the country. By the end of the week restrictions and disruptions has affected 28 of them and there were fears over supplies to 128 more. 
Our water services are now on a knife-edge. The appeals for the public to do all they can to conserve water grew louder and louder as the week progressed. 
The situation in the Dublin area is the biggest worry. The maximum amount of water that can sustainably be supplied to the Dublin region is 610 million litres per day.
By Thursday consumption was running at 615 million litres and Irish Water said we are eating into the water supplies we need to keep for August, September and October. It was a situation Irish Water could not ignore.
They had made direct appeals to the largest water users such as Bus Éireann and Irish Rail. Both agreed to follow the lead of Dublin Bus and stop wasting water cleaning their vehicles daily while the shortage continues. 
Irish Water also got the Department of Education to turn off the water in schools that are closing for the summer. This will deliver important savings.
Many of the toilets in those schools flush automatically, and constantly, 24 hours a day so turning off the water makes a lot of sense.
However, the biggest issue by far for Irish Water is the behaviour of households, businesses and other consumers.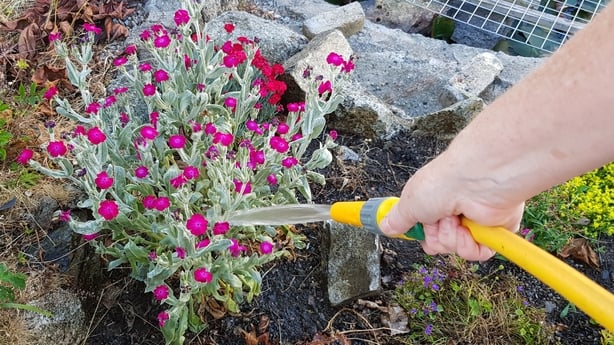 They had observed how after a very public appeal for water conservation on Tuesday last week water consumption in the Greater Dublin Area had fallen by six million litres.
By the following day however, as the heat wave intensified, all those savings were lost and water consumption spiked up again by 12 million litres. Another appeal followed resulting in consumption easing back again by eight million. 
It was clear however, that there is no consistency in the behaviour of the public when it comes to water conservation. The weekend was coming.
The ground is so dry that it would take about a centimetre of rain before any new water could trickle into reservoirs. And in any case there is little or no sign of rainfall of that magnitude in sight. 
Irish Water had to do something big and dramatic to grab people's attention and yesterday afternoon they did so with the announcement of a month-long, hose-pipe ban for the greater Dublin area.
When it comes to trying to influence public attitudes and behaviour towards water conservation, this is Irish Water's number one trump card.
The aims of the Dublin hose-pipe ban is to underscore in the most dramatic way possible just how important our behaviour and water usage is, and how very urgent it is that we stop wasting it.
Water at any time is a precious and critically important resource. But during a heat wave like this there is no doubt that it's even more important than ever.